Even at regal Oregon, RB Marshall says NCAA model needs fixing
You'd think with all those fancy unis and palatial facilities that Ducks players wouldn't be quacking about unionizing, but RB Byron Marshall says plenty struggle to make ends meet.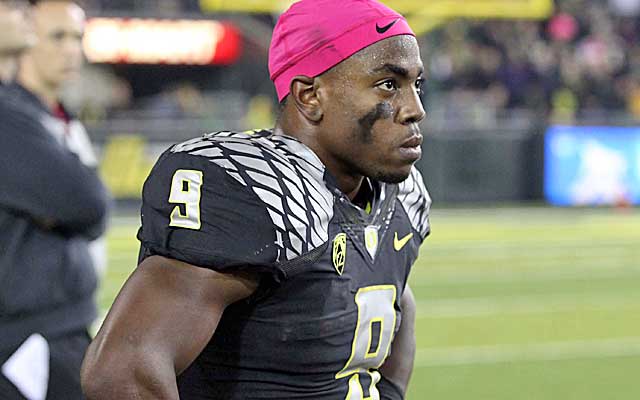 More college football: Bruce Feldman | Dennis Dodd | Jeremy Fowler | Latest news
EUGENE, Ore. -- It has been a rough couple of weeks for Byron Marshall, perhaps the next great Oregon tailback.
At the same time the 1,000-yard rusher prepares for Saturday's spring game -- "I'm ready to completely take over this year" -- Marshall is mourning the loss of his grandfather.
"I was in a slump a little bit," Marshall said in a private moment inside the Ducks' lavish $68 million Hatfield-Dowlin football complex. "It sucks that it happens, but it happens."
Bobby Sullivan was a light in his grandson's life. Funniest guy he knew, Byron said. Then he was gone. Heart attack, in his 70s. Marshall's grandmother, Dorothy Sullivan, found her husband.
"Without oxygen for 20-30 minutes ..." Marshall said. "They put him in a medically induced coma hoping his body would recover."
It didn't. About a week ago, Marshall went to see his coach Mark Helfrich.
"It opened my eyes to some real stuff that he is going through and I was going through," the junior said. "It gave me a sense of calmness, that someone like that can come here every day and put a smile on his face. It won't hurt me to come with a smile and be right there with him."
The emotions of the moment kind of congealed that day in the Hatfield-Dowlin lobby. Part of Marshall's support system was gone. A school was counting on him for greatness. Surrounded by imported Brazilian wood, trophies the size of third-graders, playing in one of the most glamorous programs in the country, Marshall came to a conclusion.
"I would love to unionize," he said. "It's a great thing that they've got going on."
By "they" he meant Northwestern and all the current situation implies. That those words could be uttered here -- The Program That Nike Built -- will resonate. Oregon wore six different helmets last season alone. Hatfield-Dowlin -- nicknamed the Death Star -- measures 145,000 square feet. It has one of three 40-yard dash tracks in the world with customized cameras measuring stride length.
The barber shop -- which is in the locker room, by the way -- is named after an anonymous donor's cat (Howard). The weight room features flooring made of wood that neither floats nor burns.
Oregon players, it can be argued, get the best of everything. That doesn't keep Marshall from living the average FBS player's life. He is a first-generation college attendee from a Northern California family who is anything but rich. Even with a full-ride scholarship Marshall struggles to make ends meet at the end of the month.
"I don't think anyone is coming out saying we deserve $5,000 a month," he said. "Nothing outrageous [but] to live comfortably, to be able to get groceries the full month instead of three weeks, instead of the last week you're struggling."
Marshall continued: "Some students pay their tuition, unfortunately. Some are lucky enough to have parents pay for college. They have a job, get their own money. They can choose how much they work. We don't choose how much we work.
"It's here all the time, all day. ... I would like to make more money, get more money or get the chance to."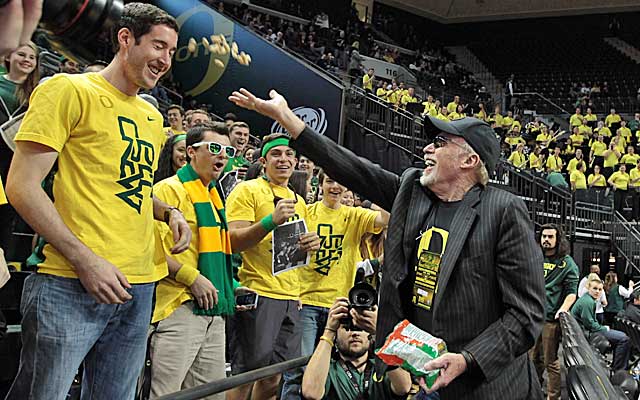 Marshall was reminded that the Northwestern unionization effort isn't about money -- at all. It is mostly about long-term medical and education benefits and the rights to negotiate such.
In that sense, the NCAA reforms are on the same track as Northwestern's College Athletes Players Association. When Marshall flies home Sunday morning for his grandfather's service it will be paid for through the NCAA Special Assistance Fund.
But the All-Pac 12 honorable mention RB isn't necessarily thinking in the moment. Instead, he's a padded up, elite athletic example of the eternal conflict of the NCAA amateurism. Daily, it pits a tax-exempt non-profit amateur model against a stark, for-profit business model.
In the middle are the athletes who may need knee replacements when they're 50. Someday soon if reforms progress, such surgeries may be available without an argument -- a recognition that football caused an injury 30 years earlier.
"It's all well and good to get a scholarship and play for a school …," said Marshall who got a bitter taste last year, missing a game because of an ankle injury.
"It's the least a program can do for us bringing in all this money for us to get a building like this, for them to take care of a surgery."
The student-athlete welfare message from the NCAA -- and member schools -- may be laudable but it is losing traction with players like Marshall. That's why the Northwestern situation exists.
The NCAA can keep crowing about reforms and existing benefits but it's not nearly enough. Only recently did the NCAA membership awaken enough to mandate players could have full access to the very training table they help fund with their labors.
An NCAA steering committee last week approved the Big Five conferences instituting a cost of attendance stipend in the future. I've sampled a cross-section of athletes since January on that subject. From two-time All-Americans to Marshall, yeah, they could use a few extra bucks a month.
No one's going think they're professionals if they do make $5,000 or so a year because they play sports. That it's taken until 2014 for such thinking to take root is shameful. For decades, the NCAA based its rules on competitive equity. When major violations started to hinge on stupid stuff like texts, something had to change.
Those Big Five commissioners have taken the lead, using their billions to switch the model to fund student-athlete welfare.
That's the 35,000-foot view. More locally, a four-figure stipend is going to be an issue for Oregon AD Rob Mullens. He oversees a $93 million budget that -- despite Phil Knight's largesse -- operates on a thin profit margin. You can see it here.
That sort of balance sheet is not uncommon among Mullens' peers.
"It's a flawed economic model to try to support a $93 million budget on the back of a 55,000-seat football stadium," Mullens said.
He has run the numbers. To fund a cost of attendance stipend of $2,000 for each of Oregon's athletes would cost another $500,000 per year. Mullens' first option is to fund raise. But he does admit, a ticket increase may be an option.
"We'll have to [potentially] change how we do business," Mullens said. "What does that mean? [Team] travel might look different. We might look at more regional competitions, instead of travelling around the country. We might not compete in Hawaii as often."
In the end, "We are going to absolutely make sure we are going to have to provide resources for the student-athlete."
That means paying assistants whose salaries rank in the top 15 nationally, Mullens said. That staff has remained uncannily loyal. Five of Helfrich's staff have been with the Ducks at least 12 years. Three have been in Eugene at least 22 years.
That means they were there when -- as defensive coordinator Don Pellum says -- Hatfield-Dowlin was a dirt lot.
"The alternative is to not get into that market. The option is to go and say, 'We are not going to get in the salary market' " Mullens said. "But we're only getting a return on one sport. We have some sports where the coaches' salary is more than we gross in revenue."
There is no shame, then, at Oregon to pay top dollar, to tap into that Nike marketing and uniform combination genius that alone lures recruits. After later being told of Marshall's "unionize" comment Mullens replied by email: "Student-athlete welfare and the student-athlete experience remains our top priority and our resources will be allocated accordingly. This may require we adjust specific budget line items ..."
Therein lies the center of the plights of both Marshall, his AD and that amateurism model. Football has to pay for virtually everything in college sports -- including itself. Knight may have donated land, his Nike brand and facilities totaling hundreds of millions but someone still has to pay to turn on the lights each day.
Included in that balance sheet is a line item for scholarships, the overwhelming majority of which are out of state. The NCAA mandates schools sponsor a minimum of 16 sports. Administrators do it out of a love for the athletes and the amateur standards they represent. That and adherence to Title IX.
But when all but one of those sports lose money, there is tremendous pressure for football to produce. And for football to produce palaces like Hatfield-Dowlin which are built to lure talents like Marshall.
An unbroken circle continues.
"I don't have a problem saying it but my problem when I was younger was either get a scholarship or get a job," Marshall said.
"A lot of people that I know whose families are hurting, they send back a couple of hundred dollars a month. We're up here eating Dollar Menu and living in a bad place because that's all they can afford. That's not myself, not my situation but I know plenty of people in that situation."
Marshall is in the same backfield -- but perhaps not the same financial universe -- with quarterback Marcus Mariota. The family of the face of the program can afford to fly him back home to Hawaii a few times a year. The family also invested in a multi-million dollar insurance policy that protects the projected high draft choice from a career-ending injury.
Despite injuring his knee last season, Mariota returned for his junior season for all the right seasons. He loves college and his teammates.
"I get to be a kid for another year," he said.
It was jokingly asked of Mariota if he felt "exploited" -- a term used over and over in the Northwestern debate.
"For us athletes, the words 'getting paid' are overused in many ways," Mariota said. "Around here, it's not how we feel."
But that eternal conflict is the way things are at every place from Northern Illinois to Oregon. Duck athletes just happen to have the best of everything -- and the same daily pressures as everyone.
"Only thing I can do is keep living," Marshall said of his grandfather. "I wish I could see him one more time."
Rhoads led Iowa State to three bowl games in seven years as head coach

The Georgia middle linebacker is one of the most valuable players in college football

Explaining my 2017 Heisman Trophy ballot and Jackson's tremendous season
Mayfield is the sixth Oklahoma player to win the Heisman since its inception

The Heisman Trophy will be presented to the best college football player this season

Army topped Navy for the second straight year in an absolute thriller in Philadelphia