Everett Golson shows no signs of rust in his return
Notre Dame quarterback Everett Golson played in his first game in over a year but did not look the least bit rusty.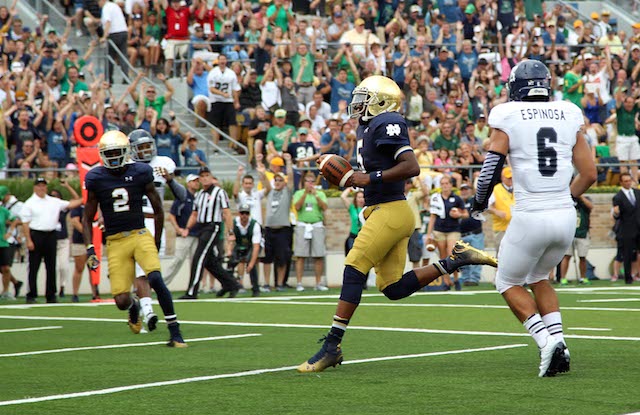 Welcome back, Everett Golson.
Playing in his first football game in nearly 19 months, Notre Dame quarterback Everett Golson put on a show on the brand new turf in South Bend, throwing for 295 yards, rushing for 41 yards and scoring a total of five touchdowns as the Irish beat Rice 48-17. It was a magnificent performance, and one that could have been even better considering that Notre Dame receiver C.J. Prosise dropped what would have been a 45-yard touchdown pass in the second quarter. 
After Prosise dropped the pass all Golson could do was laugh as he walked to the sideline, and he never had any reason to stop smiling.
Golson missed all of last season after he was kicked out of school in May 2013 for what was termed an "academic violation." Golson himself would later admit he cheated on a test. In the last few weeks there's been more focus on Notre Dame players and academics, as the team is currently without five players due to "academic fraud."
How that situation will be resolved remains to be seen, but while the Irish may miss those five players, they're certainly thrilled to have Golson back.
Golson brought something with him to Notre Dame Stadium that seemed to be lacking in the Irish offense last season: electricity. His ability to move around in the pocket kept plays alive longer, and allowed Notre Dame receivers to break free from defenders, and once they did Golson unleashed bomb after bomb, hitting all his targets in stride. 
In short he looked like a quarterback that was living up to all that promise he had shown in 2012 when Notre Dame finished the regular season 12-0. While you don't want to read too much into the first game of a season, particularly when the opponent seems as outclassed as Rice was in South Bend, it's clear that even without players like Davaris Daniels and KeiVarae Russell, as long as Everett Golson is at quarterback this Notre Dame team will be relevant in 2014.
The 21-year-old quarterback was expected to start for the Cougars in 2018

The Fighting Irish will be without some playmakers in 2018

It may have been impossible for Sumlin to meet the expectations set for him in College Sta...
Some players are more easily replaced than others

The 2017 season is in the books, and several big-name stars are jumping early to the NFL

Love was second in the nation in rushing with 2,118 yards in 2017