Ex-Alabama star says he still owes nearly $10,000 in student loans
Tyrone Prothro testifies about being told he needs to pay $10 for use of his image. Day 3 recap of the Ed O'Bannon trial vs. NCAA.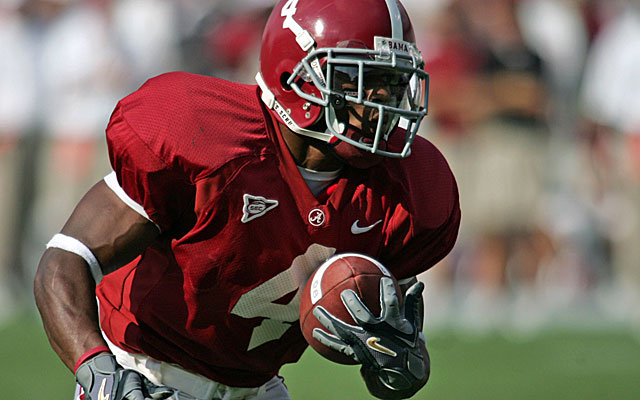 More college football: Jon Solomon | Dennis Dodd | Latest news
OAKLAND, Calif. — "The Catch" came up on the monitor. Tyrone Prothro, sitting on the witness stand wearing a dress shirt with an Alabama Crimson Tide elephant, smiled and enjoyed seeing what he used to do.
The play in 2005 is still one of the most remarkable catches in recent college football history. Prothro, a former star Alabama wide receiver, somehow caught the ball while his arms were wrapped around the upper body of a Southern Miss defender as they fell to the ground.
Prothro's promising career ended in 2005 due to a gruesome fractured leg and subsequent infection that required 10 surgeries. Prothro testified Wednesday at the Ed O'Bannon trial he still owes nearly all of the $10,000 in student loans he took out years ago. And Prothro also gave an account that he was told by Alabama he would need to pay $10 for each photo he wanted of himself to use in a 2008 book he wrote.
"It was surprising because I thought it was as easy as going to (Alabama) and asking for some of my action shots," Prothro said in an interview afterward. "That part was easy. But after (an Alabama official) telling me I'd have to go online and purchase them, I didn't think that was fair at all."
The third day of the O'Bannon antitrust trial against the NCAA over the use of college athletes' names, images and likenesses brought the case back to some player anecdotes. The plaintiffs attempted to portray being a major college athlete as a full-time job for players whose priorities focus on turning pro more than getting an education. The NCAA countered with examples of ways Prothro had great experiences as a university student. 
For all of the interest in Prothro's testimony -- more on that later -- the most compelling subject that could directly impact the case's outcome came again from antitrust economic expert Roger Noll. Five things that happened in the O'Bannon trial on day 3:
1. Judge questions Noll about NCAA defense: Toward the end of nearly 11 hours of testimony over three days, Noll was questioned by Wilken about the NCAA's procompetitive justifications for not paying college athletes. All four of Wilken's questions related to the integration of athletes with university communities.
First, Wilken asked Noll if he thinks, for example, football players hanging out with theater majors benefits both students and should be a procompetitive justification. Noll said athletes in the two most prominent sports generally don't interact much with other students. He said the demands of playing those sports hurt their ability to participate in extracurricular activities or have jobs that might lead to interactions with other students.
Second, Wilken wondered about the contention that if athletes made a lot of money they would be elite and lack integration with other students. Noll said there already is a lot of differences among students based on their families' economic backgrounds and pointed to non-athletes who are allowed to participate in activities that result in payments, unlike college athletes.
Third, Wilken asked about the integration of athletes between sports, meaning whether football and men's basketball players are connected to other sports because they produce a lot of revenue and contribute financially to those teams. Noll responded: "It seems to me that the field hockey team attending a football game is very different from the football team attending a field hockey game. When the football team attends a field hockey game, they're the only team there. When the field hockey team attends a football game, they're just faces in the crowd."
Finally, Wilken questioned the argument about integrating academics with athletics as a reason to not pay players. Noll said this is "by far" the most important topic and that so much money is made on football and men's basketball that those demands get in the way of athletes' education. He cited college football games moving from always being played on Saturday to days throughout the week due to TV.
O'Bannon attorney Michael Hausfeld was pleased Wilken asked those questions.
The NCAA's questions to Prothro and O'Bannon in this trial are "you made a lot of friends, correct?" Hausfeld said in an interview. "You ate a lot of meals with people, correct? You saw tall people and short people, correct? She's basically saying, so what? She went through the four principles that they're trying to establish about the experiences you will have when you're in school. Every witness has said I'm not a regular student, I'm there to play ball."
NCAA chief legal counsel Donald Remy noted the questions Wilken asked weren't part of Noll's report, which is why the NCAA didn't ask him any of those questions.
"But the judge was curious and she has the right to ask those questions," Remy said in an interview. "But it's clear that integration between athletics and academics occurs. You even heard Tyrone Prothro talk about the fact that he lived in a dormitory with other students -- students that were non-athletes and students that participated in other athletic endeavors."
2. Prothro's $10,000 loan. Prothro, one of the named plaintiffs, said that he received $10,000 in student loans from the U.S. Department of Education and that nearly all of the money still hasn't been paid off.
Prothro said he figured he would be good enough to reach the NFL and easily pay the money back. The injury changed that plan. The purpose for the loans was mainly for summer expenses, such falling behind on bills, items for his dorm and house, and food, according to Prothro.
Today, Prothro still lives in Tuscaloosa and works as an account manager for Coca-Cola after previous jobs at a bank and with a pest control company. He acknowledged making $9,000 off his likeness after college by signing more than 200 autographs on artist Daniel Moore's paintings of Prothro's famous catch, and participating in some autograph signings.
Alabama paid for all of Prothro's surgeries. Prothro said he was told by head trainer Jeff Allen that his 10th surgery would be the final one paid for by the university. Prothro's famous catch resulted in Alabama receiving more than $100,000 in scholarship money as the Pontiac Game Changing Play of the Year -- a replay shown over and over with the Pontiac advertisement.
3. Prothro's education. Just like previous testimony from O'Bannon, Prothro painted a picture of being an athlete first before academics. Prothro testified that he spent about 30 to 40 hours per week in supervised athletic activities by Alabama. The NCAA limit is 20 hours per week. 
Prothro was a general studies major in the Human and Environmental Studies department. "That's the major (football academic advisers) kind of put me in," said Prothro, adding that was in part because he was interested in becoming a coach.
Prothro said he and teammates studied "very little" outside of study hall and time in class. "I definitely didn't think of myself as a student first," he said. "The amount of time we put in, it felt we were an athlete first, student second."
When asked if Alabama tutors were concerned that he received a good education, Prothro laughed and replied, "Somewhat." But Prothro stressed he does not believe Alabama took advantage of him. "I don't think they've done me wrong in any kind of way," he said in an interview. "This is solely for the players and for the future. I just want to see something fair that's done for the players."
4. Debate over amateurism. Wilken has said in the past the word "amateurism" has no place in the O'Bannon case. That doesn't mean it won't be debated here.
Amateurism is still a pivotal principle the NCAA relies upon, both in this case (possibly to set up a future appeal) and other lawsuits. Noll said the essence of the O'Bannon case is the definition of amateurism.
"You heard Noll say himself that amateur athletics is a system where there is no pay for play and identified a number or organizations that aren't cartels that have a no pay-for-play rule," Remy said in an interview. "What they're looking for is to have the NCAA system of collegiate athletics transformed into something else. And we're going to defend against that vigorously."
At one point Wednesday, Hausfeld entered into the record a statement the NCAA made in the O'Bannon case to the 9th Circuit Court of Appeals that said, "One of the pillars of collegiate athletics as administered by the NCAA is amateurism, the principle that in exchange for their athletic participation, students may not receive more than the cost of their tuition, room and board and books." The NCAA objected to use of the statement.
"That's a statement the NCAA doesn't want you to hear, and there will be more of those," Hausfeld said in an interview. "The key point is it's an exchange. You're being brought into school because of athletics. You're obligated to perform as an athlete and the first and only consideration for exchange is you be an athlete. It goes to the very heart of amateurism, at least the way they're trying to twist it."
Hausfeld was also able to enter into the record a survey that says 76 percent of Division I men's basketball players and 58 percent of Bowl Subdivision football players think they will play pro sports. The O'Bannon plaintiffs are trying to shoot down one NCAA defense for not paying players. The plaintiffs' point: College sports isn't an avocation for athletes, it's their first thought and main responsibility while attending college.
5. Noll's alternative-pay model. An interesting dialogue occurred when Noll was questioned about his proposed alternative revenue-sharing model. In other words, if Wilken issues an injunction that says the NCAA's rules prohibiting pay for names, images and likenesses are unlawful, then what? What would the model be for players to be paid?
One model suggested by Noll is each player on a team would receive equal licensing compensation. When asked by the NCAA if the amateurism definition would still be satisfied if the San Francisco 49ers paid every player on its team $1 million, Noll curiously said it would.
The NCAA seemed surprised by another possible alternative-revenue sharing model by Noll: conferences could cap the value of financial aid provided to players if they could be paid. Wilken questioned Noll on whether his theory is consistent with some of his other statements.
At one point, Hausfeld discussed with Noll a comment that Conference USA commissioner Britton Banowsky made in a CBSSports.com article last month. Wilken didn't allow questioning about the comment, but wanted to hear about less restrictive alternatives. Banowsky said in the article he would support considering allowing athletes to receive licensing money that's put aside into a trust fund and collected later.
"I think we're going to have to look at that and we're going to have to find a way to make it happen within the collegiate space," Banowsky said last month. "I'm a big advocate for rewarding student-athletes that are graduating and have made a contribution for four years. I do like the concept of those funds being captured at the end of the collegiate experience. It will be up to the legal process and legislative process to provide guidance on where it settles."
In all, Noll spent approximately 11 of the trial's 75 hours on the witness stand. He's that important of an expert to the case. Normally, cross-examination takes half the time of direct testimony. The NCAA spent more time questioning Noll than the O'Bannon lawyers did, and at times caused Wilken to grow frustrated with repeated questions by the NCAA.
Next up on Thursday: TV experts Ed Desser and Neal Pilson, followed by continuing testimony from economist Daniel Rascher, who briefly took the stand Wednesday. In advance of the TV discussion at trial, CBS filed a motion to intervene in the O'Bannon case for the purpose of keeping its NCAA Tournament contract sealed. CBS said releasing details would cause the network to be "irreparably injured." Turner, which also broadcasts the tournament, made a similar request. 
Desser is the former NBA Television president who said college basketball and football telecasts are more commercialized than professional NBA and NFL telecasts. Pilson is the former CBS Sports president who predicted that if college players were paid, a responsible TV executive who received data of unfavorable fan reaction would prepare for a drop in TV ratings by at least 15 percent to 20 percent.
Patterson is a former No. 1 recruit in the country

Baker Mayfield and two Sooner teammates made the first team

SportsLine simulated every college football bowl game 10,000 times for pick'em leagues and...
The SEC regained its throne as the top conference in the country this season

Rhoads led Iowa State to three bowl games in seven years as head coach

The Georgia middle linebacker is one of the most valuable players in college football