Ex-assistant: Razorbacks 'kind of hung it up' during losing season
Paul Petrino and Paul Haynes suggest the team and even assistant coaches tuned out with John L. Smith's authority undermined by a 10-month contract.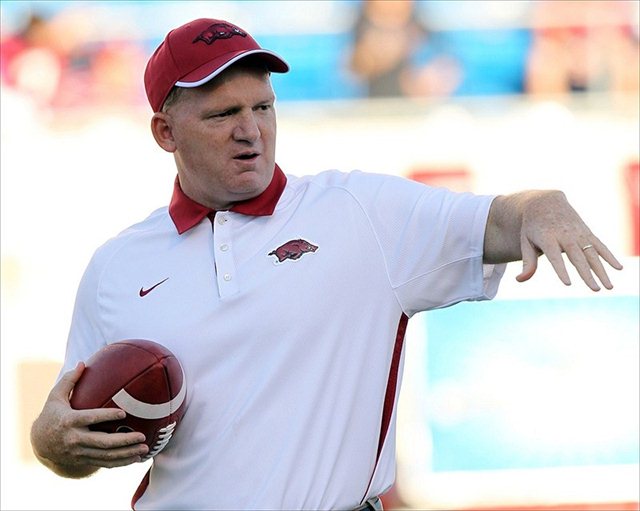 Paul Petrino didn't mince words when discussing the 2012 Arkansas season. (US Presswire)
Former Arkansas assistants Paul Haynes and Paul Petrino have a lot in common, even beyond their shared first name.
Both were coordinators (Petrino offensive, Haynes defensive) during John L. Smith's single ill-fated season in charge of the Razorbacks; both landed on their feet as first-time head coaches, Petrino at Idaho and Haynes at his alma mater, Kent State; and as they each made clear in interviews this week with the Sporting News, both felt the 2012 Razorbacks would have been better served with Smith receiving more support from athletic director Jeff Long than the 10-month contract that he received -- a move that both coaches said paved the way for a team short on unity and long on distraction.
"I don't think an A.D. should ever hire somebody for 10 months," Petrino told the Sporting News. "Players know what that means; they understand that ... They should've hired [Smith] for two years or hired someone else for two years, or just [expletive]-canned all of us."
"Even if they had a plan to get rid of us no matter what, which I think they did, you say two years and I think the kids dig in," Haynes said. "When you give 10 months, everyone is on eggshells."
Petrino said that applied to the assistants as well as the players, since the team's horrid start -- including an upset defeat to Louisiana-Monroe and 52-0 home drubbing to Alabama -- made it clear they would be looking for new jobs after the season. That, in turn, made it even easier for the players to give less than 100 percent.
"There were some seniors who kind of hung it up, to be honest with you," Petrino said. "They were going to worry about their futures more than that team. A couple seniors said they were hurt, and I don't know if they really were."
Smith essentially agreed with Petrino's take.
"I think some of the players, some of the older guys, said, 'Why should I continue on?'" Smith said. "They were looking ahead to the NFL."
Supporters of Long's decision might point out that only giving Smith a single-season contract made it easier (and cheaper) to replace him once the season went south, and that the head start that clarity gave Long gave him a better opportunity to land a top-caliber head coach -- an opportunity that Long indisputably seized in hiring Bret Bielema away from Wisconsin. If shortchanging Smith effectively sacrificed the 2012 season in order to allow Long to make a better long-term coaching hire, that's a sacrifice that many would argue was in Long's best interests.
But as the comments of Petrino, Haynes and Smith make clear, that shouldn't obscure the fact that the 10-month contract was tantamount to making Smith a lame-duck coach and all but guaranteeting a lame-duck season. If Bielema delivers as advertised, all that lame-duckery would still be worth it, but that's not guaranteed. And even if he does, it won't ease the pain for any Razorback seniors who did give their all and walked away with a 4-8 record to show for it in their final year.
Professional college football bettors are loving Jim Harbaugh and Michigan against Purdue

Temple knocked off USF last year to claim the division title

Guice is dealing with a 'minor injury' which has not been specified by coach Ed Orgeron
These are the best bets to make in Week 4 including Florida-Kentucky and Oklahoma State-TC...

Two players died as a result of playing college football on Saturday

Gary Danielson previews this week's SEC on CBS Game of the Week from Nashville