Ex-Cane Dan Sileo deletes bounty-related Florida State tweets
Dan Sileo, former Miami Hurricane and radio host, put a bounty on Florida State running back Devonta Freeman then deleted the tweets.
• 1 min read
Former Miami defensive lineman Dan Sileo has gotten himself in trouble again, this time in the wake of Florida State's dominating 41-14 win against the Hurricanes on Saturday night.
Sileo did not take kindly to a gesture from one of the Noles, and offered a $1,000 reward for any Miami player to take running back Devonta Freeman out "in six weeks;" referring to the possible rematch against Florida State in the ACC Championship Game. Unfortunately, the picture Sileo included was of defensive tackle Timmy Jernigan, who also wears No. 8.
Sileo deleted the tweets, but TomahawkNation.com saved them and reposted the message on Facebook. According to the 640AM website, Sileo hosts an afternoon show on the station. The former Hurricane was already fired once this year, by WQAM in March, for continued controversies during his time as a radio host.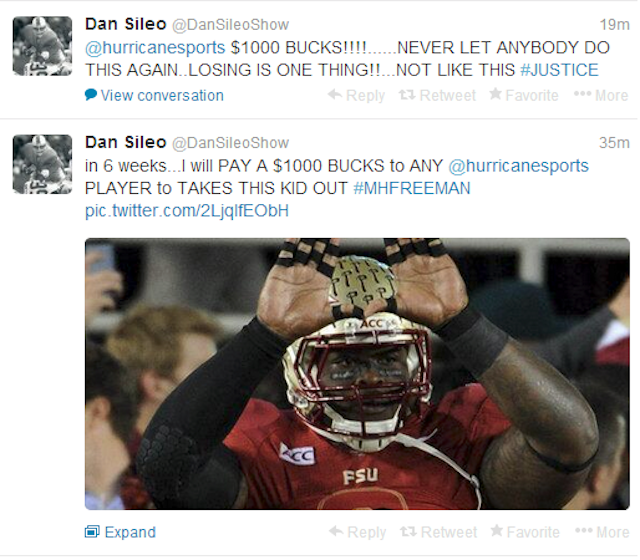 (Photo Credit: TomahawkNation/Facebook.com)
Sileo later said that the $1,000 offer was a joke, and he apologized on Twitter.
@hurricanesports @FSU_Football .....I take the tweet back.......I am PISSED at HIM...BUT in NO WAY did I mean that 1000....JUST a TWEET

— Dan Sileo (@DanSileoShow) November 3, 2013
The freshman is already on Heisman lists after throwing the walk-off score in the national...

These seven teams should make the most noise down the homestretch towards signing day

Air Force was forced to cancel 11 athletic events because of the 69-hour government shutdo...
Olson has a lot of the tools offensive coordinators want in a quarterback

The Tigers have a wealth of talent at their biggest position

Pineiro received the award for stopping an attack the morning of Oct. 15, 2017