Ex-Gamecock Stephen Garcia signs with CFL, immediately injures finger giving peace sign
"Garcia injured two fingers getting off the bus and flashing the peace sign, according to the organization."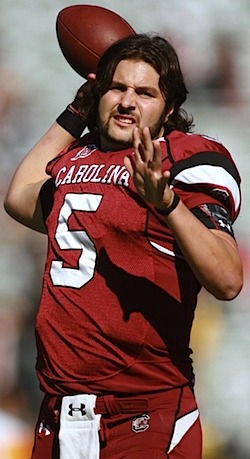 At South Carolina, Stephen Garcia was college football's reigning Brometheus, an untamable, McConaugheyian presence the SEC came to know and love as much through three frat-tastic arrests in his first year on campus – for public drunkenness, keying a car and setting off a fire extinguisher in a dorm – and his eventual dismissal from the teamas a fifth-year senior as for anything he did in the course of 34 career starts. In the Canadian Football League, he's just another dude scrapping for a job.
To that end, the former alpha 'Cock caught on last week as the fourth-string quarterback for the Montreal Alouettes, and immediately set his sights on the coveted Bro-bel Peace Prize:
The process of ultimately finding Anthony Calvillo's successor – whenever that day comes – continues for the Alouettes. On Wednesday, the team signed a fourth quarterback, Stephen Garcia, immediately placing him on the one-game injured list.

Garcia injured two fingers getting off the bus and flashing the peace sign, according to the organization.
"Brah, that was like the HARDEST peace sign EVER, brah. Those chicks over there were totally vibing on your adductor pollicis."
Ironically, Garcia never missed a start to injury as a Gamecock, despite the turbulence that defined his campus career in almost every other respect. His new coach in Montreal, Marc Trestman, unsuccessfully recruited Garcia out of high school in 2007, when Trestman was the offensive coordinator at N.C. State; prior to last week, the Alouettes had previously signed and cut Garcia twice. "He's been through a lot and grown up and matured tremendously," Trestman told the Montreal Gazette. "A lot of players had different adversity and trying times. I've never been judgmental. This is a new start for him."
Good luck, Stephen, and keep your nose clean. But please, never stop being Stephen.
Our bowls expert looks at the toughest -- and weakest -- nonconference schedules in the na...

The new uniforms will be worn on Oct. 28 at Kyle Field vs. the Bulldogs

Kiffin's Owls have added myriad troubled players since he took over in Boca Raton
The Crimson Tide and Hurricanes have not met since the 1993 Sugar Bowl

Kelly is running out of people to blame at Notre Dame, and you know what that means

What's a bigger problem in college football -- referees or the rules themselves?