Ex-Gator on Sugar Bowl loss: Players felt 'sorry for themselves'
Former Florida safety Josh Evans said the Gators felt 'sorry for themselves' in New Orleans after missing out on the BCS title game.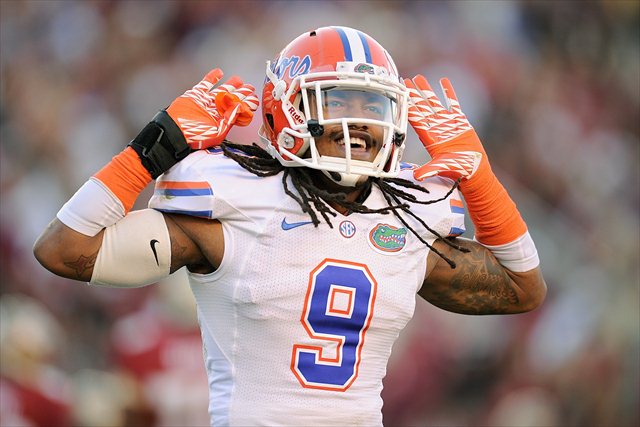 It still almost boggles the mind: Florida, the No. 5 total and scoring defense in the FBS, 11-1 SEC East co-champions, and 14-point favorites, giving up 24 points on Louisville's first four possessions and going down in humiliating flames in January at the Sugar Bowl by a final count of 33-23. Teams no-show their bowl games for seemingly inexplicable reasons every year, but a team that good flatlining for almost three quarters in that game? What happened?
According to then-Gator safety and current Jacksonville Jaguar Josh Evans, what happened is that the Gators got their hopes a little too high for the help that would push them into the BCS title game. 
"I think we had a lot of distractions," Evans said at a Jaguars fan event Wednesday in Gainesville, per the Orlando Sentinel. "People were feeling sorry for themselves that they weren't in the national championship.
"Personally, myself, I don't feel like we all bought in as a team for that game and really gave it our all."
Some of his former teammates have a thing or two to say about that, as would coach Will Muschamp. But it's a theory that makes as much sense as any other beyond "college football players will be college football players, especially when they're made two-touchdown favorites over a Big East team." Going into the final week of the regular season, all the Gators needed was a USC upset of Notre Dame (or a much-less-likely upset of Georgia or Alabama by Georgia Tech or Auburn) to lock themselves into a top-two BCS slot when either the Tide or Bulldogs lost the SEC title game.
It didn't happen, of course, and it's not hard to doubt Evans' word that the disappointment added an extra layer of hangover to the emotional Florida State-defeating end of the Gators' bounce-back season. But that doesn't excuse the Gators' sleepwalk job through the first half, either; if Muschamp or Evans' teammates still on the Florida roster have an issue with his comments, the best way to respond is to make sure there's no repeat at whatever bowl game the Gators land at the close of the 2013 season.
Our bowls expert looks at the toughest -- and weakest -- nonconference schedules in the na...

The new uniforms will be worn on Oct. 28 at Kyle Field vs. the Bulldogs

Kiffin's Owls have added myriad troubled players since he took over in Boca Raton
The Crimson Tide and Hurricanes have not met since the 1993 Sugar Bowl

Kelly is running out of people to blame at Notre Dame, and you know what that means

What's a bigger problem in college football -- referees or the rules themselves?