Ex-NCAA enforcement official to head Oklahoma State review
Oklahoma State's president and Board of Regents have named former NCAA official Charles E. Smrt the head of an independent review.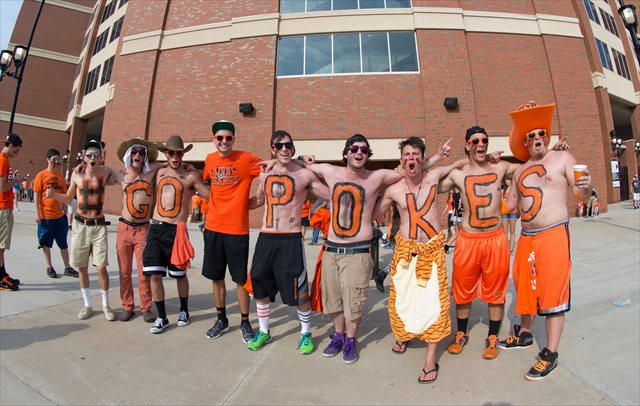 The Oklahoma State president and Board of Regents have taken a first step in their independent review of allegations brought against the football program in Sports Illustrated's recent expose, appointing a former NCAA enforcement official to head the investigation.
President Burns Hargis said Monday that the investigation will be led by Charles E. Smrt, an NCAA enforcement official for 18 years before becoming president of "a consulting firm specializing in compliance audits," per the Associated Press. Smrt served as both Director of Enforcement and Director of Enforcement Supervisor over the course of his NCAA tenure.
"While the articles do not implicate any current coaches or players to have direct involvement in any alleged misconduct, we have a responsibility to confront these disturbing reports head on and with complete transparency," Hargis said.
"I support a quick and comprehensive review," Mike Gundy said, according to the Oklahoman. "I am proud of our football program, and I can assure everyone we are committed as coaches and staff to winning the right way."
Smrt said Hargis and the Oklahoma State regents had offered him "unfettered access and cooperation" during his investigation.
Even if Smrt verifies much of SI's allegations of booster payments and other misconduct prior to very recent Cowboy history, it won't much matter to the NCAA; if Smrt's former employer is to get involved, he would likely have to provide proof that former Gundy assistant Joe DeForest was, in fact, operating a pay-for-performance program. (DeForest has vehemently denied the allegation.)
As with any apparent looming NCAA storm cloud in the year 2013, though -- from Miami to Manziel and back -- the Cowboys' rivals maybe shouldn't hold their breath.
Two players died as a result of playing college football on Saturday

Gary Danielson previews this week's SEC on CBS Game of the Week from Nashville

Gary Danielson and 247Sports' Rusty Mansell join for an SEC-flavored episode
The first three weeks of the season have elevated some coaches to the big time

Debating the top team in the country, grading the surprise teams as 'real' or 'fake'

SEC races kick into high gear with some fun matchups that will shape the landscape of each...