Ex-Oklahoma State players tell SI grades fixed, work done for them
The Sports Illustrated expose on Oklahoma State football alleges rampant academic misconduct.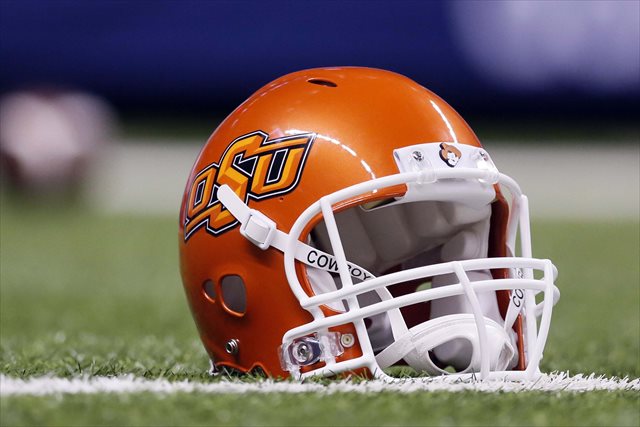 Sports Illustrated's ongoing investigation into improprieties in Oklahoma State football alleged Wednesday that Cowboys players had coursework performed for them and grades changed in an academic culture that promoted player eligibility above all else.
"The philosophy, the main focus, was to keep [star players] eligible through any means necessary," Fath' Carter, a Cowboys safety under Les Miles told the magazine. "The goal was not to educate but to get them the passing grades they needed to keep playing. That's the only thing it was about."
Among the specific allegations made by former players to SI:
• That tutors and an assistant professor named Ronald Keys regularly completed class assignments for players
• Current senior academic counselor Terry Henley, a former Cowboy hired in 2000 without any previous experience in academia, steered players toward unchallenging classes and majors in order to keep players eligible
• Professors both knowingly allowed tutors to take players' tests or awarded passing grades even after players completed little-to-none of the required coursework.
"They really gave us our credits," said William Cole, a Cowboys wide receiver in 2007 and 2008. Cole said he received an "A" in one course despite not doing any work in it for the entire semester. "They spoiled us."
The most famous Cowboy mentioned in the allegations is Dez Bryant, the star wide receiver who has gone on to play for the Dallas Cowboys and who was named second-team Academic All-Big 12 in 2008. Teammate Calvin Mickens said he saw tutors doing coursework for Bryant, and an unnamed former assistant coach said of Bryant "no way he could do the college work" himself.
Many of the key figures in the report, such as Bryant and Keys, denied any academic misconduct. Miles also denied to SI that he downplayed the importance of academics.
Though the allegations may paint an ugly picture for Oklahoma State, there won't be anything like the potential fallout from Tuesday's pay-for-play allegations; from an NCAA perspective, either the allegations are beyond its stature of limitations or would be highly difficult to prove. It's also worth pointing out that allegations of overly helpful professors and tutors could likely be made at virtually any major college football program in the FBS, and that the charge of "sheltering" players in forgiving classes and majors isn't uncommon, either. (Jim Harbaugh raised similar concerns about his alma mater, Michigan, six years ago.)
As for those pay-for-play allegations, a couple former Cowboys have come out, including former quarterback Aso Pogi, who was featured in Tuesday's story on Oklahoma State players receiving money. In talking to the Tulsa World, Pogi says that Sports Illustrated's Thayer Evans never even informed him he was being interviewed.
The biggest thing about the interview was I didn't know it was an interview. I just thought we were just having a conversation. He didn't state it was an interview. He just said 'hey, I'm with Sports Illustrated,' so I kind of figured that. But as we went into the conversation, he just kept saying things about OSU. I'm sitting there and I'm in shock. I'm just kind of sitting there in shock, like 'whoa, that was going on?'
He wrote in the article that Aso Pogi said 'it's a big deal because I'm the starting quarterback.' He was actually referencing the fact that he quoted off (allegations) and I was sitting there going 'man, that's crazy.' And then he would name off the times that these things were going on and the people that were involved.
And I'm sitting there going 'whoa, that is really crazy.' The words that I actually said went into the reference of 'that (allegation is) a big deal because I'm the starting quarterback.' That's how it really came back. I wasn't saying 'I was the starting quarterback and that's a big deal.' I was saying I was unaware of anything like that during my time at OSU.... I can only be accountable for me and what I saw and what happened. But I didn't see anything.
Pogi also told the Tulsa World that, as far as he knows, Evans didn't record their conversation or take any notes during their conversation.
Another former Oklahoma State quarterback, Brandon Weeden, told reporters he found the first part of the series to be "comical." According to Weeden the players interviewed in the story "aren't real credible" and he believes Evans is targeting Oklahoma State because he's an Oklahoma fan.
Weeden also said he never saw any wrongdoing while he was at Oklahoma State.
"The truth will come out," said Weeden.
The schedule for the remainder of the SI series:
Part 3: The Drugs (Thursday)
Part 4: The Sex (Friday)
Part 5: The Fallout (Tuesday)
The former Rebels coach was suing the school for harming his reputation

Florida and Georgia's rivalry game is the SEC on CBS Game of the Week

Everything you need to know from the week in college football to stave off your case of the...
Our full set of 130-team FBS college football rankings start with Alabama back at No. 1

The Hurricanes have showed out in a major way over the first half of the 2017 season

An early look at the gambling odds for Week 8 of the college football season