Ex-Penn St. president Spanier facing charges in connection to Sandusky scandal
Former Penn State president reportedly to be charged with perjury and obstruction of justice.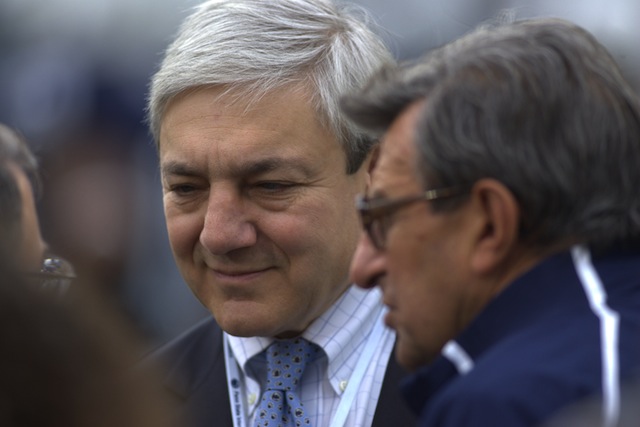 Graham Spanier has been charged in the fallout from the Jerry Sandusky case. (US Presswire)
Former Penn State president Graham Spanier is facing criminal charges in connection with the Jerry Sandusky sexual abuse scandal that forced him to resign in late 2011.
Court documents, first tweeted by the Patriot-News, show Spanier will be charged with child endangerment, perjury and obstruction of justice. He faces eight charges in all, all dating to February 2001, five of which (the perjury and endangerment counts) are felonies:
Each felony carries a maximum of a seven-year prison sentence and a $15,000 fine.
Former Penn State vice president Gary Schultz and former athletic director Tim Curley now also face additional charges of endangerment and perjury in addition to their previous charges of lying to the grand jury and failure to report a crime. Their trial is scheduled for January.
"This was not a mistake, oversight or misjudgment," state attorney general Linda Kelly said at a news conference Thursday, per the Patriot-News. "This was a conspiracy by top officials at Penn State."
Kelly said the Penn State administration repeatedly thwarted attempts to obtain documents until Spanier's ouster and deliberately wrote emails avoiding specific references to the allegations -- calling Sandusky "the individual" and potential victims his "guests." Kelly said other documents show that the administration began receiving legal counsel immediately following former assistant Mike McQueary's account of an alleged attack.
"This case is about three very powerful, influential men, three men who used their positions at Penn State to protect a child predator," Kelly said, per the Daily Collegian. "They essentially turned a blind eye to the serial predatory acts of Jerry Sandusky."
Kelly refused to speculate on Joe Paterno's role in the "conspiracy."
Spanier, Curley and Schultz are all scheduled to appear for a preliminary arraignment on Friday in Harrisburg, Pa.
Spanier's attorney's had no comment late Wednesday when speaking to the Pittsburgh Post-Gazette. 
Spanier told the grand jury that he was unaware of a 1998 university police investigation into Sandusky and that he had been unaware of the details of McQueary's 2001 account of seeing Sandusky in a shower with a boy, saying that he had only been told Sandusky had been engaged in "horseplay."
Emails revealed as part of the Freeh Report showed that Spanier had been worried the university could be "vulnerable" for not acting on the 2001 incident, and that then-athletic director Curley had referred to the 1998 investigation in an email exchange involving Spanier.
Spanier's attorneys would blast the Freeh Report as a "blundering and indefensible indictment" and said the state did not have the grounds to charge him as they had done with Curley and Schultz.
"Never in my time as president of Penn State did I ever -- ever once -- receive a report from anyone that suggested that Jerry Sandusky was involved in any child abuse, in any sexual abuse, in any criminal act," Spanier said in August.
Kelly's office, however, issued press materials calling Spanier's, Schultz's and Curley's actions a "conspiracy of silence":
"The grand jury issued a subpoena in December 2010," Kelly said, "but pertinent emails and other key evidence were never turned over until April 2012, after these men had left their jobs."
"I hope the attention this case received will change people's perceptions concerning child sexual abuse," said state police commissioner Frank Noonan. "If you are aware of a complaint by a child or if you know that a child is being abused, it is imperative that you report it immediately to law enforcement."
Schiano would have made $4.4 million in Year 1 with annual raises as part of a six-year de...

Dykes spent this season as an offensive analyst at TCU

The "Wyoming Wild Man" notched six tackles for loss as a junior in 2017
Zaycoven Henderson was charged with aggravated assault with a deadly weapon

Patterson is a former No. 1 recruit in the country

Baker Mayfield and two Sooner teammates made the first team