Ex-player: Northwestern guilt-tripping players to vote anti-union
Former walk-on Michael Odom said Northwestern administrators urged players to vote 'no' in Friday's NLRB session basically so they wouldn't betray the university.
• 4 min read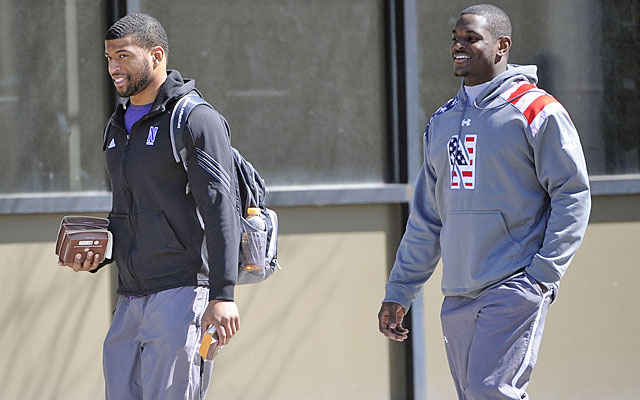 EVANSTON, Ill. -- On a day with minimal historical value besides the player ballots cast inside McGaw Hall on the Northwestern campus, a former walk-on shed light on the school's anti-union stance.
Michael Odom, a sophomore who quit the team following the 2013 season, said the Wildcats administration is basically telling players they would betray the school by voting "Yes" in Friday's National Labor Relations Board vote.
"Which I think is really wrong,' said Odom, who was on campus and stopped to talk with dozens of reporters.
"I know a lot of my teammates had letters sent to their parents' emails urging them to say no," Odom added. "The administration has been heavily kind of trying to guilt-trip the players into not voting and there have been speeches from other administrators."
Odom, who stressed he's no longer on the team and is going by what his former teammates have told him, said the players likely will vote "No" because, "I think a lot of them have been successfully talked out of voting yes. It's unfortunate."
Michael Odom, a former #Northwestern walk-on no longer with the team, meets the media herd. Crazy scene in Evanston. pic.twitter.com/l1vSX5KfXa

— Chris Emma (@CEmmaScout) April 25, 2014
Northwestern needs a majority vote among 76 eligible scholarship players to unionize. Though the official voting count is uncertain, the voting was finalized shortly after noon when two men in suits carried silver briefcases out of McGaw. Players started trickling into the voting center shortly after 6 a.m. Defensive lineman Ifeadi Odenigbo told CBSSports.com he believed most, if not all, players voted. He declined comment when asked if the team collectively counted an informal vote before the real one.
Even if Odom was still on the team, he could not vote because of his walk-on status. The results might not surface for months or even years as the NLRB has reviews Northwestern's appeal of the March ruling to make players employees.
CBSSports.com obtained a 21-page document outlining Northwestern's direct dialogue with players, parents and staffers on the union issue. Former players have said Northwestern has interfered with the process.
In a statement from the school, Northwestern said the allegations of unfair labor practices "simply are not true."
"During the period leading up to the election, Northwestern conducted its campaign in a lawful and appropriate manner consistent with NLRB rules and guidelines," vice president of university relations Alan Cubbage said. "Northwestern has stated its case clearly and consistently, explaining why it does not believe unionization is the appropriate mechanism for its scholarship football players to achieve their goals and objectives."
The surreal scene outside Ryan Field on Friday was a fitting new chapter to the union efforts where everything is happening and nothing is happening all at once.
Wildcats players cast a historic "Yes" or "No" vote, but the scene outside of the stadium wasn't exactly symbolic.
TV trucks and reporters lining Ashland Avenue for the 6 a.m. voting session were left with a lone protestor with white cardboard and a screaming photographer. Players could vote between 6 and 7:30 a.m. or between 10 and noon.
"COME TALK TO US," the photographer yelled to players coming in and out of McGaw.
Fred Massey, a Detroit-area high school basketball coach who made the drive for the morning session, stood calmly with a white "Become Aware NOT controlled" sign, urging players to vote pro-union.
Former Wildcats quarterback Kain Colter, who initiated the union plan with College Athletics Players Association, was in Indianapolis for an NFL medical exam.
A few players walked by reporters and declined comment, punter Chris Gradone and linebacker Chi Chi Ariguzo among them. Gradone was walking with documentary filmmakers from Al Jazeera America and is believed to be part of their filming efforts on the union process.
Offensive lineman Kenton Playko actually stopped and took a cell phone selfie on his way out as reporters watched.
A point of emphasis for the player rights fight is working hours -- are players asked to treat football like a 40-hour-a-week job? -- so it's noteworthy that the early morning vote was scheduled around a player workout and organized breakfast session.
Not that that's necessarily uncommon or a problem. Based on player accounts from the past few weeks, the momentum seems to swing toward a "No" vote. Several players, including quarterback Trevor Siemian, have publicly supported Northwestern.
Odom, however, said the 40-hour-a-week commitment is real.
"Playing football is a job, a demanding job," said Odom, who was on the team for two seasons before quitting to focus on being a student. "And I wasn't getting paid for it."
Massey urged players to "Vote YES #unions" with one side of his sign.
"It's time for something to be done," Massey said. "I hope they vote yes. I know they are being pressured. ... You've got millionaires coaching kids that make nothing. How can they stand together?"
The Alabama QB has a new look after the Tide claimed another national title

Young was injured during Miami's Orange Bowl loss to Wisconsin

The movie will zero in on former Penn State coach Joe Paterno during the Jerry Sandusky sc...
Bidding for Salaam's trophy, which the auction house says was obtained legally, ends Satur...

Locksley has been the offensive coordinator at Illinois and Maryland during his coaching c...

Many NFL-eligible juniors ignore advice provided by the league and risk going undrafted each...