Ex-USC QB Max Wittek to visit Texas; mulling Louisville, Pitt, Hawaii
Max Wittek, who is transferring from Southern California, told CBS he's visiting Texas this weekend and is also considering Louisville, Pitt and Hawaii.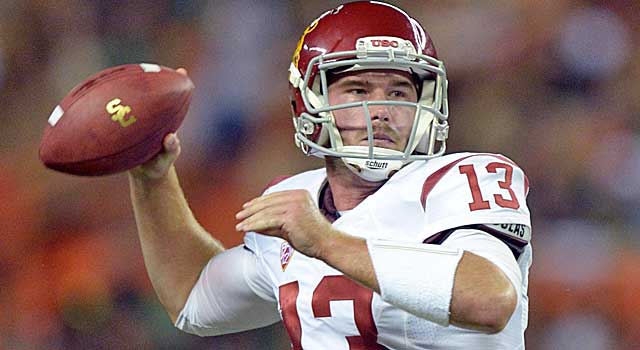 LOS ANGELES -- Max Wittek, the strong-armed former blue-chip QB recruit who is transferring from USC, told CBSSports.com on Sunday that he will visit Texas on Friday and is looking into trips to see Louisville, Pitt and Hawaii as soon as possible.
The 6-foot-4, 235-pound QB plans to graduate from USC this spring and would be able to play this fall at his next school with two seasons of eligibility remaining. Wittek says he's looking forward to visiting schools so he can "meet people face-to-face since a lot of football is about relationships." Wittek's dad will be in Austin with him this weekend and is planning on joining him on other visits.
Texas and Louisville have new coaches. The Longhorns return starting QB David Ash, who has been battling concussions, while the Cardinals -- under new coach Bobby Petrino -- have to replace star quarterback Teddy Bridgewater.
Wittek, a Connecticut native, worked on his mechanics and threw passes to receivers Sunday morning at LA's Cathedral High School under the tutelage of his private QB coach, Steve Clarkson.
In two seasons at USC, Wittek completed 50 of 95 passes for 600 yards with three touchdowns and six interceptions. The amount of support Wittek says he has received from the Trojan community "has been unreal," referencing guidance -- since deciding to leave USC -- from mentors ranging from USC great Keyshawn Johnson to former team captain T.J. McDonald.
The SEC regained its throne as the top conference in the country this season

Rhoads led Iowa State to three bowl games in seven years as head coach

The Georgia middle linebacker is one of the most valuable players in college football
Explaining my 2017 Heisman Trophy ballot and Jackson's tremendous season

Mayfield is the sixth Oklahoma player to win the Heisman since its inception

The Heisman Trophy will be presented to the best college football player this season