Examining college coaching stability through Purdue QB Robert Marve
Robert Marve's first career Big Ten start got me to thinking about just how transient the world of college football is these days and his college career serves as quite the benchmark.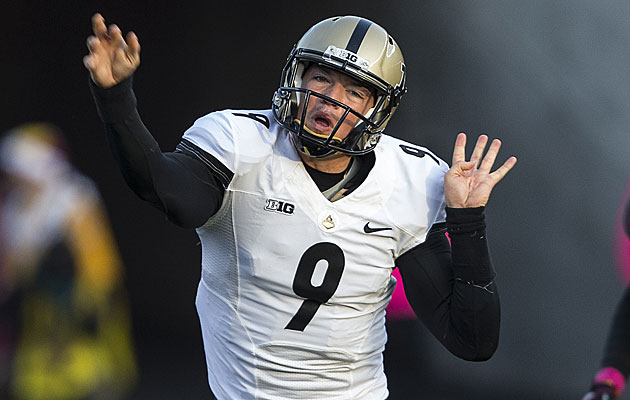 Five years after he was among the nation's top QB recruits, Robert Marve makes his first Big Ten start for Purdue. (AP)
On Saturday,  Robert Marve , the once highly-touted quarterback transfer from the Miami (Fla.) Hurricanes , will make his first career Big Ten start for Purdue Boilermakers . This fact surprised me. Not because I thought, "Damn, Marve's still in college?!" But rather because he came to Purdue with such hype. I recall Danny Hope telling me at Big Ten media days a few years ago that Marve reminded him a lot of Boilermakers great Drew Brees.
Hope called Marve the most talented QB he had ever been around, saying his arm strength is better than Brees and he's also faster than the Saints star. But for a variety of reasons (most notably three ACL injuries) Marve's college career has fizzled. This will be his sixth start at Purdue, but first in a conference game. His TD-INT ratio this season is a solid 6-2 and his rating -- 136.9 -- is by far his career best. In his career his TD-INT ratio is 22-24.
Marve's first career Big Ten start also got me to thinking about just how transient the world of college football is these days, and his college career serves as quite the benchmark.
In 2007, the year Marve signed out of high school with Miami, I chronicled his recruitment along with that of many other prospects in my book Meat Market. Having been inside the Ole Miss program, I got to see first-hand how the Ole Miss Rebels recruiting board was shaping up. Marve -- ranked by all the online sites as a four-star prospect -- was high on the Mississippi QB board.
Marve's coach, Robert Weiner at Plant High School, was very thorough in his approach to helping market his player. I had met Weiner and Marve when they came to Oxford for a one-day camp where the QB impressed the staff with his skills. That day Weiner gave me a gold cardboard spreadsheet he had detailing Marve's recruitment. The thing was impressive. There was a notes column, conference affiliations and phone numbers for all the coaches involved in his quarterback's recruiting process. The sheet, dated 5/28/06, was also broken down by "Colleges that have offered" and "Colleges actively recruiting/possible offers".
I dug up that sheet Thursday morning from a big box with my notes from Meat Market. It's fascinating to look back at the sheet in regards to what recruits end up committing to. Here's why:
Of the 10 programs that had offered Robert Marve by that time -- Eastern Michigan Eagles ; Florida International Golden Panthers ; Miami (Ohio) RedHawks ; Middle Tennessee Blue Raiders , Mississippi State Bulldogs ; Buffalo Bulls ; Connecticut Huskies ; Kansas Jayhawks ; South Florida Bulls and Southern Mississippi Golden Eagles -- only one (MTSU) has the same head coach (Rick Stockstill). Miami of Ohio, Southern Miss and Kansas have all actually replaced the guy who replaced the guy on that sheet. In addition, all 10 of the assistants listed as handling Marve's recruitment are no longer at those schools. (The MTSU recruiter, G.A. Mangus, now coaches for Steve Spurrier at South Carolina Gamecocks .)
Of the 38 programs listed as actively recruiting Marve, only six still have the same head coach: LSU Tigers (Les Miles); Ohio Bobcats (Frank Solich); Iowa Hawkeyes (Kirk Ferentz); Missouri Tigers (Gary Pinkel); UCF Knights (George O'Leary); and South Carolina (Spurrier). Some of the guys listed as head coaches of those programs are a jolt to see. Dan McCarney, who was running Iowa State Cyclones before Gene Chizik had his 5-19 run. Dennis Franchione at Texas A&M Aggies . Karl Dorrell at UCLA Bruins . Bobby Petrino at Louisville Cardinals . Rich Rodriguez at West Virginia Mountaineers . Larry Coker at Miami.
Of the 38 recruiters from this group, only two are still at the same program: Phil Parker at Iowa and Matt MacPherson at Northwestern Wildcats . Well, technically there are three. Dan Werner, one of the Ole Miss coaches I followed around for that year-play, is coaching QBs for the Rebels this season. But it should be noted that Werner and the rest of the Ed Orgeron staff were canned after the 2007 season. Werner was out of college coaching for a while, but after the guy who replaced Orgeron -- Houston Nutt -- was fired, another guy from that Orgeron staff, Hugh Freeze, was hired to run the Rebels program. Freeze then brought Werner back to coach the QBs at Ole Miss.
Among the interesting names of the assistants recruiting Marve: (eventual Tampa Bay Buccaneers head coach) Raheem Morris, then at Kansas State Wildcats under Ron Prince; (eventual New Mexico Lobos head coach) Mike Locksley, then at Illinois Fighting Illini under Ron Zook and ( Cincinnati Bearcats head coach) Butch Jones, then an assistant at WVU under Rich Rodriguez.
We all know that coaching turnover is part of the business and these days it happens faster and more frequently than ever, but seeing it through the prism of Marve's recruitment is eye-popping. Think about this: Of the 48 schools that were recruiting Marve, seven still have the same head coach while 19 have had multiple head coaches after the guy who was the head man when Marve was getting recruited. That list: Miami (Ohio), Kansas, Southern Miss, Iowa State, Northern Illinois Huskies , Texas A&M, Tulane Green Wave , Akron Zips , Minnesota Golden Gophers , Ole Miss, New Mexico, Tulsa Golden Hurricane , Pittsburgh Panthers , Ohio State Buckeyes , UCLA, Louisville, Miami, Tennessee Volunteers and WVU.
The upshot of this is that recruits often make their college choices based on the relationships they form with their recruiters, but also because of the particular schemes those schools and coaches run. For quarterbacks, the style of offense is usually pivotal in their chances to succeed on the field. And that kind of stability has a big impact on whether they thrive in college football or struggle and ultimately feel like they have to hit the re-set button and go someplace else.
The Tide, as usual, are dominating everything already

Jim McElwain won't rule out Luke Del Rio, Feleipe Franks or Malik Zaire as the starter

The three rule changes for 2017 are focused on player safety
There are new names to learn every season, and here are five to keep an eye on from the Big...

Can the Big Ten produce a champion capable of scoring points in the College Football Playoff...

Taking a close, detailed and opinionated look at the Big Ten a week before the start of the...