Excited about Florida State-NIU? Get used to it in the future
New structure makes it more likely there will be snoozers like Tuesday's Orange Bowl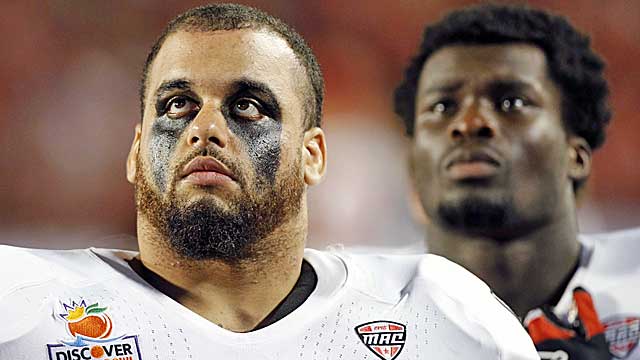 Northern Illinois from the MAC was in over its head against Florida State. (AP)
MIAMI GARDENS, Fla. – So you went to bed at halftime when there were more than half as many punts (nine) as points (17) in the Orange Bowl. So you were burned out on the Jordan Lynch phenomenon after about the 12th time Northern Illinois' mouthy quarterback rammed his body into the waiting maw of the Florida State defense. 
So you were wondering how only the BCS can arrange a non-conference game that seems like it should be played at noon during the first week of September on the ACC regional network.
Good for you. Now get used to it. In the near future there will be more of what you saw here Tuesday night. Guaranteed. The rules have already been set. Instead of teams like NIU chasing a standard to get in the BCS (top 12 or top 16), there will be one of the have-nots in the mix every year beginning with the playoff in 2014. Quality be damned.
We will give you a few moments to compose yourself. For a few brief moments, Florida State's 31-10 win produced some heavy breathing on the part of all of us who root for the best story. In this case, that would have been a Boise-like slaying of the Seminoles by the Huskies.
NIU was down 17-10 in the third quarter, recovered an onside kick. Then … nothing.  It played like a team that was outweighed by an average of 55 pounds on the defensive line versus FSU's offensive line. Lynch -- a modest 220 yards in total offense, including an interception -- played like he was facing a top-five defense. It was back to the MAC for the Huskies where this kind of bowl seems like it is going to have the same frequency as a 500-year flood.
"Anytime you're not from one of the big BCS conferences you're going to face that," NIU coach Rod Carey said.
Except that someone is going to have to play in those six playoff bowls. Beginning in 2014, the highest ranked champion of the Group of Five conferences (MAC, Sun Belt, Conference USA, Mountain West, Big East) will have a spot reserved for it in one of the four playoff bowls below the two semifinals. (If that team doesn't participate in the four-team playoff, but that's getting ahead of ourselves.)
To put that in perspective: This is the 15th year of the BCS. For only the eighth time a non-BCS school qualified. That was more than enough for power conference overlords like Jim Delany to cringe. But beginning in two years, it will be possible to see Florida State-Northern Illinois -- or something like it -- each season through 2026.
Excited? Wait, it gets stranger. It won't matter if that champion is ranked 10th, 12th or 37th. Doesn't matter as long as that team is a conference champ. And you thought the BCS was foisting some crap upon us?
These Huskies have won more games than Alabama in the last three years. They were tied for the nation's longest winning streak. Lynch became the most quotable quarterback in college ball.
"If you cut them," he said of the Seminoles,  "they bleed."
So why should we feel wounded? It was hard to remember after Florida State's three-touchdown win that the BCS has been a launching pad for the great unwashed -- Boise, Utah, TCU, among others. The seven previous non-BCS entrants had been 5-2 against their big brothers prior to Tuesday.
But fair is fair and when there is a vague whiff of antitrust in the air, you do what the commissioners did in the last year -- provide an automatic spot for that Group of Five. So when you celebrate the playoff era, say a prayer for the detritus below football's final four. This season it was NIU-FSU. In 2014, it could be Marshall-FSU only because something like that is guaranteed.
Nothing against the Huskies. They stunk for long stretches of the game and they know it, making Kirk Herbstreit and one rude Orange Bowl official look prescient.
The Huskies weren't fighting Seminoles so much as a thousand Herbstreits, haters who didn't believe Northern Illinois should be here. NIU not only deserved to be here, they might be the best thing you see out of the Group of Five for a while. Former BCS busters Utah and TCU are now part of the power elite, in power conferences. Boise State hasn't won an outright conference title since 2009 and can't keep it up forever.
What's left below college football's Mendoza Line is a Mountain West that looks like the old WAC, a Big East that looks like Conference USA and Conference USA that has invited Old Dominion.  Why can't the MAC champion play in a BCS/playoff bowl before that next 500-year flood. If it wasn't NIU on Tuesday night, it probably would have been Kent State if the Golden Flashes had won the MAC title game.
"Playing in the ACC?" NIU's Perez Ford said. "Honestly, I believe we'd be just as good as any other team."
We may, in fact, look back fondly on this night. NIU played gamely but ultimately looked like a school with one first-round draft choice in its history.  That's only 34 fewer than Florida State.
A team that got here on a BCS technicality -- Ohio State was ineligible, the Big East stunk -- left Sun Life Stadium saddened but feisty. Carey and Lynch made a big stink after the game saying the quarterback's comments made to The Sporting News were taken out of context.
It's hard to misinterpret these statements:
"They're fast, they're physical," Lynch told TSN about FSU last month, "but they haven't seen anything like our offense."
"We plan on wearing them down," he added. "In the fourth quarter, we plan to have them on their knees -- and then just keep pounding away."
So I asked Lynch exactly what he said.
"They switched up my words," he said. "I don't know why I would talk trash about a top-five defense. I was saying they're human, too. If you cut them, they bleed. Just that simple."
Which reads exactly how it was written by The Sporting News.
"He said what he said and I'm going to stand behind him," leading rusher Tommylee Lewis said of his quarterback.
What we will remember most is a lot of mediocre football.  FSU won by three touchdowns but still has as annoying habit of playing down to its competition. For a moment there when it was 17-10, we were looking at the biggest BCS upset since Boise beat Oklahoma in the 2007 Fiesta Bowl.
The news wasn't that FSU eventually took control and won a BCS bowl for the first time since the 1999 national championship game. The news was that we may see a game like this each year in big-time bowl perpetuity.
Excited?
The 2021 Chick-fil-A Kickoff Game will feature Louisville and Ole Miss

The Fornelli 50 ranks teams based on nothing but their performance in 2017

Penn State better have its eyes wide open with a trip to Iowa City on deck this weekend
Ohio safety Javon Hagan has a rather unique personal tradition during games

Mississippi State has been good to Mullen, but he should be the next Bulldog to upgrade

Cowart was the No. 3 overall recruit in the 2015 class but has not panned out yet for the...