Exclusive: Pruitt talks potential of Tennessee staff, program
It's tough to blame anyone feeling jaded after the past decade-and-change of Tennessee football, but Jeremy Pruitt has assembled a staff that can change things.
The University of Tennessee has played football for more than 120 years, and few programs at the Division I level have won more games than the Vols during that stretch. They've won 13 conference championships and six national championships.
By any definition, though, the past decade-and-change has been disappointing.
Tennessee is a borderline unbelievable 67-70 since 2008. Several coaches and players have rolled through Knoxville the past decade with designs on putting the Vols back in their customary place in college football's food chain, but the program has remained mired in mediocrity.
You can hit the gas pedal as hard as you want, but your car won't move forward if it's not in the right gear. Some recent Tennessee coaches have mashed the gas with the car in neutral, leading to sound and fury signifying nothing. Others have mashed the gas with the car in reverse, sending it in the wrong direction. Others have put the car in drive and taken it forward before throwing it in reverse and ruining the transmission.
Tennessee's natural reaction to that has been simple. The Vols keep changing the driver.
Anyone at this point could be forgiven for feeling a bit jaded with the situation. There's only so much heartbreak a reasonable human being can take, and Tennessee football has broken the hearts of its fans for a decade now. It's easy to suggest that every college football program — even the very best programs — go through a Moses-wandering-through-the-desert stretch here and there, and that's 100 percent true. But when you actually go through it, it's hard. There's no other way to put it. It's hard.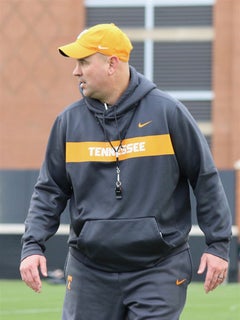 Tennessee's search to land then-Alabama defensive coordinator Jeremy Pruitt 15 months ago was among the most bizarre in the sport's history. The search to replace Thank-God-He's-Gone Butch Jones became such a hot mess that athletic director John Currie was fired during the search, so the football-coach search turned into an athletic-director search and then back into a football-coach search.
I wrote this at the time, though, and I still believe it: Tennessee ending that search with Phillip Fulmer as its athletic director and Jeremy Pruitt as its head coach was among the most desirable result imaginable, especially given everything that occurred during those tumultuous weeks.
And that was before I knew the staff Pruitt would assemble.
Pruitt's staff looked pretty darn good on paper heading into last season, and it's looks even better after this season's additions of offensive coordinator Jim Chaney, defensive coordinator Derrick Ansley and wide receivers coach Tee Martin.
Martin was the only one of those coaches on the unemployment market, and he's been a coveted assistant for programs across the country for years. Chaney and Ansley, like many of those to take the plunge and join Pruitt at Tennessee, left really good situations to move back to Knoxville. Chaney was the offensive coordinator at Georgia, which has been one of the nation's best teams the past few years, and Ansley was the highest-paid defensive backs coach in the NFL.
But they left those situations for Knoxville.
Admittedly, those men were given financial incentives to make those moves. But they still made those moves. They believed in the potential of Pruitt — a first-time head coach — to make Tennessee look like Tennessee again.
That, naturally, was near the top of my list Tuesday afternoon, when I sat down with Pruitt in his office for an exclusive interview during his second spring camp at Tennessee.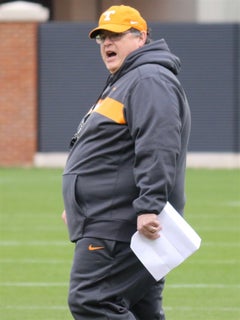 Pruitt — an Alabama native and former defensive back at the University of Alabama — is more or less an SEC lifer. That means he knew the history of Tennessee football but also knew the current state of the Vols when he agreed to become their head coach.
What Pruitt made crystal clear is that the former outweighed the latter, and that those who agreed to come work for him felt the same.
"I think everybody understands the importance of football in this state and the importance of football at this university," Pruitt said. "I think everybody understands how high the ceiling is at the University of Tennessee. Any time you get guys to leave really good jobs to come work at your university, you know you've got things headed in the right direction. They see it. They believe it. Everybody wants to be a part of a winner. And I think if you look at our staff, there's lot of us that have worked together, there's lots of us that have known each other for a long time. 
"You always want to work with good people, and I think it says a lot about the men on our staff, in general, you know. When you take a job, it's not always because of the head coach. It could be because of the other people on the staff, or the administration, or the university itself. I think there's just a lot of very positive things with this university, with our administration, with the men on our staff and with the players on our team.
"The direction we're heading is why I think we're attracting not just coaches, but also recruits."
You can't put together a staff as strong as Tennessee's without two things: money and selflessness. You have to pay those men their fair market value, because this is very much a business, but you also have to convince some of those men to make sacrifices.
Ansley understandably wouldn't leave the NFL level for anything other than a defensive coordinator position, which meant Kevin Sherrer had to leave his post as Tennessee's defensive coordinator to become special teams coordinator while retaining his important role as inside linebackers coach. That also meant Pruitt — who has always called his own defense — had to learn to share play-calling duties on that side of the ball. It also meant co-defensive coordinator and outside linebackers Chris Rumph had to accept a new face joining the staff as the defensive coordinator.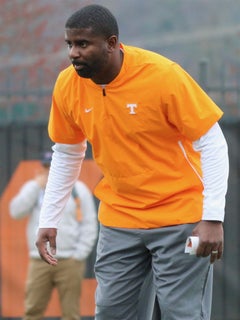 Money talks, sure. But there are outrageous egos in this business, and Pruitt finding a way to get that much experience and talent on one coaching staff is remarkable, and it says a lot about his potential and the potential of the Tennessee program.There are similar situations on the offensive staff. Martin has been an offensive coordinator and didn't want to lose that title at his next stop, but at Tennessee he's a wide receivers coach, passing game coordinator and assistant head coach. Hiring Martin also meant David Johnson had to move from wide receivers to running backs, and Chris Weinke moved from running backs to quarterbacks. And Brian Niedermeyer — a rising star who was named 247Sports' National Recruiter of the Year — turned down multiple opportunities elsewhere to stay with Pruitt at Tennessee in his role as tight ends coach. Will Friend left a role as Colorado State's offensive coordinator to become Tennessee's offensive line coach last year, and he's still in that role.
Pruitt seems allergic to talking about himself in most situations, and he quickly deflects any compliments thrown his way for assembling the staff he's assembled in Knoxville.
"I think it shows what kind of professionalism the men on our staff have," Pruitt said. "It kind of shows the diversity that our guys have, too. Our guys can coach multiple positions. I have confidence in them coaching multiple positions. You probably could look at our staff, and on both sides of the ball you've got guys with the potential to be coordinators, head coaches, and they could probably coach the other side of the ball just as well. I think that's part of being a football coach.
"You have to be able to master your position, but you also have to understand what you're going against every day. So, to do that, you have to know the other side of the ball, also."
GoVols247's conversation with Pruitt revealed several other interesting storylines that will be released throughout the week.
CBS Sports HQ Daily Newsletter
Get the best highlights and stories - yeah, just the good stuff handpicked by our team to start your day.
Please check the opt-in box to acknowledge that you would like to subscribe.
Thanks for signing up!
Keep an eye on your inbox for the latest sports news.
Sorry!
There was an error processing your subscription.
From strategy to Jenga, our writers and editors picked the best games of all time

Peters is eligible to play immediately, and should contend for the starting job in 2019

The two-day event was geared toward improving safety on the gridiron
Helton will be coaching for his job as he breaks in new assistants and navigates a tough s...

Imatorbhebhe joins Trevon Sidney and Oluwole Betiku on the Illini

Morris held numerous Power Five offers, but opted to play for his father Chad in Fayettevi...