Three months of regular-season action and 40 bowl games are now in the rear view mirror as all that matters is Monday's showdown between No. 1 Clemson and No. 2 Alabama for the 2016 College Football Playoff National Championship.
After this, it's no college football -- at least, none that matters -- for seven full months, so strap in and get ready for what is sure to be a tremendous battle at University of Phoenix Stadium in Glendale, Arizona.
Will it be Clemson and star quarterback Deshaun Watson that will prevail, or can Alabama running back Derrick Henry lead his team to its fourth national title in the last seven years?
CBS Sports' college football experts are here to provide you with their picks for the big game.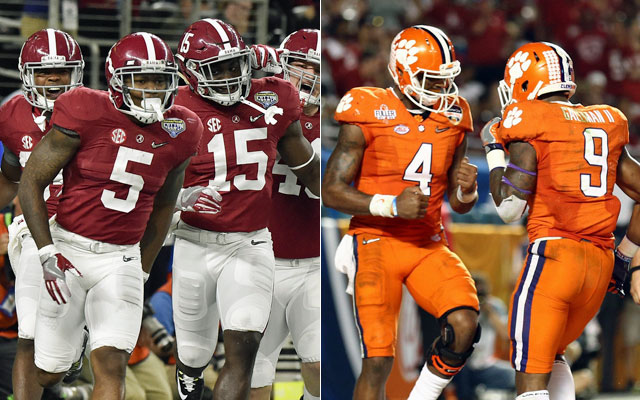 Dennis Dodd, senior columnist: After watching Alabama obliterate Michigan State, it's hard to me to give Clemson a chance in this game. While the Tigers are more athletic than the Spartans, all that means is Clemson will be able to keep it within 38. Alabama may never have played better under Nick Saban than it is now. Check me, but I'm pretty sure this has never happened before in the history of the game: An undefeated 14-win team has to explain why it can make a game of it for the national championship. This won't be a shootout, and the Tide should be able to win handily.
Jon Solomon, national writer: Clemson coach Dabo Swinney has his No. 1-ranked team right where it loves to be -- the underdog with no pressure. You haven't watched Clemson enough this year if you think this game will be a blowout. The problem: Alabama has a special front seven that can physically beat down opponents. Deshaun Watson will need a special game for Clemson to win, and he's capable of it. The X-factor in this game: special teams, where Alabama has a decided advantage. Clemson has a special player who can carry the Tigers to the championship, but Nick Saban has more ways to win and will pull out a tight game.
2016 CFP National Championship: Alabama (-7) vs. Clemson
 


Dodd


Solomon


Palm


Fornelli


Patterson


Kalland

ATS
S/U
Jerry Palm, playoff expert: I'm taking Alabama to win and cover for two simple reasons: It has the best talent and the best coach. That is not meant in any way to disparage Clemson and Swinney, which have had a terrific season. Watson and All-America defensive end Shaq Lawson lead a very talented team that has yet to lose. Swinney has built a program that is an annual contender in the ACC, but it still falls short of the closest thing college football has to a dynasty. Alabama's offense matches up with the Clemson defense better than it did with that of Michigan State, and the Tide still scored 38 against the Spartans. Clemson's offense matches up better with the Alabama defense better than the Spartans' did, but Alabama will wear the Tigers down in the end and come away with a comfortable win.
Tom Fornelli, college football writer: I took Alabama because, let's be honest, the Tide just feels like a death machine right now. It's impossible to pick against them, particularly with the way Jake Coker has played the last three games. He's completed 73.2 percent of his passes for 669 yards, five touchdowns and no interceptions. Those aren't "Air Raid" numbers ... but in Alabama's offense? When you already have to worry about stopping Derrick Henry? Clemson's definitely good enough to keep things close, and I'm sure it will, which is why I'm taking it against the spread. But as for who will win, well, Roll Tide and all that.
Chip Patterson, college football writer: Most of the matchup advantages point to an Alabama win. The betting line points to an Alabama win. If Coker shows up and completes more than 75 percent of his passes, like he did against Michigan State, Alabama will win. But there is no way that I'm going to pick a blowout victory against a Clemson team that not only hasn't lost yet but has come up with answers every time it's been tested. This team's identity may have been forged in the historic rainfall that drenched Death Valley as Clemson made a stand on the extra point to beat Notre Dame. Swinney's "B.Y.O.G." may have a different feel now that it's been co-opted as an unofficial marketing slogan for the program but that game -- where Watson didn't play great and a young Clemson defense had its depth tested -- made me a believer. Alabama will win, but Clemson will find a way to be in it at the very end.
Robby Kalland, college football writer: Simply put, Alabama's the best team in the country with the best college defense I've ever seen. I think Clemson's a fantastic team with a defense can cause problems for the Tide's offense, and the Tigers will be the best offensive team that Alabama's faced. It still doesn't matter. This Alabama defense is so ridiculously good that I think it can neutralize the Clemson offense and force this game to be played at their pace. Eventually, I see Alabama's offense finding success and pulling away late to earn a comfortable win and a fourth title under Saban.