Exploring the challenges of running Oregon's system, Chip Kelly's future
Former Oregon quarterback Nate Costa talks about the challenges facing a Duck quarterback in Chip Kelly's system, Kelly's coaching future and why this Duck team is so different from the one that almost won the BCS title.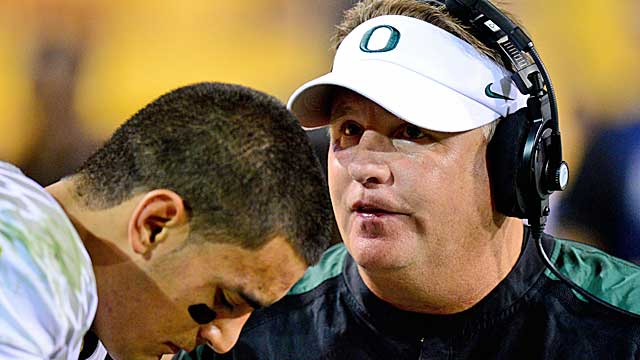 Chip Kelly is obsessed with speed on offense. (US Presswire)
This week, we should find out a lot more about just how good the unbeaten Oregon Ducks are. They travel to USC to try to avenge last season's defeat that snapped the Ducks' 21-game home winning streak.
Oregon comes to Los Angeles riding a 12-game road winning streak. To get more insight into Oregon football, I reached out to Nate Costa, a former Duck quarterback who, despite several major knee injuries, was a key member of the program. In 2010, Costa was a captain on the Oregon team that came within a last-second field goal of winning the BCS title.
Costa now works as a college football analyst for Comcast SportsNet Northwest in Portland. He also coaches QBs and WRs on a private basis in the Portland and Eugene areas. His pupils range in age from 9 to 18. (His website is natecosta.com, and his twitter handle is @NateCosta7.) Among the topics we discussed are the challenges for a QB running this system; Chip Kelly's coaching future and why this Duck team is so different from the one that almost won the BCS title.
Q: What are the biggest changes in the Oregon offensive scheme since your freshman year as a QB there?
Costa: My freshman year, I played under head coach Mike Bellotti and offensive coordinator Gary Crowton. We ran a spread offense, but we did not focus on the tempo of the offense. After my freshman year, Crowton left for LSU and Chip Kelly was hired to run the offense. The biggest change from my freshman year would have to be the tempo and pace of play. Since Day 1 at Oregon, CK has been obsessed with tempo and pace of play. With CK, we ran many of the plays that we ran with Crowton, just at a faster rate. Each year that I was in the program, the system got progressively faster. As soon as we thought we were maxed out, CK and the coaching staff would make a tweak which would make us go faster. From my observations, this elevation of the tempo has continued after my graduation.
Q: What is the biggest challenge facing a QB in this scheme?
Costa: The biggest challenge for a QB in the system is making extremely fast decisions and making them correctly. There are offenses out there which require more reads/decisions to be made by the QB, but those offenses also give the QB more time in which to make those decisions. The tempo of the Oregon offense puts a strain on the defense, but decisions still need to be made by the QB on every play and it is paramount that these decisions be correct. If the QB is making incorrect decisions, the offense will fail. With the pace of play you're not able to see some of the defensive subtleties, which may give away certain blitzes or coverages. You need to be able to make judgment calls based on limited information, and those decisions need to be correct.
Q: There's a lot of intrigue about what Chip Kelly does offensively. What is the biggest misconception or misrepresentation about the Ducks' offensive system that you hear or read from football "experts"?
Costa: The biggest misconception would have to be the involvement of the OC Mark Helfrich. This is CK's system, people know this, so they automatically think Helfrich has little input on what happens on Saturdays. This is simply not true. Helfrich doesn't get half the credit he deserves. He is one of the smartest people in the college football world and has a great football mind. He has a large amount of involvement in the game-planning, scripting and coaching on a weekly basis. He may not call all the plays on game day, but he has a high amount of input in what plays are called and why they are called.
Q: How tough is it now that you're working in the media to be analytical about Oregon yet not give away secrets to the scheme?
Costa: It can be challenging when my job requires me to offer insight about the Oregon offense. If you think about it, if I disclosed all that I know about the Oregon offense, an opposing coach could learn a lot just by watching my TV show each week. My loyalties will always lie with the program, but I strive to educate viewers when they tune into my shows. I work hard each episode to provide quality content but avoid unveiling important details. I have had the most success providing viewers with info the common football fan would not know but also info that any college football coach would already know.
Q: In what ways is Marcus Mariota different from Kelly's other QBs?
Costa: Marcus Mariota is different from most of CK's previous QBs in that he has top-level abilities in both the passing and running game. I see Marcus as a pass-first QB who has rare pocket presence and all the arm strength/accuracy you can ask for.
He's the type of QB who will keep plays alive with his feet, but also keep his eyes downfield looking for the big plays off the scramble. Some of CKs previous QBs were more likely to put their head down and run in those situations. I will never underestimate the value of a 7-yard gain on a scramble, but Marcus understands the big plays that happen when the coverage breaks down. On top of that, when he is asked to run, he has elite speed/agility for a QB.
Traditionally, CKs QBs were top level at one aspect of the game, not both. Marcus has both sides on lock, and he's only a RS Freshman.
Q: What has been the biggest moment Oregon football has had so far?
Costa: The biggest moment for Oregon Football was the '09 Civil War. We beat the Beavs at home and had the Pac-10 trophy and Rose Bowl invite presented to us in our own locker room. It was the ultimate payoff for all the hard work the team had put in, and it showed the younger guys what it took to reach the top. That wasn't the best team Oregon has ever had, we didn't have the best record ever, but we did discover the value of buying into the system. The younger players experienced the importance of "winning the day," and it's been paying dividends ever since.
Q: What was your first impression of Chip Kelly?
Costa: Mike Bellotti actually let all the QBs sit in on the interview process when they were searching for a new OC in '07. We saw quite a few impressive coaches, but CK was head and shoulders above the rest. My first impression was that he was intense! His interview was similar to what his practices would be like. He talked fast, covered a lot of information and used a lot of acronyms. During his interview process, we were conducting winter workouts at 6 a.m.; believe it or not, CK was there to watch. None of the other interviewees did that. It was a consensus amongst the QBs and Bellotti that CK was the man for the job.
Q: If you had to guess where Chip is coaching in 2016, what would be your call?
Costa: I think CK will be in the NFL by 2016, if not before. He deserves to be in the NFL, and I think he will be a success. The same qualities, which make him a great coach, his competitive drive and confidence, may be the same qualities which push him to test his abilities at the highest level of football. I cannot say which NFL team would be the best fit for him, but I do think some would be better than others. He is such a smart person, that I know he will look at the opportunity from every angle possible. He'll make a good decision for himself and his future.
Q: Ten years from now, (Oregon offensive lineman) Carson York is a) still playing football; b) working in the media; c) owning a media company; d) in politics?
Costa: In 10 years, I can see Carson York running a highly successful advertising agency. He will probably be successful at whatever he chooses to do, and I think advertising will be his choice. He's a warrior, but I think his body is telling him that football is done. He could be a wonderful politician, but I don't think it would be challenging enough for him. I would never rule out the media, though. He's got all the tools to be great at it.
Q: Lots of people know about Barner, Mariota and De'Anthony Thomas. Which Oregon player is the most underrated?
Costa: The most underrated Oregon Duck is Hroniss Grasu, and it's not even close. Anyone who's played in this offense knows the second hardest position (after the QB) is the center. All the rushed decisions I described being made by the QB are replicated by the center. And don't forget, he's got to snap the ball on every play, too.
The center is the QB of the OL, and Hroniss is terrific at what he does. He'll end up being a four-year starter at the position, which is almost unheard of. Casual Duck fans are quick to knock him because his snaps aren't always perfect, but they don't understand the 10 things he does pre-snap, which are perfect, which keep the offense running smoothly.
Q: What is different about this Oregon team personnel wise as compared to the one that came within a last-second field goal of winning the BCS title?
Costa: This team is bigger, faster, stronger and of higher character than the team which almost won the BCS title in 2011. The more time CK and his staff have gotten to recruit "their kids" and develop those kids, the better the team has gotten. Oregon is now getting a higher volume of top-level talent that are interested in becoming a Duck. This has allowed the coaches to weed out the bad apples, which could hurt the program down the road. Coaches are no longer taking chances on borderline recruits who may have character issues. High character kids are always going to work harder and develop better. With the development staff (coaches, trainers, nutritionists, strength coaches, academic services, etc.) Oregon has, these high character kids are coming in with more talent and maximizing their potential during their time in the program.
Q: Chip said this group is bigger, rangier and more athletic on D. How much of a difference do you think there really is in the caliber of athletes in the program across the board from now compared to just 2-3 years ago?
Costa: I think the ultimate caliber of athlete at Oregon currently is similar to what it was two or three years ago -- that caliber being amongst the best in the country. That being said, I do believe the amount or quantity of top-caliber athletes has increased since two or three years ago. Oregon has always gotten top-level talent. Now Oregon has been able to retain more of those top-level athletes and develop that talent over a longer period of time resulting in an increase in ability. The value of keeping a kid like Dion Jordan (the definition of athletic) around for five years is extremely high.
Florida's roster got a boost on Tuesday with the return of several key members of the prog...

Tom Hutton joins the ranks of former Aussie rules footballers joining the college football...

The freshman is already on Heisman lists after throwing the walk-off score in the national...
These seven teams should make the most noise down the homestretch towards signing day

Air Force was forced to cancel 11 athletic events because of the 69-hour government shutdo...

Olson has a lot of the tools offensive coordinators want in a quarterback