Eye on CFB Roundtable: Picking the 2013 over/under win totals
Win totals for 2013 are available at offshore sportsbook 5Dimes for the entirety of FBS. Which ones might make enticing picks?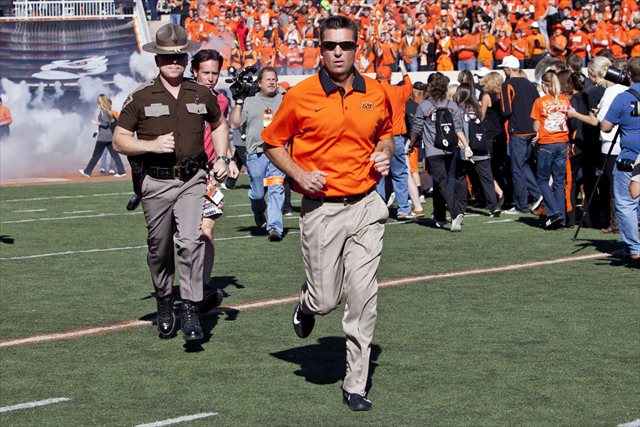 It's time for another Eye on CFB roundtable, in which our crew assembles Voltron-style to address a pressing question or topic surrounding college football.
Today's question: Offshore sportsbook 5Dimes has released win totals for every team in the FBS. Speaking strictly for entertainment purposes, what overs or unders strike you as a worthwhile pick?
Tom Fornelli: They always say handsomest first, so I'll start. When it comes to stuff like this, I don't look for the most logical choice as much as I do the best value. (Of course, I'm not actually betting on any of this, so I suppose I could look at it any damn way I please.)
Going over the entire list, I like
Wisconsin
under 8.5 paying out at +160. Let's remember that Wisconsin may have gone to the Rose Bowl last season, but it only won eight games in the regular season. Now with a new coach and turnover on the roster, I think the Badgers will finish in that 8-4 range again -- but without the benefit of Ohio State being ineligible for the postseason this time around. That seems like good value to me.
I'm also going to take
Alabama
 over 11.5 at +140 because it's Alabama and ROLL TIDE.
Chip Patterson: 
On first glance, the under for
Oklahoma State
-- with the over/under at 10.5 -- seems like a pretty good bet to me. I've got the Cowboys pegged as a Big 12 title contender this fall, but the overall strength of the conference suggests that 7-2 may be the conference record that earns the championship. Oklahoma State opens the season against Mississippi State and must face Texas on the road in mid-November -- a game likely to have Big 12 title implications.
Even with a season-opening victory against the Bulldogs, I think Oklahoma State will pick up at least two losses in conference play. Baylor and TCU are improved, and road trips to Iowa State and Texas Tech can be scary for title favorites -- I guarantee the nightmares of 2011 are still fresh for the Cowboys.
Chris Huston: 
Age after beauty, I guess, Tom? Looking at this list, I'm struck by
Baylor
at 7.5 wins and the -175 over. This is a team that I think will challenge for the Big 12 title behind quarterback Bryce Petty. Staying in that league, I think
Kansas State
beats its 8.5 total despite losing Collin Klein (and pays out at +155). That team is too well-coached to drop far, and I think new quarterback Jake Waters will make an instant impact.  On the flip side, having
USC
at 10.5 seems a bit absurd given its coaching situation. This will be Lane Kiffin's final season, and he'll be lucky to get eight wins.
Also, give me that over on
Washington State
's 4.5 wins at -130. The Cougars are going to surprise some people in Mike Leach's second season.
Jerry Hinnen: 
A lot of bettors would likely agree with you guys about Oklahoma State (-230) and USC (-215) -- both of those unders are heavily juiced. Even at much friendlier prices, though, I can't follow you on Wisconsin's under or Washington State's over. The Badgers have a much, much friendlier Big Ten schedule than in 2012, one that could see them favored by a touchdown or more in seven games; the Cougars will likely need three Pac-12 wins even though they might be favored just once in league play. (And that hypothetical game, at home to Utah, comes against a team that drilled Wazzu 49-6 last year.)
I've already mentioned that
I think Boise State's road slate is just too rough to expect another 11-win season
, but maybe my favorite bet on the board is
Temple
under 4.5 wins. It's another juiced bet at -170, but the Owls already had one of the more toothless offenses in the FBS and now must undergo a scheme change with a likely quarterback starter -- junior Connor Reilly -- who has never attempted a college pass. The Owls should take care of business at home against Fordham and Army and could come back from Idaho with a win, but from there they'd need two more wins against the improving likes of Houston, UConn, SMU and Memphis -- the last two on the road. I have a hard time seeing that happening.
One for the road, since picking all these juiced lines feels too easy. 
UMass
over 1.5 wins at +155. The Minutemen join Idaho as one of only two teams with a total that low, but they should be much better than their one-win campaign a year ago after a season of adjustment and some solid MAC recruiting classes. (Tailback
Lorenzo Woodley
, for instance, could have gone to multiple BCS schools). If they hold serve at home against FCS Maine, they'll need just one MAC win to go over. After managing that much last year and with home games vs. Akron and Miami (Ohio) on tap, they can probably manage it again.
Florida's roster got a boost on Tuesday with the return of several key members of the prog...

Tom Hutton joins the ranks of former Aussie rules footballers joining the college football...

The freshman is already on Heisman lists after throwing the walk-off score in the national...
These seven teams should make the most noise down the homestretch towards signing day

Air Force was forced to cancel 11 athletic events because of the 69-hour government shutdo...

Olson has a lot of the tools offensive coordinators want in a quarterback