Eyes of Texas are on Strong to find Longhorns' next great QB
If the pressure of his new job isn't enough, Charlie Strong enters his first season in Austin with Texas-sized questions at QB. Can he find the next great star in the Lone Star State?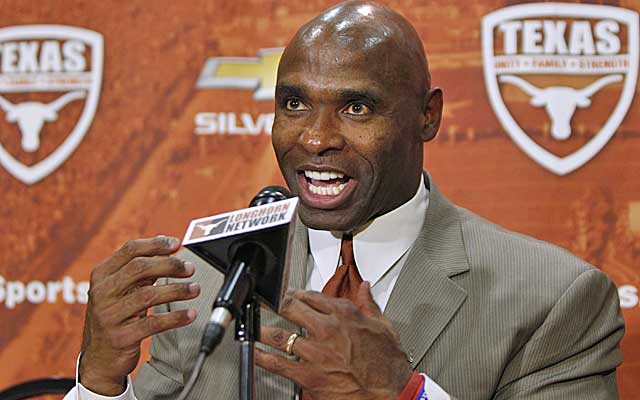 More on Texas: AD: Building brand, not playing A &M, the focus | Latest news
AUSTIN, Texas -- This is where you don't want to begin as the first new coach at Texas in 16 years …
... with your starting quarterback -- returning from a debilitating concussion -- out of the spring game with a broken foot.
... with the remaining options being a sophomore with 26 career passes and Lou Holtz's walk-on grandson.
... attempting to overtake Baylor for the Big 12 title.
"There is," center Dom Espinosa said, "a lot of urgency. You hear it every day."
A lot of that urgency comes from Charlie Strong, the 53-year old new guy in town. He arrived from Louisville after much upheaval in these parts with impressive credentials. He helped win two national championships as a coordinator at Florida, and has coached in four BCS bowls, which includes leading Louisville to an upset win over the Gators in the 2013 Sugar Bowl.
Now he's faced with some of the same old problems as Texas prepares for Saturday's spring game. More about the quarterback issues later.
The reason Strong's here in the first place is that Texas has lost its championship mojo.
The program representing the richest athletic department in the country hasn't been to a BCS bowl since 2009. If not dried up, the quarterback pipeline had at least diminished to a trickle.
"I'm following an icon in Coach Brown," Strong said recently from a conference room adjacent to his office. "He did an unbelievable job here. Sixteen years. He needs to be given a statue out there.
"[But] you look at the last few years, it's been 8-5, 9-4, 8-5. The standard, that's not what we want to be known as. We have to raise the standard. The bar must be raised."
That fact has been more than communicated to the players. Miss a class and a player "runs until it hurts," according to Strong's list of don'ts. Miss two classes and the entire position unit runs. Miss three classes and the position coach runs.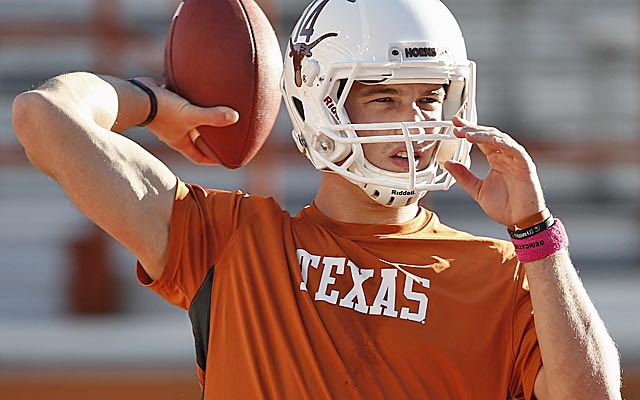 No headphones in class, no texting, lots of respect.
"Everybody kind of bought in," defensive end Cedric Reed said.
All of it only matters, of course, if Texas starts winning big again. If not, the Longhorns could sell bibles door-to-door and it wouldn't be enough.
The current plight might as well be a disclaimer if any of us ever had to be reminded about the worth of spring games.
Don't read too much into Saturday. David Ash, that supposed No. 1 quarterback, was progressing nicely until that fractured foot earlier this month. Ash missed 10 games last season with concussion symptoms. He does have two years of eligibility left after getting a medical hardship waiver.
That leaves a spring game that is more about who isn't there, than who is.
It's been roundly speculated that USC transfer Max Wittek is headed to Austin. Wittek would be immediately eligible and have two years' eligibility remaining.
Sophomore Tyrone Swoopes and his 26 career passes will play along with Trey Holtz, the son of Skip, that walk-on who happens to come to the proceedings with a heartbeat.
Don't expect him to see any action in the fall.
Highly anticipated dual threat QB Jerrod Heard arrives over the summer.
Strong isn't intimidated by the enormity of the job. At least not yet. At one time or another there is going to be plenty to choose from. Remember, this is the coach who recruited and developed Teddy Bridgewater.
Strong is a square-jawed defensive guy. If he can keep the regents and the boosters and the fans off his back, the new guy might accomplish something special.
For now, the way Brown was treated is still fresh in the mind.
Mack "resigned" prior to the Alamo Bowl, setting in motion a coaching-search frenzy. Nick Saban wasn't coming. Neither was Stanford's David Shaw.
Strong may or may not have been the first choice, but that debate has to die. For their own good and perhaps all of college football, the Longhorns have to matter again. They were within 30 minutes of winning at Baylor to clinch the Big 12 title.
Only the next few months will show whether Texas was that close or that the malaise continues.
It would help if Strong gets Texas back in the business of landing championship quarterbacks. The Longhorns (and Brown) have basically whiffed since Colt McCoy was knocked out on the fifth snap of the 2010 BCS title game.
Garrett Gilbert, Ash and Colt's brother Case haven't come close to equaling the legends of the past. It doesn't help that (state of) Texas quarterbacks Robert Griffin III and Johnny Manziel have won Heismans since 2009.
"You're not always going to get a Vince Young or a Colt McCoy," Strong said.
"That position is kind of scary to play," Reed said. "You come here, you can't throw any interceptions."
Just don't extract too much from the spring game.
A (supposed) backup is playing, and so is a walk-on. An anticipated quarterback of the future has yet to set foot on campus.
Perhaps the only guy who can get us from here to there is sitting out with a broken foot. Strong has sent his assistants out all over the state to make sure the next RG3 or Johnny Football doesn't end up somewhere else.
"In this program there's a lot of talk about that position," Strong said.
But is there the next Vince or Colt?
It looks like Jennings is slowly making his way back to the Vols after being dismissed last...

Offensive coordinator Brian Daboll's departure to the NFL has left a void at Alabama

Wilkins was considered a potential first-round pick in the NFL Draft
Brown will have two years of eligibility remaining

Chip Kelly has added some talent to his quarterback room from within the Pac-12

The 2017 season is in the books, and several big-name stars are jumping early to the NFL