Father of Noah Spence says Ohio St. DE suspended for ecstasy
The father of Buckeye pass rusher Noah Spence says his son was slipped a drug in a drink at a house party.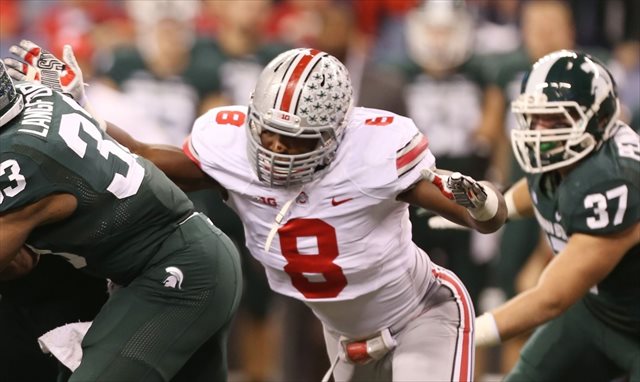 When Ohio State sophomore defensive end Noah Spence was suspended for three games before the Buckeyes' Orange Bowl clash with Clemson, no reason was given other than that Spence had "violated a Big Ten Conference rule" -- though Ohio State also specified that whatever rule Spence had violated, his parents "did not agree with the rule violation nor the penalty imposed" and had "exhaust[ed] the appeals process" with the Big Ten.
Spence's father, Greg Spence, spoke to Harrisburg (Pa.)'s ABC27 Tuesday and explained why his family opposed the suspension: according to the Spences, Noah had unknowingly been slipped a small amount of the drug ecstasy in a drink he had accepted at a party. 
The Big Ten tests all players who participates in the league championship game, and according to Greg, Noah tested positive for a small amount of ecstasy, resulting in an initial yearlong suspension. Though the NCAA considers ecstasy a "street drug," per ABC27, the Big Ten considers ecstasy a performance-enhancing drug.
Greg told the station Noah was "shocked" by the positive results of the test. The Spences appealed, resulting in the reduced suspension of three games.
That might not be the end of the family's battle against the league, though; the Spences told ABC27 they plan on filing suit against the Big Ten.
Whether those plans come to fruition or not, whether Noah's story is in any way verified or not, it seems highly unlikely that any of it will change the bottom line where the suspension is concerned: one of the Buckeyes' most talented defenders (one who tied for the team lead with 7.5 sacks this season) will miss the team's 2014 season opener against Navy and its Week 2 matchup with Virginia Tech.
The Cowboys and Longhorns look to stay in the Big 12 title hunt on Saturday

The storied rivalry is a Top 25 matchup in 2017

Penn State hosts Michigan in its toughest test and arguably the best Big Ten game to date
Two of the top teams in the American Athletic Conference battle on Saturday

The 'Third Saturday in October' rivalry between the Vols and Tide will take place Saturday...

Here's every NCAA football game you need to watch this week; just make sure you have the r...