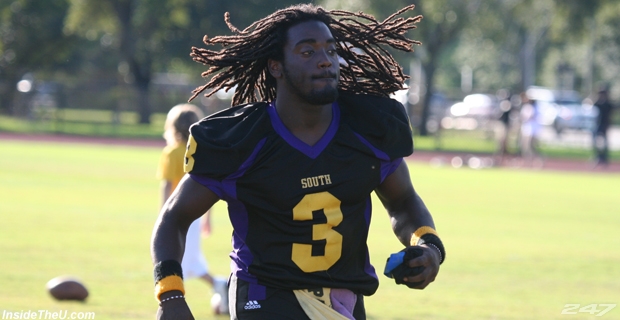 Arkansas announced Thursday that Alex Collins has signed with the Razorbacks. (247Sports)
The college destination of five-star running back Alex Collins has been decided -- but that doesn't mean the wildest story of Signing Day 2013 is ready to be put to bed just yet.
The South Florida Sun-Sentinel reported Thursday that the nation's No. 1 tailback recruit would sign with Arkansas as originally planned, with sources indicating Collins' father, Johnny Collins, would sign his National Letter of Intent. Collins' mother, Andrea McDonald, refused to sign the NLI at Collins' planned Signing Day ceremony on Wednesday.
As reported, Collins and his father signed the NLI and the younger Collins officially announced for the Razorbacks -- hat included -- at 1:30 p.m. ET on Thursday at a local restaurant.
"I'm happy. I'm excited. I'm glad it's over," Collins said after signing. "I didn't think about going anywhere else because I had my mind set.
"I just talked to my mom. I let her know. I explained myself and we had a better understanding."
The official Razorback football Twitter feed issued this tweet shortly afterward:
Arkansas has received signed paper from Alex Collins, RB, 5-11, 207, Fort Lauderdale Fla. (South Plantation HS)

— Razorback Football(@RazorbackFB) February 7, 2013
Sources indicated to CBSSports.com that Collins' faxed NLI had been approved by the Arkansas compliance office and that the school was in contact with McDonald to resolve any further issues.
"The last conversation I had with her was basically why I chose Arkansas and why I felt the love at Arkansas," Collins said. "She always supported me. It's just the fact that from her standpoint, she wanted to make sure that this is the right decision for me -- that I'm not just picking a school, that I understand what I'm getting myself into, that I'm leaving the state, that I'm going to be a four-to-five hours plane ride away and to make sure that this is what I always want to do.

"At first, it was kind of upsetting because I was ready to get it over with," Collins added. "I was ready to sign. I was ready to get it done.
"But then to postpone it, it's not a big problem. It's not a big deal because I just did it the next day. It's understandable to take the right precaution and not make a mistake that you're going to regret for the rest of my life."
Complicating matters, however, is that McDonald has hired legal representation concerning her son's NLI and college choice. She will be represented by Jack Paris of the Cochran Firm, a press release stated.
"Alex's family has been overwhelmed with media inquiries regarding their impending decision," Paris said. "They want to make a clean choice that is free of any outside influences. This is a very tough decision, and they are weighing their options very carefully. In the meantime, they have requested the Cochran Firm's assistance in clearing up any false or inaccurate statements in the press."
Collins' father told CBS 4 Miami that he wasn't aware of the circumstances of Wednesday's failed signing until after the fact, when Alex contacted him. Collins told CBS 4 that though his mother could not attend the Thursday signing, she had approved it.
Both Collins and his father told CBSSports.com at Thursday's press conference that they were unaware of McDonald's efforts to retain an attorney. Collins said that his mother was unable to attend the signing due to work obligations -- and that the apparent rift between McDonald and her son has been blown out of proportion.
"When we first got to the school [Wednesday], everybody was at the ceremony. My mom pulled me aside, and we kind of talked about it and how she wanted to make sure this was the right decision," Collins said. "And throughout the middle of our conversation -- we were stashed out in a private room that we were talking in -- and our conversation wasn't finished. And she basically let them know that she doesn't want to make a decision right now.
"Eventually she left. It's not like she took the papers and ran. But we talked about it, and it got cut short before I had the chance to tell her how I really feel. It was just her telling me how she feels and I wasn't able to respond, so we kind of finished that conversation after everything was over, and now I'm making my decision today."
Collins' aunt, Loretta Collins, however, said there was still more work to do to have the family completely on the same page.
"[Alex] and his mom have to talk some more about the situation," she said. "I mean I'm not saying that she won't support him, but he would have loved for her to have been here today to see all of this."
A second statement issued by Paris would seem to support Loretta's contention. That statement in full:
"Ms. McDonald understands that Alex has received consent from his father who has signed the letter-of-intent for him to play football for the University of Arkansas. However, our client's initial intentions remain unchanged. She is a loving and caring mother who only wants her son to choose a university without any outside and inappropriate influences.  Ms. McDonald hopes all NCAA rules and regulations were followed during today's signing. She is not seeking any personal financial gain because her only concern is for Alex's happiness and well being.  The Cochran Firm is standing by Ms. McDonald in this difficult time and has made all of the firm's resources available to her as she explores her options."
It might not be too far out on a limb to expect some forthcoming legal action designed to prevent Collins from attending Arkansas.
CBSSports.com's Dennis Dodd and Lorenzo Reyes contributed to this story.