Fear the FCS? Not all of it, and (probably) not this Saturday
Just because North Dakota State and Eastern Washington pulled off shockers doesn't mean every FCS team is a threat to do so.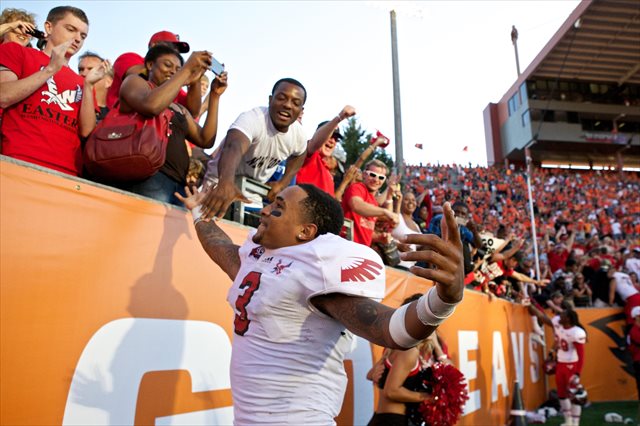 Let's be clear about this: last weekend's FCStravaganza was FUN, every bit the kind of the shocks-on-shocks developing story that demands both the all-caps and italics. It's not every opening weekend that the division-formerly-known-as-I-AA takes down a ranked opponent (Oregon State was just the fourth such victim), much less both a ranked opponent and the defending outright champion of a BCS conference, much less those scalps plus three other members of BCS leagues and a team that shared the 2012 Mountain West title. 
But if you're hoping that last week's uprising might give way to a full-on FCS-on-FBS revolution in Week 2, we have some bad news for you: any fun this Saturday is likely to be of the lower-case and non-italicized variety. And even last weekend maybe wasn't quite as all-encompassing a victory for the FCS at it appears on first glance.
Yes, saying so feels like pooping on a party that's only minutes away from putting a lampshade on Monte's grizzly head. But since North Dakota State's victory in Manhattan last Friday, there's been more than a little talk that's treated the FCS as something like a lower-rent cousin of the Sun Belt, talk that sees it as a mostly interchangeable collection of terrible teams with only minimal variance in quality.
So while it might not be news to some college football diehards, it's worth repeating all the same: there are 124 FCS teams, only one fewer than the FBS, and the gap between its national championship contenders and its bottom rungs is every bit as wide as the gap between Alabama and South Alabama. Looking to Towson's thumping of UConn as an indicator of what Tennessee-Martin might do at Boise State makes as much sense as expecting Oklahoma State to lose to Texas-San Antonio because, hey, that's what New Mexico did.
It's obvious stuff, obviously, but it's the sort of thing that needs to be remembered when you hear about the FCS's tidal wave of success vs. the FBS last weekend. One group of people that care more about the quality of the teams involved than the labels attached to the divisions, of course, are Vegas oddsmakers; per Vegas Insider, FCS teams outside the Coaches preseason top 25 went 11-9 against the spread in Week 1. That's not bad, but it's not eye-popping, and it includes results like 49-point underdog Austin Peay "only" losing 45-0 to Tennessee or Colgate only losing to Air Force by 25.
It was a different story among those preseason top-25 teams, though, as they went a stellar 6-3 against the spread. That's why Week 2 doesn't shape up to be nearly as exciting from an FCS-on-FBS perspective, though -- this week, those top 25 teams figure to be either overmatched or playing ho-hum competition. 2012 runner-up Sam Houston State gets Texas A&M. Eastern Kentucky gets Louisville. Cal Poly tries to keep up with Fresno State. On the other side of the coin, James Madison should be a match for Akron and New Hampshire is only a field goal underdog at Central Michigan ... but those wins won't come close to moving the needle like EWU's or NDSU's.
That's not to say there aren't some interesting FCS-on-FBS matchups -- Central Arkansas's trip to Colorado could be competitive, Richmond at N.C. State is the kind of CAA-ACC meeting that typically stays close for a while, and Montana State could claim a BCS-level victory at new AAC member SMU. But those games are vastly outnumbered this week by mismatches like South Carolina State at Clemson (a 52.5-point spread), Tennessee Tech at Wisconsin (45 points), Western Carolina at Virginia Tech (42 points) or record-breaking underdog Savannah State at Troy (49.5 points).
The point: yes, there were plenty of FCS-over-FBS upsets last weekend, there's likely to be a few more this weekend, and it's highly enjoyable when they happen. But that doesn't mean there ought to be a whopping 34 FBS-vs.-FCS games scheduled for this Saturday. It doesn't mean all of those are going to be competitive. It doesn't mean it's fair to charge fans full price for glorified scrimmages. Maybe FBS teams shouldn't schedule North Dakota State any more -- unless they want a shot at what ought to be considered a quality nonconference victory -- but that doesn't mean it's OK to arrange a 60-point beating of Nicholls State on the calendar, either.
Fear the FCS? Some of it, yes. But not enough to give schools a pass to schedule whoever they like, and not enough to think we'll see the likes of Week 1's chaos again quite so soon.
The movie will zero in on former Penn State coach Joe Paterno during the Jerry Sandusky sc...

Bidding for Salaam's trophy, which the auction house says was obtained legally, ends Satur...

Locksley has been the offensive coordinator at Illinois and Maryland during his coaching c...
Many NFL-eligible juniors ignore advice provided by the league and risk going undrafted each...

Snyder died in Manhattan, Kansas, on Wednesday

Locksley joined Alabama's staff in 2016