Feelings ignored by NCAA, players union hopefuls ready for fight
Northwestern players are aiming to start a union, and the NCAA could have avoided this if it would have indulged conversation with players years ago.
• 3 min read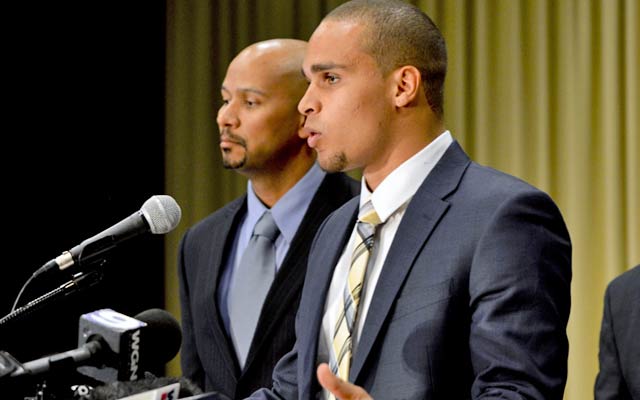 CHICAGO – Maybe this could have been peaceful.
They didn't have to team a Big Ten quarterback with a steelworkers union to pump NCAA injustice from a clumsy, surreal press conference in the Hyatt Regency Chicago on Tuesday.
This wasn't Ramogi Huma's plan, at least not at first.
Turns out it was the only plan. For years, the NCAA wouldn't listen to Huma – a grassroots players advocate out of California who now heads the College Athletes Players Association that, with help from Northwestern quarterback Kain Colter, aims to unionize college athletics – when he requested civil conversations about player rights on medical care and player stipends. He wasn't requesting millions of dollars, he says, just constructive discussion.
Lock the door long enough without food, those on the outside will pick the lock and come through the door blasting.
"They fought us tooth and nail on the most basic of protections," said Human about his efforts with the NCAA over the years. "It didn't matter how much money was coming in."
Well, everyone knows the money's coming in, $6 billion over 12 years for a four-team College Football Playoff, and that's before getting to conference television contracts and ticket sales.
If the National Labor Relations Board certifies Northwestern players as having employees' rights, you better believe savvy college athletes will want some of that dough eventually. The impromptu press conference – one had to read ESPN's Outside the Lines news story Tuesday morning just to know about it – formally announced the petition signed by an "overwhelming majority" of Northwestern players seeking unionization.
But they aren't asking for the money right now, even if they'd like you to know they feel they are worth more than a scholarship. This is about basic services for athletes working 40-plus hours a week on football. They want medical care and concussion reform to accommodate a violent sport. If someone two years removed from the college game needs to repair a knee injury sustained while playing for a school, CAPA wants that surgery covered. This request is not outrageous.
They want to have a say in driving legislation at the collegiate level. This request also is reasonable.
Would this have been so hard for the NCAA to engage five years ago, without forcing hands? Maybe, had the NCAA actually talked with these folks, it wouldn't get poured on like this at its most vulnerable state with college football power brokers openly questioning the organization's merits.
"With over $1 billion in new TV revenue, why is there no guarantee that current and former players' sports-related medical expenses are covered?" Colter said.
To be sure, colleges often cover medical expenses for athletes. But Colter and Huma say the school can opt against coverage if it chooses.
The NCAA on Tuesday delivered the exact response CAPA expected, that 'student-athletes' are not employees and it's confident the NLRB will vote in its favor.
Maybe the labor board will validate the NCAA's claims. After all, players signing a petition and holding a press conference won't exactly shake the NCAA at its core.
What the press conference stands for very well could – because of stories like this.
Get a major public university to file a petition at the state level, and the real threat begins. Players are listening at Georgia. How about at Texas A&M or Michigan or Florida? Better yet, get Johnny Football in a presser with Drake to back Colter.
Huma said he's spoken to thousands of football or basketball athletes over the last year and has come to one conclusion:
"I believe there's widespread interest," Huma said. "Nothing is unique to Northwestern. Guys in locker rooms across the country are going through the same thing. I've spoken with thousands and thousands of players over the last year that support this issue."
CAPA doesn't plan to go on strike or sit out games. As Huma points out, Grambling didn't need a union to not play. Players want to play because athletic careers have a short shelf life, especially in football.
This is about cultivating a voice, one that's valid and should have been heard a while ago.
Forget paying players. This is about grown men tired of sitting at the kids' table.
"This fight may take awhile," Colter said.
Lane Kiffin turned around FAU remarkably fast and has the Owls in the C-USA title game

NCAA football scoreboard, highlights and updates from the biggest Week 12 games

The junior injured his finger diving for the pylon late in the first quarter of the loss to...
Projecting the changes in the new AP Top 25 poll college football rankings after Week 12

There's only one true Turnover Chain in college football, and it belongs to The U

The 72-yard punt return was perfectly executed by the Trojans