Fine-wine coaching era: Old dudes running college football
Alabama's Nick Saban, South Carolina's Steve Spurrier just a few of the success stories for coaches ages 58 and up.
• 4 min read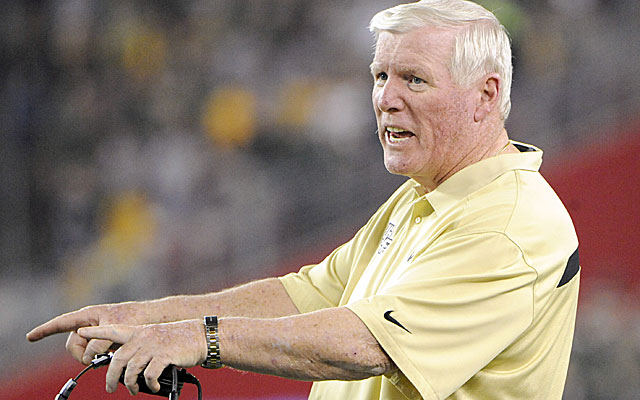 Those athletic directors that just hired a polished 38-year-old CEO type for a head coach, they've got it all wrong.
They should have MetaMuciled up.
Old dudes are running college football -- call it the NCAARP.
Current coaches ages 58 and up piled up the most wins by a large, large margin against other demographics among the six BCS automatic qualifying conferences, Notre Dame and BYU.
Nick Saban, Les Miles, Steve Spurrier, David Cutcliffe and Art Briles are among the leaders of this impressive 13-person group. And, oh yeah, Mark Dantonio turns 58 in March. He'll be welcomed with a bottle of Chateau Lafite, 1787 in this fine-wine era of coaching. Only one coach from the 13, SMU's June Jones (5-7), posted a losing record last year. This list doesn't include Texas' Mack Brown, who resigned after an 8-5 campaign.
The secret? Reading.
"I read in a health magazine your ability to function in life is based completely in mental and physical fitness and not on your age," Spurrier, 68, told me Thursday while on the recruiting trail. "There are some old people at 58, there are some young people at 80."  
9.38 -- Average number of wins this season for the 13 oldest coaches at the BCS level.
Five of those coaches -- George O'Leary (67), Saban (62), Gary Pinkel (61), Briles (58) and Spurrier -- recorded 11 wins or more.
Extract 60-year-olds Jones and Oregon State's Mike Riley (7-6) and the group averages an even 10 wins. Ten!
As long as energy levels are up, older coaches can use their wisdom to win Fiesta Bowls.
"I've seen everything," said O'Leary, who just had the best season of his career culminated by a 52-42 win over Briles in the Fiesta. "I still get to the office at the same time every day, still leave with all the coaches together in the evening. Not much has changed."
As for the rest of the crew, Kansas State's Bill Snyder (74), Virginia Tech's Frank Beamer (67) and Iowa's Kirk Ferentz (58) won eight games apiece. Cutcliffe (59) had a banner year at Duke with 10 wins and an ACC Coastal Division crown. Tommy Tuberville (59) won nine games in his Cincinnati debut.
Now let's check the win totals for the other age classes in the BCS realm. Most are accounted for but the official BCS count will be off by a few because of the offseason coaching changes.
7.4 -- Average number of wins this season for the 32 coaches in the 40-to-49-year-old age group.
Yes, this number is slightly skewed by the younger coaches struggling early in a tenure -- Cal's Sonny Dykes (1-11), Arkansas' Bret Bielema (3-9), Kentucky's Mark Stoops (2-10) and more.
For older coaches, the leash is probably shorter if they struggle. But that's not a problem because they are winning.
"Usually you don't last that long if you're not winning a lot of games," Spurrier said.
FSU coach Jimbo Fisher (48) and Auburn coach Gus Malzahn (48) repped the 40s admirably. They'll be guest speakers at the next middle age meeting.
7.05 -- Average number of wins this season for the 21 coaches in the 50-to-57-year-old age bracket.
No coach in this group had more wins than Dantonio – who joins the 58 Club in two months. .
Then again, so does Kansas' Charlie Weis, who went 3-9 last year.
A lot of coaches in this group have a youthful energy as they embrace the 50s, such as Oklahoma's Bob Stoops (53), Jim Mora (52) and RichRod (50).
4.66 – Average number of wins this season for the six coaches under age 40 in a BCS conference.
This list is less comprehensive but still noteworthy. The American Athletic Conference is a diverse group, with three coaches older than 58 and three under 40 -- Memphis' Justin Fuente (37), Temple's Matt Rhule (38) and USF's Willie Taggart (37).
Catch 39-year-old Pat Fitzgerald on another year and this average is higher, but his Northwestern Wildcats finished 5-7 this year.
Rounding out the list are two coaches brimming with promise -- Texas Tech's Kliff Kingsbury (34) and USC's Steve Sarkisian (39).
The younger coaches can out-recruit the older dudes, right? Not exactly. Consider …
5 -- The number of 58-and-up coaches with a top-25 recruiting class in the current 247 Sports rankings.
Holding down the first and third spots are Saban and Miles, while Spurrier, Briles and Beamer have the back end covered.
What helps these coaches is a formula, not necessarily an outgrind-the-other-coaches mentality. Eight of these coaches have at least nine seasons at their current school.
After all, Spurrier says, recruiting is easier now. Players commit early. He doesn't need to spend every hour of daylight in a local high school to post three straight 11-win seasons and a contract extension worth $4 million per year.
"Basically we visit the ones that committed, you go see a few juniors, you go in and say, 'Hey, how you're doing?' and that's all you can do anyway," Spurrier said.
Say hey to wins and birthdays.
CBS Sports HQ Daily Newsletter
Get the best highlights and stories - yeah, just the good stuff handpicked by our team to start your day.
Please check the opt-in box to acknowledge that you would like to subscribe.
Thanks for signing up!
Keep an eye on your inbox for the latest sports news.
Sorry!
There was an error processing your subscription.
These coaches do everything completely above board, according to their peers

A former mob boss explains how to influence a college football game's final score with relative...

These QBs could be 2018's 'Next Big Thing'
Urban Meyer has been on paid administrative leave since Aug. 1

Ohio State players broke up the monotony of fall camp in a big way

Olson is a redshirt junior for the Trojans