Fischer: Greed is good thanks to Big 12-SEC agreement
Greed is all that matters, in case the landmark agreement to pit the Big 12 and SEC champions -- really their runner-ups --in a bowl game told you otherwise. College football is finally dispensing with the pleasantries and decided to go pro in something other than sports.
"The point is that greed, for the lack of a better term, is good. Greed is right, greed works."
While Wall Street may have been so preoccupied with Facebook to stop and think about Gordon Gekko's famous line on Friday, it was not lost on the leaders of college athletics.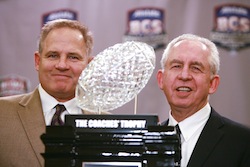 Well, scratch that, leaders of
college football
. That's all that matters, in case the landmark agreement to pit the Big 12 and SEC champions -- really their runner-ups --in a bowl game told you otherwise. This was their Rose Bowl, their 'Champions Bowl' that, if history is our guide, wouldn't pit many champions against each other.
But it doesn't matter,
Friday's news
was about the most powerful conference in the land becoming even more powerful in football and the one that was left for dead just a few months ago getting a permanent seat at the table.
"We're excited because it creates a matchup of the two most successful conferences in the post-season," SEC commissioner Mike Slive
told CBSSports.com
. "Given the fact that we're transitioning into the four-team playoff, we thought it was a good chance to create a very meaningful game."
With all due respect to
Kentucky
, the post-season success Slive referred to was with regards to the six straight BCS titles the league has won. The Big 12 isn't a slouch in the department either with powerhouses like
Texas
and
Oklahoma
despite just one title since 2005.
"The Big 12 and the Southeastern Conference have been the two most dominant players in the Bowl Championship Series era," Oklahoma athletics director Joe Castiglione said bluntly.
If NCAA sports were about men's basketball or any of the other non-revenue sports, we'd have regional conferences with natural rivals. Texas would play
Texas A&M
while the Border War would be just as nasty in Lawrence as it is in Columbia. The tiny cottage industry that made fans across the country feel good about their school has turned into America's second most popular sport and with that comes changes. Just look around.
Michigan
has spent nearly $500 million on facilities
upgrades in recent years, Texas has a jumbotron named Godzilla and their own network while even up and comers like
Boise State
have put football -
in their case a move to the Big East
- ahead of other sports for the greater good of the athletics department.
Look up and down the USA Today finance data
and it's not surprising to see those with successful football programs worrying less about their books than those who have been hovering around .500.
Heck, we all know
Florida State
wouldn't be complaining about the new ACC media deal (that they helped negotiate and sign off on) had they actually been, you know, Florida State. Losing to
Wake Forest
hurts prestige and the bottom line.
Which circles us back to what the BCS negotiations have been about: money, plain and simple.
It's so simple,
Yahoo! Sports'
Dan Wetzel argued on his radio show Thursday, for the powers at be to play the playoff's semi-finals at home campuses and then bid out the title game. With all due respect to Wetzel, who knows more about the BCS than anybody, it was a dream that was never going to get realized.
As CBSSports's Dennis Dodd says
, the Sugar Bowl saying they have a $40 million war chest was extremely prescient.
Why play games at home when the major conferences can let bowls bid on them for $20, $25 million each game, every year? You don't think they know how much Jerry Jones has been itching to get a game at Cowboys Stadium? They do and they know exactly what it's worth.
The agreement means the Pac-12, Big Ten, SEC and Big 12 are a cut above the rest, while the Big East, ACC and others will bide their time. We don't know what it will eventually mean for
Notre Dame
but the Irish are probably aware that they're counting down the days until football independence is over. The big four conferences haven't done anything wrong, they've looked out for themselves and are better off for it. It's a business and they now understand better than ever how free market economics are going help build new practice facilities.
A key part of the Champions Bowl arrangement is the conferences will put up the TV rights, raising yet more money for their schools' coffers that won't have to be shared with others. For those in SEC country that knocked Slive for overreacting and grabbing Texas A&M and
Missouri
last year, just wait to see how much each school takes in when 2014 rolls around.
"Our goal is to provide the fans across the country with a New Year's Day prime-time tradition," said acting Big 12 Conference Commissioner Chuck Neinas. "This is a landmark agreement between two of the most successful football conferences during the BCS era to stage a postseason event. The creation of this game featuring the champions of the Big 12 and SEC will have tremendous resonance in college football."
Personally, I can't wait to see Florida play Oklahoma or TCU take on Arkansas in this Southern Rose Bowl right after the Granddaddy of Them All. To have that and a playoff? That's what I call progress.
This week I went down to the NCAA Regional Rules seminar in Anaheim to talk to a few folks who work in compliance about the comings and goings of athletics nowadays. These aren't the presidents and these aren't the athletic directors, these are the boots on the ground that see football, basketball, lacrosse and other sports just a bit differently. A few lamented at the recent NCAA Presidential Working groups not getting enough input from folks on the ground, that they were just doing whatever they wanted without thinking of the consequences. One remarked that college football, and to a lesser extent men's basketball, was a business while all of the other sports were not. He was right just as Gordon Gekko was in Wall Street.
Greed is good and college football is finally dispensing with the pleasantries and decided to go pro in something other than sports.
A concert is a nice way to break up preseason camp

Mills was arguably Georgia Tech's most important player coming into the season

Hugh Freeze's phone records reportedly show another troubling pattern for Ole Miss
They aren't necessarily great teams, but they're teams I'm really interested in following this...

The Irish will wear them on Nov. 18 against Navy

The fourth-year coach of the Nittany Lions led the program to the 2016 Big Ten Championshi...