Fitzgerald looking forward to shaking Dykes' hand 'after we beat 'em'
Pat Fitzgerald is apparently looking forward to his team's meeting with Cal this year.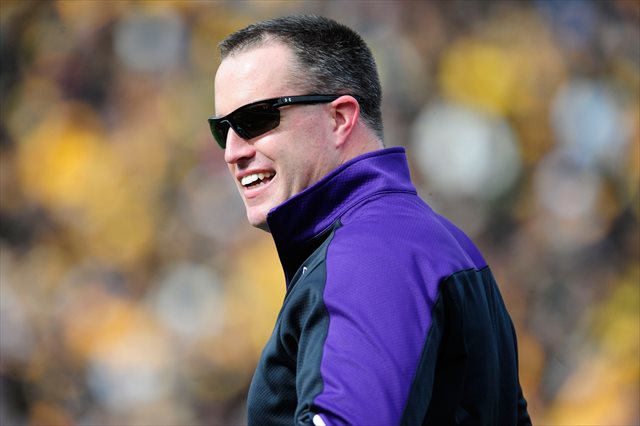 More college football: Jon Solomon | Dennis Dodd | Jeremy Fowler | Latest news
Northwestern's Pat Fitzgerald doesn't seem like the sort of coach prone to offseason smack talk, but whenever coaches and fans get together in a casual offseason setting -- and a reporter's present -- anything can happen, apparently.
In the case of Fitzgerald's appearance at a Monday golf tournament named for late Wildcat coach Randy Walker, that "anything" was a shot across the bow of the Wildcats' opening-week opponent Cal and coach Sonny Dykes. According to the Chicago Tribune, Dykes confronted Fitzgerald in the teams' 2013 post-game handshake over what he believed to be the faking of injuries by the Wildcats, and the first-year Bears coach pointedly declined to comment on the issue in his post-game press conference. 
"The way it went last year," Fitzgerald told the fans of Northwestern Gridiron Network, per the Tribune, "I look forward to shaking that coach's hand after we beat 'em."
Well then! Bonus smack points to Fitzgerald for the use of "that coach," the coach who'll lead the Bears to Evanston for both teams' season opener on Aug. 30. 
Fitzgerald also joked that Northwestern fans would need to be particularly enthusiastic about buying tickets when Nebraska fans descend on Ryan Field on Oct. 18. 
"It's a pretty boring state," he said of the Husker State, "so they're really excited to see Chicago."
We'll write that off as Fitzgerald just trying to get a laugh from his audience, even if somehow it's hard to see too many Nebraska natives doing the same. And as for the Dykes comments, well, if that date wasn't circled on our calendar, it would be now.
Cristobal's first game at Oregon ended the same way Chip Kelly's did

Conner Manning and the Panthers dominated the Hilltoppers in the Cure Bowl

You can only go to the well so often before it dries up
The Trojans beat LSU earlier in the year and now have their first 11-win season as a FBS t...

Saban has never been a fan of the early signing period and made it clear that hasn't chang...

Paul Tyson is a three-star quarterback prospect for the 2019 recruiting class