Five lessons: Texas better learn how to tackle; Oregon's speed is scary
Barnhart: Texas needs a lesson -- and quick -- on how to tackle. Miami's Al Golden is looking more and more like coach of the year. And Oregon's speed is straight intimidating.
There is so much we learned on the second Saturday of the season. I don't see how you can hold it to just five items but we are going to try:
Texas can't tackle a lick
Now exactly why is that?
I don't know the answer. All I know is that Manny Diaz has run out of chances to fix it.
Statistically, the 2012 Texas defense was the worst in the history of the school. But there is bad and there is what Texas showed Saturday night in a 40-21 loss at BYU.
Texas gave up 550 yards rushing. You read that right. Not 550 total yards, but 550 yards RUSHING. And when I saw the highlights last night I was stunned at Texas players in position to make the play who just couldn't get the ball carrier to the ground. BYU's Taysom Hill is a nice quarterback, but nobody will ever mistake him for Vince Young. Hill RAN for 259 yards a year after tearing his ACL.
Mack Brown, the Texas head coach, was supposed to be getting this thing turned around after going 9-4 last season. Manny Diaz was labeled one of college football's bright young minds when Brown hired him as defensive coordinator to replace Will Muschamp. It just didn't work and now Diaz is out and Greg Robinson is in. But you can draw up all the great schemes in the world. The fact still remains that when a player is in a position, he has to be able to make the tackle.
It is not going to be pretty when Ole Miss Rebels comes to Austin on Saturday. Mack asked for time to fix the problems in his program and he was given that time. The defense still isn't fixed. Looks like that side of the ball still needs what my daddy used to call a little more "want to."
Let's put it this way. This ain't a good week for Texas to be playing Ole Miss. And while we're on the subject of underachieving, did you notice that Lane Kiffin, the Boy Wonder of USC, had exactly 54 yards passing against that defensive juggernaut otherwise known as Washington State Cougars ?
The ACC is loving life right now
Miami (Fla.) Hurricanes win over Florida Gators was one the Hurricanes and the ACC desperately wanted. Here's why:
In the first two weeks of the season the ACC has three high-profile wins over No. 8 Georgia Bulldogs (by Clemson Tigers ), No. 12 Florida (by Miami), and unranked Virginia Cavaliers , whose 19-16 win over BYU on Sept. 7 looks a lot better right now.
Those wins also set up the ACC for what looks like a compelling regular season. Specifically:
Georgia Tech Yellow Jackets

at Miami, Oct. 5

Florida State Seminoles

at Clemson, Oct. 19
Miami at Florida State, Nov. 2
Georgia Tech at Clemson, Nov. 14
Sure, there are a bunch of other big games. North Carolina Tar Heels could still be a factor. So could Virginia Tech Hokies . And there is the possibility of an ACC championship game between an undefeated Clemson and an undefeated Miami. It's a long shot to be sure, but it is still a talking point moving forward.
The point is that those three big nonconference wins enhance the possibility that people will still be talking about the ACC and the BCS championship race come late November. And that hasn't happened in a while.
Al Golden is already my coach of the year
No one would have blamed Al Golden if he had walked away once the severity of Miami's NCAA investigation became public. Golden sure didn't know about it when he took the job. But instead of jumping off what looked like a sinking ship in Coral Gables, Golden stayed at the helm and has guided the Hurricanes through two tough seasons of uncertainty which ended with self-imposed bowl sanctions. Last season Miami had to give up a chance to play in the ACC championship game because it was the strategic thing to do while the NCAA investigation continued to drag on and on and on.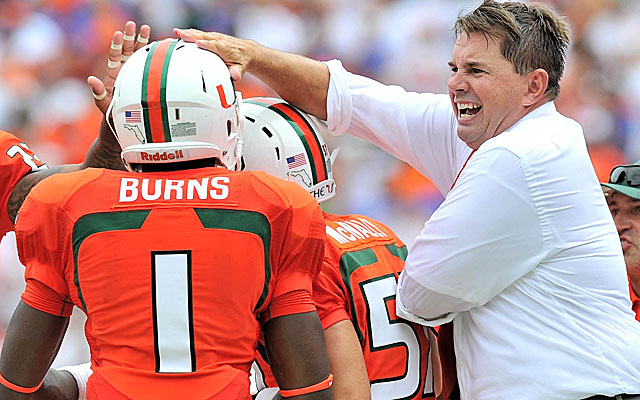 Golden told me privately this summer that he really hoped the NCAA case would be resolved by the start of the season. We're still waiting. So it was understandable that Golden was a little emotional after beating Florida 21-16 at Sun Life Stadium. It was a program-building win and one he and his players deserved after fighting through the past two years.
"It was a great moment for our guys, not only those guys who chose the University of Miami during this but stood there and fought," he said.
I don't care how the rest of the season goes. Al Golden is already my coach of the year because he didn't run when it got tough at Miami. He stood there and fought.
No slowing down Ducks
There is speed. There is exceptional speed. And then there is Oregon Ducks . So much for the theory that when West Coast teams come East, the heat, humidity and the time change slows them down. That may apply to most teams, but it doesn't apply to Oregon, which rolled up 557 total yards in only 69 plays and 21:25 time of position in racing past Virginia 59-10 in Charlottesville. Last week Oregon posted 772 yards and 66 points in only 19:54 time of possession against Nicholls State.
The harsh reality for Oregon opponents is that you can't simulate what they do in practice unless you can convince the entire track team to come out for football.
"We knew they are fast and athletic," Virginia coach Mike London told reporters after the game. "We tried to practice the pace, but it's hard to practice for that type of athleticism that they have. It is always a challenge when you face an offense like that."
In short, the speed and tempo of Oregon are physically and mentally intimidating.
"That's the funny part. For the first couple plays, they're out there talking, and as the game goes by, guys are just slowing down and you can see by their body language and stuff, and that's when we know we got 'em," said running back D'Anthony Thomas.
Next up: The Tennessee Volunteers , who are 2-0 after beating Western Kentucky.
Dawgs get back on track
What a difference a week makes -- if you're a Georgia Bulldog. This time last week Georgia, the No. 5 preseason pick, was coming off a 38-35 loss at then No. 8 (Now No. 3) Clemson. After just one game coach Mark Richt was supposedly back on the hot seat and quarterback Aaron Murray was the guy who could put up impressive stats but could never win the big one.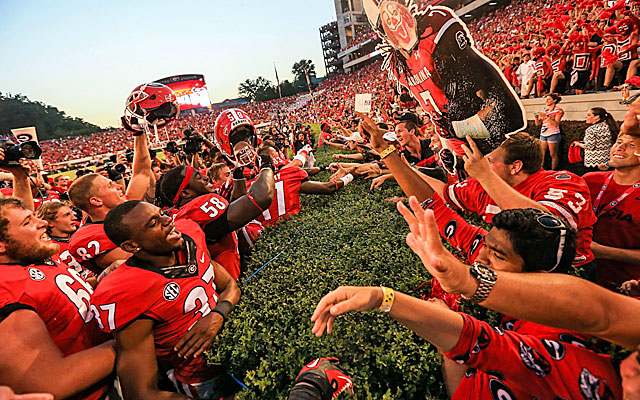 One Georgia fan was so upset after the Clemson loss that he called into a radio talk show and cried on the air, proclaiming that the Bulldogs would never win another meaningful game under Mark Richt.
Today, after just one more game, it seems everything is just fine in the Bulldog Nation. Georgia is celebrating a convincing 41-30 win over South Carolina Gamecocks , which puts them 1-0 in the SEC and in a decent position to make a run at a third straight Eastern Division championship.
Georgia now holds the tiebreaker over South Carolina. Florida, the other challenger to Georgia in the division, seems to have all kinds of issues after losing to Miami. Georgia will certainly be favored against the rest of the SEC East: Tennessee, Vanderbilt Commodores , Kentucky, and Missouri Tigers .
Now Georgia is back in the Top 10 at No. 9 in the AP poll. The Bulldogs are off this week, take on North Texas Mean Green on Sept. 21, and then host No. 8 LSU Tigers from the SEC West. Florida also has to play LSU in Baton Rouge. So Georgia has gone from the edge of disaster to a pretty good place because of 60 minutes of football. What a crazy game. I guess that's why we love it so much.
A concert is a nice way to break up preseason camp

Mills was arguably Georgia Tech's most important player coming into the season

Hugh Freeze's phone records reportedly show another troubling pattern for Ole Miss
They aren't necessarily great teams, but they're teams I'm really interested in following this...

The Irish will wear them on Nov. 18 against Navy

The fourth-year coach of the Nittany Lions led the program to the 2016 Big Ten Championshi...