Five Lessons We Learned: McCarron, Williams, Carey are Heisman-worthy
Lessons from Week 13? AJ McCarron belongs in the Heisman discussion. Ditto for Andre Williams and Kadeem Carey. And it's time to get rid of November cupcakes.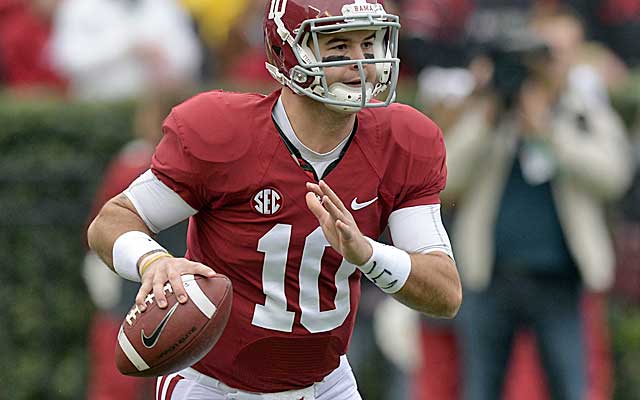 Another one (Baylor) bit the dust on Saturday and now we are left with three unbeaten teams (Alabama, Florida State, State" data-canon="Ohio Bobcats" data-type="SPORTS_OBJECT_TEAM" id="shortcode0">) who can make an argument, a bunch of conference races that still aren't decided, and what looks like the Mother of All Iron Bowls (No. 1 Alabama at No. 4 Auburn). This college football season isn't winding down. It's getting ready to explode.
Five things we learned on Saturday:
AJ McCarron's Heisman Moment has come
It was not the best of Saturdays for the guys who want to take home the big stiff arm on Dec. 14.
Johnny Manziel was under fire from John Chavis's brilliant defensive game plan at LSU, which used wide receiver Odell Beckham, Jr. to simulate Manziel in practice. Johnny Football completed only 16 of his 41 passes for 224 yards. Every time this season when A&M was in trouble, Manziel was usually able to put his team in position to win. It didn't happen on Baton Rouge.
Bryce Petty of Baylor ran into a buzzsaw in Stillwater, America. He hit 28 of 48 passes but he wasn't the best quarterback on the field. Clint Chelf was. Baylor was thoroughly dominated, 49-17.
Marcus Mariota and Oregon were again not ready for prime time, suffering an inexplicable 42-16 loss to Arizona. Before the game some of Oregon's players said they didn't want to play in the Rose Bowl if it wasn't for the national championship. Well, fellas, you got your wish. Enjoy the Holiday Bowl. I hear San Diego is nice this time of year.
Florida State's Jameis Winston has issues that may or may not get resolved by the time the Heisman ballots are due. We can debate the fairness of withholding a vote for someone who has not been charged with anything at this point. But a lot of voters simply aren't going to take the chance.
So it's time to take a harder, more serious look at a guy like AJ McCarron of Alabama. I've said it before and it bears repeating. At some point voters have to look behind the stats and at the way the guy plays the game. And who plays the game better than McCarron? He is 36-2 as Alabama's quarterback. He has two national championship rings and, if Alabama beats Auburn on Saturday, he'll get the opportunity to play for a third. He has thrown only five interceptions this season after only three picks last season. Alabama had to rebuild its offensive line this season and he never missed a beat.
Saturday's game at Auburn is the biggest Iron Bowl played since No. 2 Alabama went to Auburn on Dec. 2, 1989. In terms of sheer ranking, it's the biggest. If McCarron can go into Jordan-Hare Stadium and win, that tells me something. This Saturday is AJ McCarron's Heisman moment.
Williams, Carey carry the load
And while we're at it, let's throw some love to Andre Williams and Kadeem Carey. Williams entered Saturday's game with Maryland having carried the ball 105 times in his last three games. He was leading the nation in rushing with 1,810 yards. You would think Maryland would set up its defense not to get beat by him. The Terps did. For a while. Maryland led 24-13 before Williams exploded for a 72-yard touchdown to put him over the 2,000 mark. He finished with 263 yards on 32 carries. Boston College made a 52-yard field goal on the last play of the game to win 29-26. The week before Williams carried it 42 times for 339 yards in a win against State" data-canon="North Carolina Tar Heels" data-type="SPORTS_OBJECT_TEAM" id="shortcode0">. Williams is now the 16th player in FBS history to go over 2,000 yards in a single season.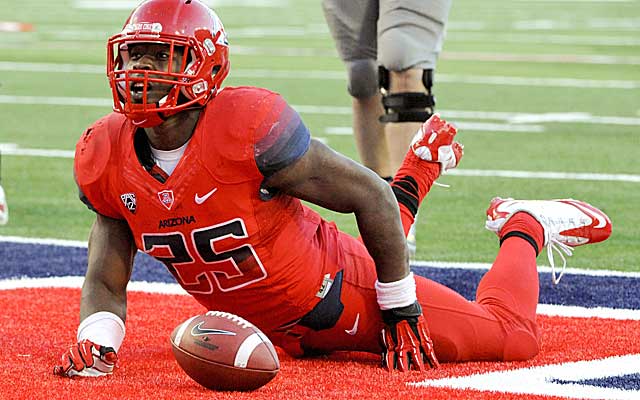 Arizona's Ka'Deem Carey ran for 206 yards and four touchdowns as the Wildcats just destroyed Oregon 42-16. He was a man among boys out there carrying the ball a school record 48 times. In a year that has been dominated by quarterbacks, these guys need some Heisman consideration.
And don't forget Tajh Boyd
A lot of people wrote off the Clemson quarterback after the Tigers fell to Florida State on Oct. 19. Well, a lot of quarterbacks have struggled against the Seminoles. Since the Florida State game Tajh Boyd has completed 93 of 124 passes (75 percent) for 1,309 yards, 13 touchdowns and just three interceptions.
With Boyd as the starting quarterback Clemson has won at least 10 games for three straight seasons. They won an ACC championship two years ago. He has completely rewritten the Clemson passing record books. Saturday against The Citadel he completed 21 of 38 passes for 288 yards and five touchdowns before calling it a night. Boyd gets another prime-time shot on Saturday against No. 10 South Carolina in Columbia. Clemson has lost four straight to the Gamecocks. If Boyd leads his team to victory he deserves a trip to New York City for the ceremonies.
If Muschamp goes, only one hire makes sense
If Florida makes a change, I have two words to consider: I said in this space after the Georgia-Florida game that Will Muschamp should be retained as head coach. I haven't changed my mind despite Saturday's 26-20 loss to Georgia Southern. No excuses will be given here for Florida's loss. It was embarrassing to the program.
Georgia Southern is one of the top programs in FCS. Florida lost the game despite the fact that Georgia Southern did not complete a single pass. The Eagles didn't have to as they ran for 429 yards and ATTEMPTED only three passes.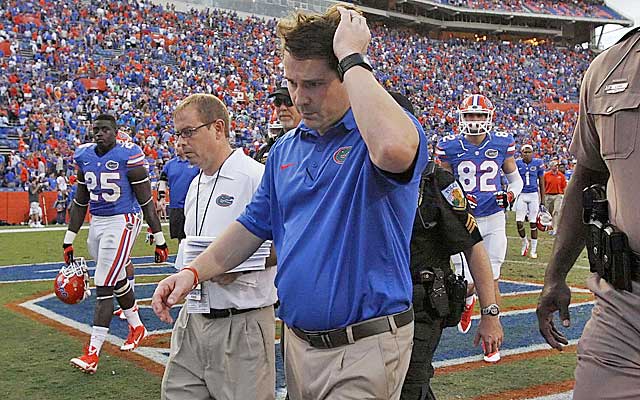 This group of players has obviously given up. The head coach has to take responsibility for that. The question now becomes whether or not Muschamp can regroup with a new set of players and some significant changes to his coaching staff. One has to wonder if it has reached the point of no return, where the fans won't support the program under its current leadership. Jeremy Foley, the director of athletics, does not want to make this move but after Saturday's game his hands may be tied.
So here's my position. As painful and as unpopular as it would be, Florida should retain Muschamp with the promise of a major overhaul of the offense. Start over with somebody who knows how to use great athletes in space and then go recruit those athletes. Everybody on the offensive staff goes except Joker Phillips, the wide receivers coach. But this has to be a home run hire and it will take a multi-year contract to get him.
But if Florida feels like it MUST make a change at head coach I have two words: Charlie Strong.
Time to cut out the cupcakes
With the arrival of a selection committee, let's hope we can do away with these ridiculous November games. North Carolina beat Old Dominion 80-20 with a running clock in the fourth quarter. Florida State got a pick six to make it 80-14 over Idaho. If the rationale is that such style points are necessary in the BCS, then hopefully the end of the BCS will make these kinds of games go away. A small selection committee is not going to be impressed by rolling up 80 against a defenseless team that shouldn't be on the schedule in the first place.
With the selection committee everybody will have to toughen up their non-conference schedule and hopefully these games, if they have to be played, will land in September and stay out of November. They are a distraction and an embarrassing one at that.
CBS Sports HQ Daily Newsletter
Get the best highlights and stories - yeah, just the good stuff handpicked by our team to start your day.
Please check the opt-in box to acknowledge that you would like to subscribe.
Thanks for signing up!
Keep an eye on your inbox for the latest sports news.
Sorry!
There was an error processing your subscription.
Hurts will look to lead the Sooners to even greater heights than Baker Mayfield and Kyler...

Nebraska is going back to black with its 2019 alternate uniforms

The Badgers were the only FBS team Cephus could have played for this season
Fields transferred from the Bulldogs following his true freshman season

This year's Preseason AP Top 25 also looks similar to the Preseason Coaches Poll

Taking a close, detailed and opinionated look at the Big 12 as the college football season...