Five Lessons We Learned: Muschamp deserves to stay at Florida
Bad offense and leaking defense add up to Florida's worst season in over 30 years. But let's give Will Muschamp a chance to fix this mess.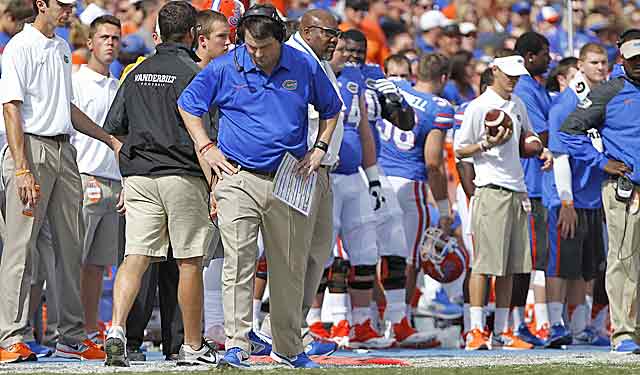 OK. Let's do the math.
We have four Saturdays left in the regular season. We have four undefeated teams (Alabama, Florida State, <span data-shortcode= State" data-canon="Ohio Bobcats" data-type="SPORTS_OBJECT_TEAM" id="shortcode0">, Baylor), all believing they should be playing for the crystal football in Pasadena on Jan. 6. We have a few one-loss teams, like Stanford, that believe they are as good as anybody. All can make a compelling case.
But only two can play in the Big Game.
How many will be left at the close of business on Dec. 7? Finding out is going to be fun. But first, here are five important things we learned over the weekend:
1: Muschamp to keep Florida post
Florida is having a bad, bad year. But Will Muschamp is not going to get fired. And he shouldn't.
First of all, a little perspective is in order. I know it's hard to come by after you've lost in The Swamp to Vanderbilt on Homecoming. But here goes:
Few football teams in my memory have had as many crushing injuries as Florida has this season. It started with the loss of QB Jeff Driskel in the third game and continued until early last week when, of all things, left tackle Tyler Moore suffered a season-ending elbow injury in a scooter accident. Florida began the year with a top-10 defense but has waned since losing Dominique Easley, its best defensive lineman.
Florida is bad on offense, no getting around that. The early optimism that quarterback Tyler Murphy would give the Gators a spark after Driskel's injury was clearly unfounded. The offense has collapsed into a mish-mash of turnovers, missed assignments and, to be candid, a less than adequate effort from the frustrated, and sometimes confused, Gators.
But after winning 11 games last season, Muschamp has earned the right to fix it. He needs to recommit his recruiting efforts to get great offensive playmakers. Florida simply does not have enough players on that side of the ball. He also needs to have a serious discussion with offensive coordinator Brent Pease. Muschamp hired the guy from Boise State. He knows offense. Either take the handcuffs off or go another direction.
Florida is 4-5 and likely will finish 5-7 with games remaining against South Carolina (Saturday in Columbia), Georgia Southern and No. 2 Florida State. It would be the first time the Gators have not gone to a bowl since 1979, Charley Pell's first season as head coach.
Firing Muschamp now wouldn't be fair. I know that seems like an odd concept to some. But it would send the message that one bad season can get you fired at Florida. That will make even the best coaches who might be candidates a bit skittish. It devalues the job.
2: Bama-FSU for title-game a lock, right?
With Oregon out of the way, an Alabama-Florida State national championship game seems certain, right?
Well, not so fast, BCS breath. If the two teams win out, says our favorite numbers cruncher Jerry Palm, the Crimson Tide and Seminoles will be playing for the BCS championship on Jan. 6 in Pasadena.
And right now it would appear that Florida State has the easiest road ahead. After pummeling Wake Forest 59-3, the Seminoles (9-0, 7-0 ACC) have clinched a spot in the ACC Championship Game and have three games remaining with Syracuse, Idaho and reeling Florida.
Alabama (9-0, 6-0 SEC) has games left against Mississippi State, Chattanooga of the FCS, and what looks like to be the best Iron Bowl since 2010 when the Crimson Tide go to Auburn (9-1, 5-1) on Nov. 30.
Waiting in the wings hoping for a stumble are No. 3 Ohio State (heading for a showdown with No. 16 Michigan State in the Big Ten Championship Game) and No. 5 (in the BCS) Baylor, which may be headed to a Dec. 7 matchup with Texas for the Big 12 title. If both these teams get left out of the big game, Ohio State would play the Pac-12 champ, probably No. 4 Stanford, in the Rose. The Big 12 champ is committed to the Fiesta Bowl for one more year and would probably play Fresno State (9-0) if it finishes ranked No. 16 or better.
Life would be a lot simpler if the four-team playoff was starting this season instead of next season.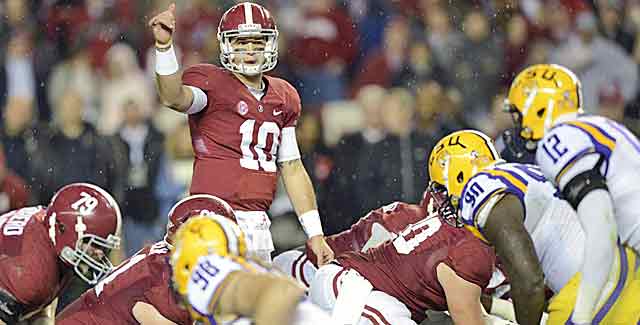 3: McCarron deserves Heisman attention
Give AJ McCarron some love in the Heisman Trophy race. Look, I know the trophy is going to a big-stats guy. Johnny Manziel had another unbelievable day against Mississippi State. Baylor's Bryce Petty is unstoppable. Marcus Mariota was going great guns until running into Stanford last Thursday night. There are a lot of guys putting up good numbers and one of them is probably going to win it.
But at some point don't we have to give credit to how somebody plays the game? The only statistic that really matters when you're talking about McCarron is 34-2, his record as the starting quarterback at Alabama. That total includes one SEC championship (2012) and two BCS titles (2011, '12). And he just might get a third.
One of McCarron's two losses was to LSU in OT in 2011. McCarron avenged that 9-6 defeat by winning a rematch in the BCS title game, 21-0. Then McCarron led Alabama on a last-minute drive to beat LSU last season in Baton Rouge.
The other loss was to Manziel and Texas A&M in November 2012 in Tuscaloosa. He avenged that loss by winning another national title and by throwing for 334 yards and four touchdowns in a 49-42 win at College Station on Sept. 14.
Earlier this week Saban called McCarron "the most underrated player in college football."
"All he does is win," Saban said.
If he stays healthy, McCarron could play five more college games, finish with a 39-2 record, two SEC championships and three national titles. He would go down as one of the most successful quarterbacks in the history of the game. McCarron may not get the hardware, but surely that merits a trip to New York.
4: Don't forget UGA's Murray
While we're at it, how about a little love for Aaron Murray? Given the monster games of the weekend, the news out of Athens, Ga., went virtually unnoticed. Murray, Georgia's senior quarterback, threw two touchdown passes in a 45-6 nonconference win over Appalachian State. That gives Murray 115 career touchdown passes, breaking the SEC record of 114 set by Florida's Danny Wuerffel from 1994-96. Third place on that list is Tennessee's Peyton Manning, who threw 89 touchdown passes from 1994-97. Murray, who still has an outside shot to go to his third consecutive SEC Championship Game, will play his final home game on Nov. 23 against Kentucky.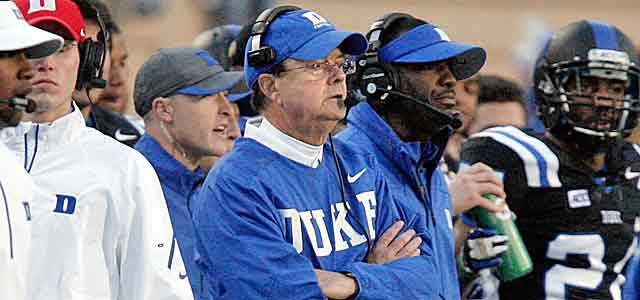 5: Duke is an ACC contender
Don't look now but Duke -- yes Duke -- can win ACC Coastal. The Blue Devils rallied in the second half Saturday to beat NC State and improve to 7-2. It guarantees the Blue Devils their first winning season since 1994 and their second straight bowl game, a first in Duke football history. Now all of that is impressive for David Cutlciffe, the former Ole Miss coach and tutor to Peyton and Eli Manning. But now Duke can think about much bigger goals.
Miami's 42-24 loss to Virginia Tech on Saturday night means that with three Saturdays left there are four teams in the ACC Coastal with two conference losses:
Georgia Tech (5-2) plays its final ACC game at Clemson on Thursday.
Virginia Tech (4-2) hosts Maryland this week and finishes at Virginia on Nov. 30.
Duke (3-2) has three league games left with Miami, at Wake Forest and at North Carolina.
Miami (3-2) has three ACC games remaining with Duke, Virginia and Pittsburgh.
There are too many scenarios to count but we'll remind you that Duke has never played in the ACC Championship Game and has not won the conference since 1989, Steve Spurrier's last season as head coach.
Weinke was injured when Florida State lost to Tennessee in the 1999 BCS title game

It was one of the busiest offseasons for the assistant coaching ranks

Oliver's star has already been born, but 2018 is when it will truly be recognized
Craig Kuligowski is reportedly leaving Miami to take the same job with Alabama

BT Potter is about to be very popular in the Clemson locker room

McElwain will coach receivers and help coordinate the offense for the Wolverines