Five Lessons We Learned: Noles root on Stanford, LSU, season gets tense
The schedule gives us gifts coast to coast, starting Thursday with Oregon at Stanford. And you can bet Florida State is on the Cardinal bandwagon.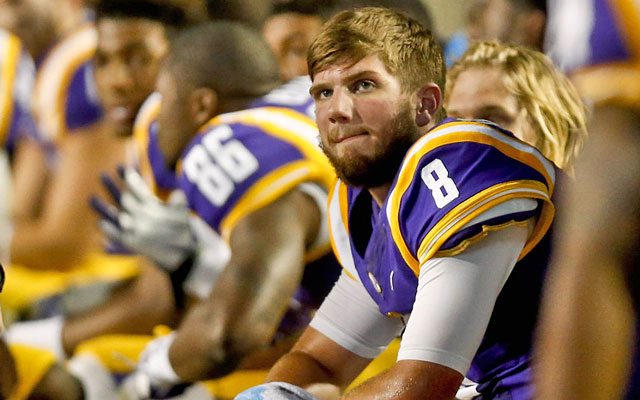 As my old coach used to say, we have now entered for part of the season that "separates the sheep from the goats."
What he meant, fellow travelers, is that we have reached the moment where a team with weaknesses can't hide anymore (ask Michigan). The schedule demands that we separate the contenders from the pretenders, the bright shiny ponies from the well-trained thoroughbreds.
Simply put, there are a lot of OK teams -- seven unbeatens -- with good records still out there but now they have to start playing each other. And what looked like a good season just a couple of weeks ago could become a real disappointment in the coming weeks. It all started on Saturday and here are five things we learned:
1. Florida State fans will pull like crazy for Stanford and LSU : Florida State jumped back into No. 2 in the BCS after the Noles were as impressive as Vegas said they would be in dispatching previously undefeated and No. 7-ranked Miami 41-14 in Tallahassee. With all due respect to Oregon -- and the Ducks are due a helluva lot of respect -- I agree with my CSS broadcast partner Brady Ackerman. He told me a week ago that he thought Alabama and Florida State were the two most complete teams in college football.
But unless a lot of people now voting Oregon No. 2 change their minds in the coming weeks, the Ducks have the edge if they win out. Oregon goes to Stanford on Thursday night and a lot of people in Tallahassee will be buying Stanford sweatshirts and hold viewing parties in hopes of giving the Cardinal (7-1) some of that Florida State mojo. On Saturday night those same Florida State fans will be having parties and wearing their LSU gear as the Tigers visit No. 1 Alabama. One of those teams probably needs to lose for the Seminoles to get to Pasadena
It's all about the schedule, folks. Florida State has beaten two top-10 teams (at the time of the game) in Clemson (No. 3) and Miami (No. 7). But the rest of the schedule includes Wake Forest (4-5), Syracuse (4-4), Idaho (yes 1-8 Idaho), and a Florida team that is 4-4 after Saturday's loss to Georgia.
2. Let's not present Ohio State the Big Ten championship just yet: We keep waiting for Michigan State to fall with its very average offense but the Spartans won't because the defense is just too damned good. The nation's leader in total defense sacked Michigan seven times and the Wolverines finished with minus-48 yards rushing in a 29-6 beatdown.
I haven't been sold on Michigan State in years past. Now I am.
Michigan State (8-1, 5-0 Big Ten) -- remind me again how Notre Dame beat this team -- has games remaining with Nebraska, Northwestern and Minnesota. The first two are on the road but all seem winnable. Two wins and Sparty locks up the Legends Division.
And after watching that defense completely take apart Devin Gardner and the Wolverines (168 yards of total offense) is there any doubt Michigan State could more than hold its own against Ohio State in the Big Ten Championship Game in Indianapolis? No doubt here.
3. Bo Pelini (actually his QB) threw up a prayer and it was answered: The Pelini family was one Hail Mary pass away from having one of its toughest weeks ever. Earlier in the week Bo's brother Carl had to resign as head coach at Florida Atlantic after witnesses signed affidavits that he used illegal drugs. Nebraska and Bo Pelini were still recovering from last week's 34-23 loss to Minnesota and the heat was getting turned up. Things were about to get worse as Nebraska trailed Northwestern at home 24-21 with the ball at midfield and time for only one play. Backup quarterback Ron Kellogg was in the game playing the role of Doug Flutie while Jordan Westerkamp mimicked Gerard Phelan. The ball bounced off a Northwestern defender and into Westerkamp's arms for the touchdown. The clock read triple zeroes.
So a rocky season for Pelini is given a brief reprieve. At 6-2 the Huskers still have games at Michigan, Michigan State, at Penn State and Iowa.
4. Better get used to it, folks -- Missouri is really good and could run the table: I picked Missouri to beat Tennessee on Saturday but secretly I thought they might still have a hangover from blowing a 17-0 lead and losing to South Carolina in double overtime last week. Given that the Tigers had been ranked No. 5 in the BCS, my logic was that you just don't get over a game like that in a week.
Gary Pinkel knew it wasn't going to happen and he was right. Missouri jumped on top of Tennessee early and made it look easy, winning 31-3.
Pinkel's point to his team before the game: We control what happens to us. Win the next four games (Tennessee, at Kentucky, at Ole Miss, Texas A&M) and we're in the SEC Championship Game in Atlanta.
"Why in the world would you ever be thinking about last week's game when there's so much out there?" Pinkel asked after the game. "A little common sense here. Are you kidding me?"
The answer to Pinkel's question is that young football players often don't use common sense, don't take the long view and are impacted by the emotion of their last experience -- good or bad. But the fact is that Missouri forced three turnovers and committed none against the Volunteers. They also ran for 339 yards.
This team is more than capable of winning out and finishing 11-1. But if the Tigers lose one, and South Carolina beats Florida on Nov. 16 in Columbia, then Steve Spurrier's Gamecocks could be going to Atlanta, depending on tiebreakers with the possibility of Georgia forcing a three-way logjam.
5. The Big 12 race is just starting: The powers that be in the Big 12 decided to use the first two-thirds of the season to entertain us (Texas Tech, Oklahoma State, Baylor, Texas, Oklahoma) and the final third to torment us. Here are the four teams with no losses or one loss in the conference as we head into the stretch drive. Who is going to win this thing? Remember that the Big 12 plays a NINE-GAME conference schedule:
Texas (5-0): Nov. 9 at West Virgina; Nov. 16 vs. Oklahoma State; Nov. 28 (Thursday) vs. Texas Tech; Dec. 7 at Baylor
Baylor (4-0): Nov. 7 (Thursday) vs. Oklahoma; Nov. 16 vs. Texas Tech; Nov. 23 at Oklahoma State; Nov. 30 at TCU; Dec. 7 vs. Texas
Oklahoma (4-1): Nov. 7 (Thursday) at Baylor; Nov. 16 vs. Iowa State; Nov. 23 at Kansas State; Dec. 7 at Oklahoma State
Oklahoma State (4-1): Nov. 9 vs. Kansas; Nov. 16 at Texas; Nov. 23 vs. Baylor; Dec. 7 vs. Oklahoma
If you can pick the winner from that group please be my guest.
Rhoads led Iowa State to three bowl games in seven years as head coach

The Georgia middle linebacker is one of the most valuable players in college football

Explaining my 2017 Heisman Trophy ballot and Jackson's tremendous season
Mayfield is the sixth Oklahoma player to win the Heisman since its inception

The Heisman Trophy will be presented to the best college football player this season

Army topped Navy for the second straight year in an absolute thriller in Philadelphia