Five Lessons We Learned: SEC East race blown open; Duke bowling
Thanks to Connor Shaw (tough or what?) and South Carolina, the SEC East is anyone's race. In the ACC, Duke is bowling and Miami-FSU is another big-time showdown.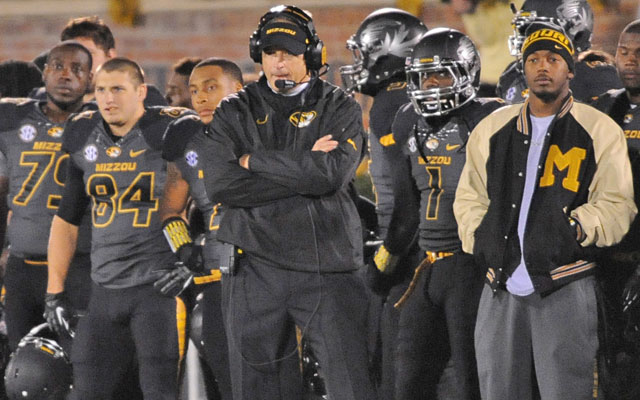 Here are five very important things we learned on the last Saturday in October:
1. With Missouri's collapse vs. South Carolina, the SEC East is wide open again: Missouri had the SEC East all but locked up Saturday night when it blew a 17-0 lead in the fourth quarter and lost in double overtime to South Carolina. Missouri can still capture the SEC East and a spot in the league title game by winning its last four conference games. But that's a pretty tall order.
So we are declaring the SEC East up for grabs again as we enter the month of November.
South Carolina's win at Mizzou not only put the Gamecocks back in the race, it also cracked the door for Georgia and Florida, who meet this Saturday in Jacksonville in what will essentially will be an elimination game.
South Carolina is sitting in the best position because it only has two SEC games left (Mississippi State, Florida) and both are at home.
Here are the SEC games each team has left with the best-case scenario for each of the four teams to get to Atlanta. It doesn't cover every possibility, such as all four teams finishing with three conference losses. We'll cross that bridge if we have to.
Missouri (3-1 SEC): vs. Tennessee; at Kentucky; at Ole Miss; vs. Texas A&M
Best-case scenario: Winning the final four SEC games would clinch; finishing in a tie with Georgia or Florida but NOT South Carolina would also get the Tigers to Atlanta.
South Carolina (4-2): vs. Mississippi State; vs. Florida
Best-case scenario: Win final two SEC games; Missouri loses once; Florida beats Georgia.
Florida (3-2): vs. Georgia (Jacksonville); vs. Vanderbilt; at South Carolina
Best-case scenario: Win final three games; Missouri loses two more times.
Georgia (3-2): vs. Florida (Jacksonville); at Auburn; Kentucky
Best-case scenario: Win final three games; Missouri loses two more times.
2. Coach Cut is bowl eligible again: When David Cutcliffe, tutor of Peyton and Eli Manning, took over the struggling program at Duke he set a lot of goals. One of those goals was to get the Blue Devils back to a bowl game for the first time since 1994. Duke did that last season.
Another goal was to take the Blue Devils to TWO straight bowls, something that has not been done in the school's 125-year football history.
Coach Cut nailed that one down before Halloween with a stunning 13-10 win over No. 16 Virginia Tech in Blacksburg on Saturday. It was the Blue Devils' first win at Virginia Tech since 1981.
Duke's historic victory came the week after the Blue Devils had rallied from a 22-0 deficit to beat Virginia 35-22. The win at Virginia Tech was the first time Duke has beaten a ranked team on the road in 42 years.
Duke (6-2, 2-2) has games remaining against NC State, Miami, Wake Forest and North Carolina.
Duke has not won seven games in a season in 19 years, when the '94 team of Fred Goldsmith started 7-0 and finished 8-4.
Cutcliffe took over at Duke in 2008 convinced he could change the culture of losing. He knew it wasn't going to be easy. Going to a second straight bowl is a huge step in that process.
"That may not sound like much to some people, but that's the beginning of starting to believe you should win," Cutcliffe told the Raleigh News & Observer last week. "Not can, there's a big difference. When you start believing you should win, then you start winning. This 'can' stuff is bull."
3. It was not a good weekend for Bo Pelini: Tommie Frazier, the former great Nebraska quarterback, was already hammering Pelini on Twitter before Saturday's 34-23 loss at Minnesota. Frazier, who led Nebraska to a pair of national championships, famously hammered Pelini back in September after the Cornhuskers blew a 21-3 lead and lost 41-21 to UCLA.
At the time, Pelini reacted by suggesting that if Frazier couldn't support the program unconditionally "We don't need him." Pelini had to backtrack on that one. Pelini taking on Tommie Frazier would be like any Ole Miss coach taking on Archie Manning. You don't mess with the icon.
So when Nebraska gave up 271 yards rushing and lost to a team whose head coach (Jerry Kill) was watching from a booth upstairs due to health issues, Frazier just kept it simple on Twitter:
"Do I need to say anymore?"
Also remember that earlier this season some weasel leaked audio of Pelini in mid-rant against media and fans that was recorded two years ago. The school backed Pelini because it had dealt with the issue over a year ago. Fans do not forget such things if you're not winning big enough.
Nevertheless, losing to Minnesota for the first time since 1960 won't help Pelini's cause. As an old coach once told me, the administration will back you until they don't.
4. Connor Shaw is one of the toughest football players I've ever seen: Shaw, South Carolina's senior quarterback, had a bad knee and was only supposed to play against Missouri in case of an emergency.
Well, being down 17-0 at Missouri, in South Carolina's last chance at staying alive in the SEC East race, constituted an emergency. Shaw, the son of a coach, told Spurrier before the game he could go if needed. Midway through the third quarter Spurrier asked him again: "Can you go?"
"Connor said he could play and it was pretty much a do-or-die situation," Spurrier said when we talked Sunday. "If we don't win that game we're done in the SEC East."
Shaw completed 20 of 29 passes for 201 yards. He threw a two-yard touchdown pass to tie the game 17-17 with 42 seconds left. In the first overtime he threw a 15-yard touchdown pass to Bruce Ellington on fourth down to tie the game at 24-24. In the second overtime South Carolina made a field goal and Missouri's potential tying kick bounced off the left upright.
And what made Shaw's performance even more impressive was this: Spurrier revealed Sunday that Shaw felt sick getting off the plane in Missouri on Friday. He did not attend the team movie and did not go to the walkthrough at Faurot Field early Saturday.
"He ate a little something before the game but it was mostly Gatorade and bananas," Spurrier said. "He told me before the game he was feeling better."
No matter what happens the rest of his senior season, Connor Shaw's legacy as one of South Carolina's greatest quarterbacks is set.
Spurrier, by the way, was 0-3 in overtime games before Saturday night.
"We've had some bad luck in overtime," Spurrier said. "Maybe we were due."
5. The ACC dodged a big, big bullet: It has been a very good season for ACC football. The conference picked up two strong nonconference wins in the first two weeks when Clemson knocked off Georgia and Miami beat Florida.
Then the league had a super event when No. 3 Clemson hosted No. 5 Florida State on Oct. 19. The game wasn't competitive but that came only after a full day of having the ACC promoted on national television.
The ACC has another top-10 matchup set for Saturday between No. 3 Florida State and No. 7 Miami. But Wake Forest almost spoiled it. The Deacons got up 14-3 on the Hurricanes at Sun Life Stadium and still led 21-17 with about four minutes left. But for the second straight week Miami rode the running of Duke Johnson (18 carries in the fourth quarter) and came from behind to score the winning touchdown with 53 seconds left. Miami's 24-21 victory sets up the "Sunshine Showdown" on Saturday night at Doak-Campbell Stadium.
To be fair to Miami, which had to come from behind to win at North Carolina on Oct. 17, it was a tough week. The NCAA ruling on Miami's case finally came down. Everybody was talking about the matchup with Florida State. No one was talking about Wake Forest, which had beaten Maryland the week before.
But to be fair to Wake Forest, it again must be noted that Jim Grobe gets more out of his talent than any coach in America. It would have been Wake Forest's first win over a top-10 team in 67 years. Wake Forest (4-4) won the ACC championship in 2006.
"That one hurt," Grobe said Sunday. "The way our defense was playing I liked our chances late. But Duke Johnson is the real deal. He is a great player."
The Tigers are going worldwide for their next punter

Led by Heisman Trophy winner Baker Mayfield, the Big 12 finished with seven first-team sel...

Schiano would have made $4.4 million in Year 1 with annual raises as part of a six-year de...
Dykes spent this season as an offensive analyst at TCU

The 'Wyoming Wild Man' notched six tackles for loss as a junior in 2017

Zaycoven Henderson was charged with aggravated assault with a deadly weapon