Five Things We Learned: LSU-UGA rematch a possibility for SEC title
If LSU manages to beat Alabama on Nov. 9, the Tigers have a better than average shot of reaching the SEC championship game, likely against Georgia.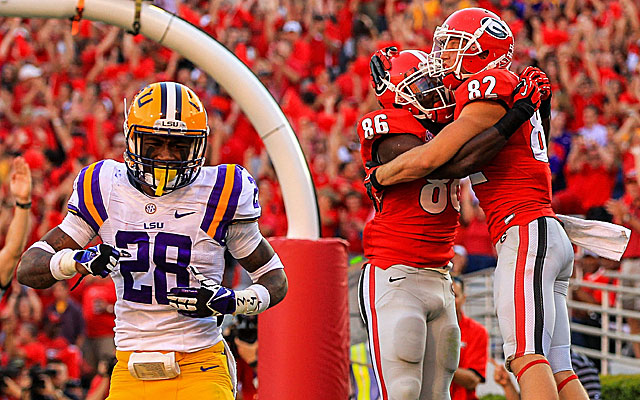 Here are Five Things We Learned -- other than the fact that Lane Kiffin no longer has a job -- from another crazy weekend of college football:
1. Georgia and LSU could meet again in Atlanta: Now don't get all crazy on me, Alabama fans. I still think the Crimson Tide run the table, which includes a Nov. 9 game with LSU in Tuscaloosa. But if LSU, which was impressive in defeat at Georgia (44-41), manages to beat Alabama, the Tigers have a better than average shot of reaching the SEC championship game. They get Texas A&M, Arkansas and Florida at home. They play Alabama and Ole Miss on the road.
Georgia (3-1, 2-0 SEC) is now in great shape after surviving a front-loaded schedule that included three top-10 teams. The Bulldogs, whose only loss is to non-conference and No. 3 Clemson on the road (38-35) will be strong favorites in every game they play moving forward. Even Georgia's game with Florida in Jacksonville (on Nov. 2) looks a little less daunting because the Gators are a train wreck on offense.
If Georgia takes care of business then, in my opinion, we either get a rematch of Saturday's instant classic with LSU or a rematch of last year's SEC championship game with Alabama (28-25) which, for my money, was the best conference title game ever played. Both would have great storylines.
2. While the rest of the Pac-12 is going up, USC is going down: You know it had to be bad at USC. Pat Haden, the director of athletics, is one of the more level-headed people in the industry.
Haden is not prone to wild swings of emotion based on a win or a loss, even an ugly loss like USC's 62-41 loss at Arizona State. Earlier this season the Trojans lost their Pac-12 opener to Washington State (10-7). The 62 points given up to Arizona State matched the school high that Oregon scored last year. USC committed four turnovers and allowed 611 yards of total offense.
So for Haden to make this move now tells me that there was something fundamentally wrong with Kiffin because it's pretty clear the USC kids weren't playing very hard for him. And once Arizona State got its up-tempo offense going on Saturday night both Kiffin and the players seemed to wilt.
USC has the week off and still has Stanford, Notre Dame and UCLA on the schedule. Better to stop the bleeding now.
Here's the reality at USC. As much as Reggie Bush appears to be beloved at the place, his actions, whether you believe that they should have been NCAA violations, have ultimately put that football program into a competitive hole. And because of the NCAA sanctions, and because the Pac-12 is getting stronger every day, it may be years before USC climbs out of that hole and again competes for the conference championship. That was the intent of the sanctions.
3. One more time. When you go into the Bear's cave, don't wake up the Bear: Going into Saturday's game with Ole Miss, Alabama may have been one of the most self-conscious No. 1 teams in recent memory. Alabama was 3-0 but all the players heard from the outside world was what they COULD NOT do.
I know first-hand of a booster club meeting last week when one of the members was asked to give a scouting report on the Crimson Tide after a sloppy 31-6 win over Colorado State.
"It's over!" he said.
He was serious.
Realizing his team was playing tight because of the burden of high expectations, coach Nick Saban had several one-on-one chats with his players. That was his way of saying, "Guys, relax! Just go play."
Then Saban got an assist from Ole Miss quarterback Bo Wallace.
"I think we have better receivers than (Texas) A&M," Wallace said of the team that scored 42 on Alabama. "We can put up points on anybody."
The final, in just case you missed it, was Alabama 25, Ole Miss 0. Ole Miss was held to just 205 net yards.
4. I was wrong about Virginia Tech: My daddy told me a long time ago to admit it when you're wrong, and I was wrong about Virginia Tech. I looked at the Hokies for 2013 and failed to see an elite running back for the second straight year. I looked at quarterback Logan Thomas and how he struggled last season by taking the weight of the entire offense on his shoulders.
But if he can keep playing the way he played against Georgia Tech last Thursday night, the Hokies have a real shot at winning the ACC Coastal Division. Thomas completed 19 of 25 passes for 221 yards and ran for 58 more in a 17-10 victory in Atlanta. He made big play after big play.
And one other thing: I thought the Virginia Tech defense was good. They certainly looked good against Alabama on Aug. 31. But I was wrong about that, too. It looks like Bud Foster has another GREAT unit on his hands. They clamped down on Georgia Tech's option, for which they had obviously prepared, and held the Yellow Jackets to only 129 yards rushing on 42 carries.
The date to mark on your calendars is Nov. 9.
That's when Virginia Tech travels to Miami (4-0).
5. Clemson and Florida State are just treading water until they meet on Oct. 19: No. 3 Clemson (4-0) made it look ridiculously easy against Wake Forest, as Tajh Boyd hit the Deacons with a couple of quick bombs on the way a 56-7 win.
Florida State (4-0) took a while to get started against Boston College at Chestnut Hill but that is not uncommon. The Seminoles fell behind 17-3 before Jameis Winston threw touchdown passes of 56, 10, and 55 yards. The latter came on the last play of the first half and Florida State rolled on to a 48-34 win.
So today you want to know if either team is going to be challenged before they meet at Clemson's Death Valley on Oct. 19.
The answer is probably not but I would caution my Florida State friends to be wary of Maryland (4-0), which had last week off and goes to Doak Campbell Stadium on Saturday. The Terps, behind quarterback C.J. Brown, just destroyed West Virginia (a winner Saturday over Oklahoma State) 37-0 in their last outing. They are a dangerous team.
Clemson, which has beaten No. 6 Georgia, travels to Syracuse on Saturday and then hosts Boston College before the Seminoles arrive.
The movie will zero in on former Penn State coach Joe Paterno during the Jerry Sandusky sc...

Bidding for Salaam's trophy, which the auction house says was obtained legally, ends Satur...

Locksley has been the offensive coordinator at Illinois and Maryland during his coaching c...
Many NFL-eligible juniors ignore advice provided by the league and risk going undrafted each...

Snyder died in Manhattan, Kansas, on Wednesday

Locksley joined Alabama's staff in 2016