Five things we learned: Texas A&M needs to bench Manziel for game
Johnny Football needs to be taught a lesson, but the Aggies don't have the guts (or leverage). Also, expect 'fake' injuries to become a bigger topic.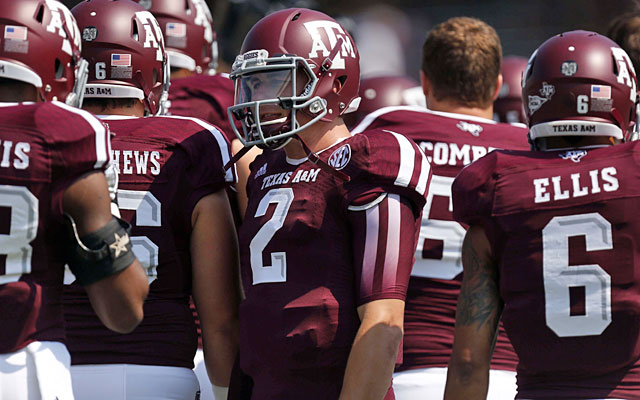 There was much to be learned in the first weekend of the 2013 regular season. With your permission, here are five items for your consideration:
Johnny Manziel should sit out a game
Yep, you read that right. And here's why: The Texas A&M quarterback dodged a really big bullet last week when the decision was made that he would serve a bizarre half-game suspension and then be allowed to play in the second half of the opener against Rice.
The decision absolutely backfired on Texas A&M as again Johnny Football embarrassed his university and his team on a national stage.
Instead of taking his punishment with humility and showing just a little contrition, the half-game penalty seemed to make him more defiant. He drew an unsportsmanlike penalty for yapping with the Rice players and then was benched for the remainder of the game by coach Kevin Sumlin. Sumlin then gets hammered with questions postgame about his petulant quarterback while the rest of the team gets ignored. In what must be a first, the reigning Heisman Trophy winner was unavailable to the media after his first game.
Johnny Manziel continues to act up because he knows he has the adults over a barrel. They want to win. He helps them win. There is seemingly nothing he can do to warrant severe punishment. So like a spoiled kid in a toy store, he will continue because he knows that no one in a position of authority will stop it.
I would sit him for all of the Sam Houston State game. He would not dress. He can sit in the stands and sign autographs. And if he doesn't get his head right, he would not play against Alabama. But he knows the adults won't do that. They can't afford it.
'Fake injuries' are going to be a real issue
As more and more teams begin running up-tempo offenses to wear down opposing defenses, the more and more we are hearing of defensive teams faking injuries in an attempt to slow things down.
Sonny Dykes, the new coach at California, was less than pleased with Northwestern's Pat Fitzgerald at the end of their game in Berkeley on Saturday.
"It seemed like every time we got a first down they had an injury," Dykes said after the game, won by Northwestern 44-30.
When Dykes was asked specifically whether or not he thought Northwestern players were faking injuries, he replied: "It's probably better that I don't say."
It also came up Saturday night in the Georgia-Clemson game.
Nobody accused Georgia of faking injuries, but every time play was halted because a Bulldogs defender was down, the Clemson crowd rained down a chorus of boos.
Ironically, it was at California in 2010 that the whole issue of faking injuries began with media reports that it had been part of the game plan when the Bears played Oregon that season. A Cal assistant coach, Tosh Lupoi, was suspended for a game for instructing a player to fake an injury. He told conference officials he acted alone.
Stay tuned on this one.
Too early for Bama fans to hit panic button
Based on the tweets I was getting Saturday night, my Alabama friends thought they were looking at a 6-6 season after what they said was a "disastrous" 35-10 win over Virginia Tech.Bruce Feldman
OK, the newly rebuilt offensive line had its issues with a top-20 defense coached by Bud Foster, one of the best in the business. An offensive line has to play with one heartbeat and that just doesn't happen after one game. And let us also remember that just about any offensive line would suffer in comparison to Barrett Jones and the boys on the 2012 Alabama team.
The fact is that this whole thing sets up nicely for Nick Saban. With an off week he and offensive line coach Mario Cristobal have a lot of extra time to work on these problems before going to Texas A&M on Sept. 14. I just have a feeling that a lot of Alabama's issues are going to get resolved before they get to College Station.
Hey, Nebraska! Didn't you used to play defense?
Bo Pelini, who made his coaching bones as a defensive coordinator, has struggled with that side of the ball since he became head coach at Nebraska in 2008. But this season was going to be different. Pelini felt confident enough about this defense to give seven veteran players the famed "Black Shirts" -- the longtime symbol of defensive excellence at Nebraska -- just two days before Saturday's opener with Wyoming.
But Wyoming, a team that finished 4-8 a year ago, rolled up 603 yards of total offense and had a chance to win before Nebraska hung on 37-34.
"I was expecting a lot cleaner performance," said Pelini after the game. "But by no means am I panicking."
He might be the only one in Lincoln that is not hitting the panic button. Nebraska should handle Southern Mississippi this week but gets UCLA on Sept. 14 in Lincoln.
Expect Clowney to bounce back big vs. Georgia
Jadeveon Clowney, a dark horse to become the first full-time defensive player to win the Heisman Trophy, did not have an impressive outing in South Carolina's opener against North Carolina on Aug. 29.
He did not have a sack against the Tar Heels' up-tempo offense and looked gassed in the second half. As a result, a lot of people have begun to question his standing as the potential No. 1 pick in the 2014 draft.
Even his own coach, Steve Spurrier, has done little to hide his belief that Clowney can do better than what he showed Thursday night in Columbia.
"We all watched what happened out there. Jadeveon was not up to par," Spurrier said on his Sunday conference call. "I'm not going to give him excuses. I think Jadeveon has learned that the camera is on him every play."
#TrustTheProcess as Tom Fornelli offers his best bets for the first week of bowl action

Saban isn't going to win Alabama's special election, but the Crimson Tide coach got some l...

The Sooners' quarterback and Badgers' rusher stood out among their peers this season
Clark led UAB to an 8-4 overall record, 6-2 in conference this season

SportsLine simulated every bowl game 10,000 times for pick'em leagues and confidence pools

The Tigers are going worldwide for their next punter