Five Things We Learned: Unbeaten might not be enough for Buckeyes
Having dodged an upset at Northwestern, Ohio State's resume still might not be enough to reach the BCS title game.
Five things we learned on the first Saturday in October:
1. Book it. Ohio State is going to go 13-0. But I'm not sure it will be enough.
When I looked at the Ohio State schedule this summer, there was really only one opportunity for the Buckeyes to lose during the regular season. Northwestern, playing perhaps the biggest home game in its history, gave Ohio State its very best shot. Ohio State got a gift touchdown at the end (how's that for a back-door cover?) for a deceiving 40-30 final. The Buckeyes were primed to see their 17-game winning streak come to an end but Braxton Miller and Carlos Hyde (career-high 168 yards) would not let them lose.
So I'll throw this out on Oct. 7: Ohio State is going to win the Big Ten championship and go 13-0. The only question is: Will it be enough?
Now don't go crazy on me, Ohio State fans. Just think this through. Do the 13-0 Buckeyes get into the BCS championship game over a 13-0 Oregon or Stanford? Or a 13-0 Clemson/Florida State/Miami? Or a 13-0 Alabama?
If Ohio State goes 13-0, based on the latest AP poll, it would have beaten two ranked teams, No. 18 Michigan and No. 19 Northwestern. Its nonconference victories will be against Florida A&M, an FCS team, Buffalo (3-2), California (1-4), and San Diego State (2-3).
What about a 12-1 Georgia team if it somehow overcomes the injuries and gets back to Atlanta and beats No. 1 Alabama in the SEC championship game? If Georgia gets that far, and that's a big if, it will have beaten two top-10 teams (LSU, Alabama), two more in the top 17 (South Carolina, Florida) and No. 25 Missouri. Its only loss would have been to No. 3 Clemson on the road by a field goal.
After winning seven consecutive BCS national championships, would a one-loss SEC team (like a Florida or Texas A&M) get the benefit of the doubt over a 13-0 Ohio State?
I don't know the answer to the question. I'm just asking. Let the debate begin.
2. In this space last week we asked if Georgia's Aaron Murray was playing his way into serious Heisman Trophy contention. Well, this week we are no longer asking. This week we're telling you: Murray is in it to win it.
A week ago Murray drove Georgia 75 yards and threw a touchdown pass with 1:47 to play to beat LSU, 44-41. On Saturday, with his two top running backs and his three best receivers gone due to injury, Georgia was in a deep, deep hole on the road at Tennessee. He ran -- yes ran -- 57 yards to set up a go-ahead touchdown at the end of the beginning of the fourth quarter. Then, with his team trailing 31-24 with 1:54 left, he drove Georgia 77 yards and threw a 2-yard touchdown pass to tie the game at 31 with only five seconds remaining. Georgia won with a field goal in overtime.
"There's a different calm about him this year," offensive coordinator Mike Bobo told the Atlanta Journal-Constitution. "He's in total control. He's been a streaky guy in past years, but I don't sense that now. It doesn't matter what else is going on in the game. There's a calmness."
And by the way, in the process Murray became the SEC's all-time leading passer, surpassing the record of 11,528 held by another Georgia quarterback, David Greene.
There are a bunch of really good quarterbacks playing really, really well right now. But nobody is playing better than this guy.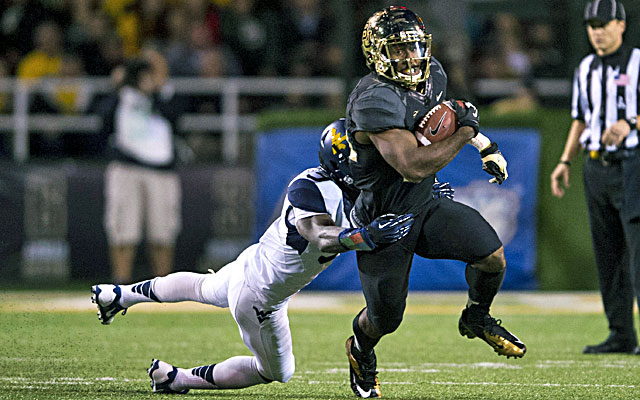 3. This Baylor thing is getting ridiculous: Right now what the Bears are doing on offense is otherworldly. In beating West Virginia 73-42, Baylor topped 60 points for the fourth straight game. The Bears broke the Big 12 record with 864 yards of total offense. They ran for 468 yards.
The numbers are just absurd:
• Based on the records available, Baylor is the first team to score 66 or more points in its first four games of a season. Oklahoma of 2008 holds the record of five consecutive games with 60 or more points.
• Baylor has scored 28 or more points in the first quarter of three consecutive games. That hasn't happened since 1996.
• And here is my favorite crazy stat involving Baylor. The Bears had one drive late in the West Virginia game that was stopped by an interception of backup quarterback Seth Russell on the first play. Otherwise, Baylor did not have a three-and-out in the game. In fact, in four games Baylor has not had a single three and out.
Now, of course, the schedule gets tougher. In case you're wondering, Baylor will play host to Oklahoma on Thursday, Nov. 7. Then the Bears finish with Texas Tech, Oklahoma State, TCU and Texas.
4. Those of you waiting for Florida State quarterback Jameis Winston to wake up and realize what he's doing are going to have to wait a while longer.
Florida State was supposed to get a challenge against 4-0 Maryland but the Terps couldn't put up much of a fight after quarterback C.J. Brown was knocked out of the game in the second quarter. But with the way Winston is playing, Maryland would not have been able to keep up, even with a healthy Brown.
Winston, the redshirt freshman from Hueytown, Ala., completed 23 of 32 passes for 393 yards and five touchdowns in a 63-0 win. And he had another one of those "moments" when it looked like he was going to get sacked, somehow escaped and found tight end Nick O'Leary (Jack Nicklaus's grandson) for a 12-yard touchdown pass.
"And the only thing I would do was laugh," wide receiver Rashad Greene told the Tallahassee Democrat. "And no disrespect to anybody. I saw Jimbo (head coach Jimbo Fisher) doing the same thing. It's amazing how a guy can do things like that and still make plays."
On the season, Winston has completed 73.3 percent of his passes for 17 touchdowns and only two interceptions. FSU gets this week off before going to Clemson on Oct. 19.
And speaking of Clemson, its quarterback, Tajh Boyd, threw for 455 yards (20 of 27) and five touchdowns in three quarters in a 49-14 win at Syracuse. Clemson gets Boston College at home this week before the Seminoles come to Death Valley.
Jameis Winston vs. Tajh Boyd. Yep, that's got a chance.
5. I sure would like to be Zach Mettenberger's agent.
I don't know that any player in college football has raised his draft status more in just two weeks than LSU's senior quarterback. Going into his final college season, the book on Mettenberger, who began his career at Georgia, was a big kid (6-5) with an NFL arm who really didn't know much about playing the position.
Cam Cameron, the new OC at LSU, has put Mettenberger in position to make some serious money next April.
After throwing for 372 yards and making one NFL throw after another in a 44-41 loss to Georgia in Week 5, Mettenberger followed it up by completing 25 of 29 passes for 340 yards against Mississippi State, which had the No. 20 defense in the country going into the game. Mettenberger's offense racked up 563 yards and closed the game with a 31-0 run to win 59-26.
Now Mettenberger will get another national stage on Saturday as the Tigers host Florida on CBS (3:30 p.m. ET). Florida (4-1) has the nation's No. 2 defense (217.0 yards per game) and is No. 4 nationally in scoring defense (12.2 points per game). Even in the Gators' only loss to undefeated Miami, they allowed just 212 yards.
Locksley joined Alabama's staff in 2016

Saban reportedly wants to hire Freeze, but there may be things keeping that from happening

Florida State-Miami will be on Oct. 6, and the Seminoles will play Clemson on Oct. 27
Weis Jr. was an offensive assistant for the Atlanta Falcons in 2017

Lott is joined by three current athletic directors and will serve a three-year term

These are the top guys every school is still chasing