Five years later, SEC not hurt by its football recruiting signing cap
Five years after oversigning rules were instituted, the SEC is doing just fine. It still signs more players than anyone and leads the 247Sports Composite rankings.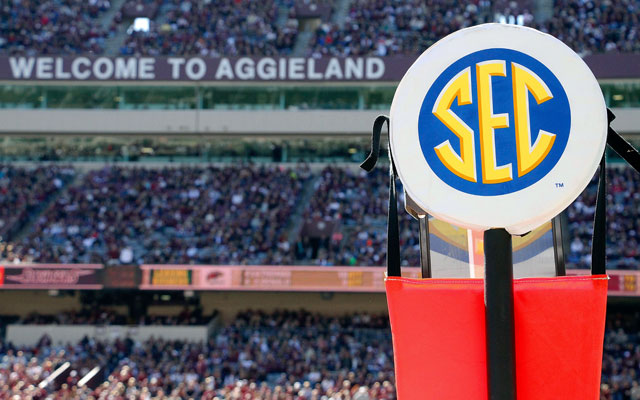 The sky was supposed to fall on the SEC. That's what some SEC football coaches would've had you believe in 2011 when the conference tightened its rules on teams signing more football recruits than available scholarship spots.
Oversigning didn't only occur in the SEC, but that's where it became prevalent. The practice provided many SEC schools with a better chance to erase recruiting mistakes. It also left some recruits without a promised scholarship and resulted in some current college players getting actively encouraged to leave.
So in 2011, the SEC passed a rule limiting the number of signees between Dec. 1 and May 31 to 25, down from 28. The NCAA later adopted this 25-player cap, which still allowed for some flexibility to oversign. Twenty-five is the NCAA limit of new scholarship players that a team can add each academic year.
"What's your problem with 28?" Alabama coach Nick Saban asked reporters at the 2011 SEC spring meetings. "Y'all are creating a bad problem for everybody because you're going to mess up the kids getting opportunities by doing what you're doing. You think you're helping them, but you're hurting them. You take one case where somebody didn't get the right opportunity, but you need to take the other 100 cases where somebody got an opportunity because of it."
At the time, some SEC coaches spoke privately of other concerns. They wondered what would happen if players don't qualify academically since high schools in parts of the South traditionally are lower in quality. They also worried about losing their backup plan if players don't pan out. But university presidents had the final call, and they had become embarrassed by the publicity of high numbers and stories of recruits left hanging.
Five years later, the SEC is doing just fine in recruiting. The SEC had five of the top nine 2016 recruiting classes as ranked in the 247Sports Composite and put nine teams in the top 25. Alabama is coming off a national championship with players recruited under the new rules.
Since the new signing cap started in 2012, SEC schools have signed 5 percent fewer players than from 2007-11. Yet the SEC landed 37 percent of the nation's four-and five-star players from 2012-16, according to Sport Source Analytics. That's easily the highest percentage by any conference, and it's up from the SEC's 33-percent rate from 2007-11 before the current rule.
The SEC, which tends to lose more players early to the NFL than any conference, still signs more players than anyone. Over the past five years, 12 of the 18 leaders for signees among Power Five schools come from the SEC. Alabama tops the list at 25.8 signees per class since 2012. Michigan State, the Crimson Tide's College Football Playoff semifinal opponent last season, ranks third-to-last at 19.2 signees. USC, which had reduced NCAA scholarships during this period, had the fewest at 18.4 signees per year.
Among schools not on NCAA probation, Northwestern was the lowest at 19 signees per year. Duke, Georgia Tech, Kansas State, Wisconsin, Oregon, Stanford, Maryland, Wake Forest and Boston College have all averaged 20 or fewer signees a year over the past five classes.
Oversigning still happens. Only now, it's less in-your-face and with some smaller numbers than in the past. This largely occurs by back-counting mid-year enrollees to the previous year's class, a practice that the NCAA permits. That was a way to still give coaches some flexibility with their rosters.
For example, if a team adds 20 new initial scholarships in the fall to go with 65 returning players, it would be maxed out at the limit of 85 scholarships. There would be five initial scholarships the team didn't use. Come December and January, the team could add five mid-year enrollees who count back toward the previous class if there are at least five current players whose eligibility ended. The mid-year enrollees could be any combination of junior college and four-year college transfers or early graduates from high school.
Mid-year enrollees have become increasingly popular, particularly in the SEC, which averaged 6.8 mid-year enrollees this year. Florida just signed a school-record 12 mid-year enrollees to lead the SEC.
SEC Average Signing Class Numbers
Team
Average Class 2007-11
Average Class 2012-16
Difference
Auburn
30.2
24.2
-6.0
Ole Miss
28.0
24.0
-4.0
Mississippi State
28.0
23.6
-4.4
Alabama
27.2
25.8
-1.4
LSU
26.8
24.4
-2.4
Arkansas
26.6
23.8
-2.8
Kentucky
26.0
25.6
-0.4
South Carolina
25.6
24.4
-1.2
Florida
24.2
24.4
+0.2
Tennessee
24.2
25.4
+1.2
Missouri*
24.2
22.4
-1.8
Texas A&M*
23.8
24.2
+0.4
Georgia
20.8
24.6
+3.8
Vanderbilt
20.2
22.0
+1.8
These recruits used to usually be junior college transfers. Now they're often high school students who graduated in three-and-a-half years. Arriving early gets players into the program sooner to be in better position to play immediately. Mid-year enrollees also provide roster flexibility since they don't count toward the annual 25-player limit.
There are still examples of committed players being left hanging late in the recruiting process. Sometimes their scholarship offer is pulled. Other times they're asked to be a grayshirt, meaning they delay enrollment for a semester and don't count against the current class.
One small positive is these examples seem to be popping up more before National Signing Day instead of a school running out of scholarships afterward. That used to periodically happen. Still, it's not much comfort to the players left scrambling after being committed for months.
Michigan had two players publicly say their offers got pulled or changed very late without much communication.
"There were mistakes made and I take full accountability for them," Michigan coach Jim Harbaugh said without elaborating, according to The Detroit Free Press. "But I won't apologize."
According to AL.com, Alabama made at least three grayshirt offers to committed recruits, all of whom declined them and signed elsewhere. Riley Cole, one of those players, said in a Twitter post on Jan. 31 that Alabama talked to him five days before Signing Day about grayshirting "but won't give me a straight answer." He decommitted and signed with South Alabama.
"We recruit them, we want them to come here," Saban said, according to AL.com. "We just think it would help their development if they matured before they enrolled."
Between 2007-11, SEC teams averaged 25.4 players per signing class. Auburn (30.2 signees a year), Ole Miss (28), Mississippi State (28), Alabama (27.2) and LSU (26.8) were the biggest oversigners.
Since the signing cap with loopholes began in 2012, SEC schools are averaging 24.2 players per class. Auburn is right at the league average, meaning it's signing six less players per year than it once did.
When the SEC won seven straight national titles from 2006 to 2012, five of its national champions signed at least 14 more players than their championship-game opponent over a four-year period preceding the game. That advantage hasn't gone away.
Alabama signed 16 more players than Clemson in the four years before their recent national championship game, won by the Crimson Tide. The total signees from 2012-15 for last season's College Football Playoff teams: Alabama 101, Oklahoma 100, Clemson 88, Michigan State 78.
Most Power Five Signees Per Class (non-SEC), 2012-16
Team
Average
Conference
West Virginia
25.0
Big 12
Ohio State
24.6
Big Ten
Iowa State
24.2
Big 12
Texas
23.8
Big 12
Oklahoma
23.8
Big 12
NC State
23.6
ACC
Texas Tech
23.4
Big 12
Indiana
23.4
Big Ten
Purdue
23.4
Big Ten
Miami
23.4
ACC
Virginia Tech
23.4
ACC
Utah
23.4
Pac-12
Oregon State
23.4
Pac-12
In the 2014 championship game, Ohio State (95 signees in the preceding four years) defeated Oregon (83 signees). This trend doesn't hold up on every playoff or championship matchup. Ohio State beat Alabama in 2014 with fewer signees over the previous four years. But for talented teams, there is some benefit to sign more players than someone else in order to have flexibility if players don't pan out academically or athletically.
The truth is the new signing cap rules were never going to severely handcuff the SEC. The conference's schools have too much money, TV exposure, talented coaches and rabid fan bases to allow a slight reduction in signees to dramatically sway results on the field. Plus, the SEC is still signing more players than any conference.
The sky hasn't fallen on the SEC. The clouds are just getting counted a little differently.
Follow and read more from Jon Solomon on Facebook and Twitter.
CBS Sports HQ Daily Newsletter
Get the best highlights and stories - yeah, just the good stuff handpicked by our team to start your day.
Please check the opt-in box to acknowledge that you would like to subscribe.
Thanks for signing up!
Keep an eye on your inbox for the latest sports news.
Sorry!
There was an error processing your subscription.
Our Latest Stories
The committee figured out a way to insult Group of Five teams while ranking them

SportsLine's advanced computer model simulated Wednesday's Ohio vs. Buffalo game 10,000 ti...

Did your favorite team make it into 2018's third official college football rankings top 25...
SportsLine's advanced computer model simulated every Week 12 college football game 10,000...

SportsLine's advanced computer model simulated Tuesday's Ball State vs. Western Michigan game...

SportsLine's advanced computer model simulated Wednesday's Miami (Ohio) vs. Northern Illinois...