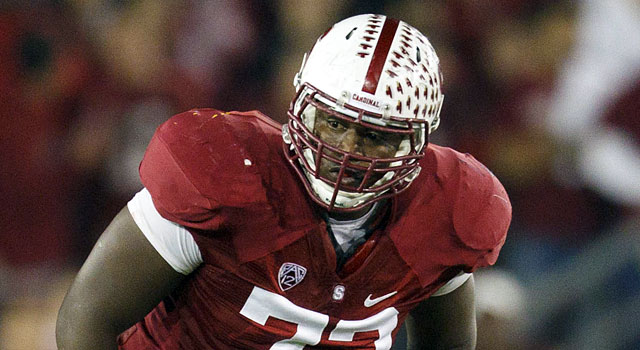 With the NFL Draft approaching, it's a decent time to connect with some of those prospects and look back on their paths and the culture of the programs they came from. Over the years, I done a few of these "exit interviews" and thought it would be interesting to hear from Stanford lineman Cameron Fleming. The big Texan is projected as a second-round pick by CBS and the No. 53 overall prospect. I spoke to him about the vibe at Stanford and why the program is now known as arguably the most physical in college football and as a hub for O-linemen, and why he bought into a program that was 5-7 at the time (before it would go on a run of four consecutive BCS bowls).

Q: When you committed to Stanford in October 2009 they were coming off a 5-7 season and I think had already lost games to Wake Forest and Oregon State. What convinced you that they were on the cusp of something big and that the school was the right one for you?

Fleming: When I committed to Stanford that year, I knew that there was some improvement to be made but I saw a lot from where the team had came from and the coaches convinced me that I would be able to come in and help to make that difference. 
In my recruiting process, they also really emphasized Andrew Luck, and how if he got the right tools around him, we were in for something huge.  Also, the academics, of course, were something that I wasn't going to get at any other place in America, so the combination of those factors made me pretty sure that Stanford was right for me in the long run.

Q: You originally committed to TCU. How do you think you might be different had you not opted to come to Stanford for college?

Fleming: I did originally commit to play for TCU, and to be honest, if I didn't go to Stanford, Baylor was still in the mix for me as well.  

As far as what would have been different, probably not much for me. Personally, I still would have set a high bar for myself academically, and on the field. I think the true difference would come in the relationships I have gained playing at Stanford and the competitive spirit that engulfs Stanford's campus.  

Q: The hardest class you ever took at Stanford was:

Fleming: The most difficult class I took at Stanford was graduate level Propulsion. AA 283 which was made more difficult by the fact I was taking this class while training for the combine and the final exam was around two hours after my Pro Day had ended.

Q: You've played with a bunch of gifted O-line prospects, from David DeCastro to Jonathan Martin to David Yankey. Compare your style to those other guys:

Fleming: I feel like my style encompasses all of their best qualities together.  Jon was a really technically sound finesse lineman who was always improving on his craft, while DD was a brute physical lineman who played low and took guys off the rock, and Yank is a very heady, aware player with a great sense of finish.  

I try to take all the best qualities and put them in my personal game.

Q: The best player you faced in college was?

Fleming: Best player I faced was probably a tie between Dion Jordan and Nick Perry. Both very explosive players in their own way.

Q: Stanford's has developed a rep for producing excellent O-linemen and for physical play. What do you think makes Mike Bloomgren such a good line coach?

Fleming: I believe the freedom that he gives the linemen as they mature help to advance their game and feel more at home when playing.  He teaches us the game and guides us through technique but is very open to what works best with each players movements.  

Q: What's is something most people would be surprised to know David Shaw about?

Fleming: Probably that he can get fired up and break that calm demeanor sometimes.

Q: The program you leave behind still seems to have a bunch of gifted young O-linemen. Explain what impresses you most about Andrus Peat, Josh Garnett and the talent that will be returning this fall for the Cardinal?

Fleming: What impresses me most past the raw physical talent that is shown in the young guys is the fact that they have been watching and learning intently from us older linemen. When I went out to spring ball this past spring I saw many of the things that we tried to teach them come to light when their time came.  The fact that they have stepped up so well and quickly is extremely impressive to me.