Flimsy recusal policy puts bull's-eye on playoff selection committee
College football's new playoff selection committee needs to avoid appearance of conflict of interest, so new policy doesn't help.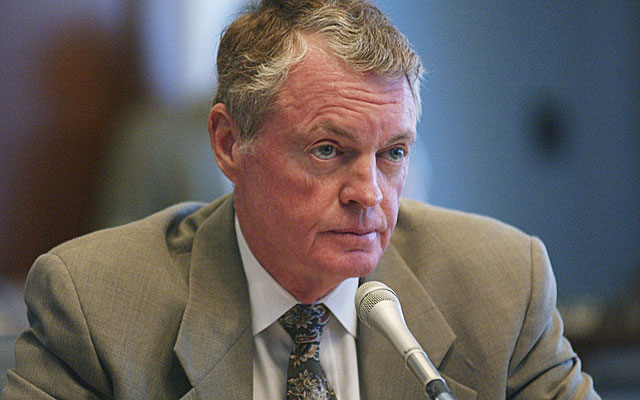 That playoff selection committee went from unassailable to oddly questionable.
Not the people themselves. I've trumpeted their credentials from the beginning. But guys -- and girl -- that was one big turnover you committed Wednesday on the recusal policy.
The College Football Playoff Management Committee is holding its annual meeting this week ­-- they used to be BCS meetings -- in suburban Dallas. The first big nugget of news is how the 13-member selection committee is going to police itself.
That is, set the standards for who can fairly select the teams in a $7.2 billion enterprise that will influence careers, contracts, TV ratings and futures. Such a recusal policy is supposed to remove any shadow of doubt, avoid any conflict of interest.
In other words, any of those guys -- and girl -- who have a hint of said conflict must leave the room when certain teams are discussed. It's not that they would unduly influence the selection process per se, it's the perception that they could.
What we got Wednesday was a low threshold for recusal. The 13 members can talk, advocate, wave flags in support for any team as long as -- official College Football Playoffspeak here -- "a committee member or an immediate family member, e.g., spouse, sibling or child, (a) is [not] compensated by a school, (b) [does not] provide professional services for a school, or (c) is on the coaching staff or administrative staff at a school or is a football student-athlete at a school ..."
That means potentially -- for entertainment purposes only -- that Wisconsin AD Barry Alvarez could stump for Nebraska. That's his alma mater. Don't forget Notre Dame, a place he coached for three years.
Speaking of the Irish, Notre Dame is where Condoleezza Rice got her master's degree in political science.
As long as Tom Osborne isn't receiving money from his former employer, he could theoretically fill a dry erase board with "The Case For Nebraska" each week.
That is, assuming, the Huskers break into double digit wins again at some point.
See, it's not just that a member might favor a particular team. He or she might have a bias against it as well. Maybe it's a former employer in a relationship that didn't end well. Maybe it's a former conference.
We can debate whether Osborne might hold a grudge against Texas after Nebraska's less than amicable departure from the Big 12. But in a few clicks, I was able to find this headline from three years ago: "Dan Beebe details Osborne's Big 12 distaste."
Even if those concerns seem off the wall, both Alvarez and Osborne seemingly will have some sort of rooting and financial interest in Big Ten teams doing well. Those teams will be collecting a projected $44.5 million per year beginning in 2018.
Committee chair Jeff Long -- current Arkansas AD -- has worked for Pittsburgh, Oklahoma, Michigan and Virginia Tech. 
I'm not picking on those members, they just happen to come to mind because they are so unassailable. This bare-bones policy, which still has to be approved by the CFP Management Committee, seems to sully up the process.
Any perceived holes in the policy, we are told, should be shored up by residual "integrity."
What's the solution? First, it's not my problem. A 13-member committee selection process is what the commissioners agreed to. Once again, the committee's reputation is excellent. Four teams are better than two so let's celebrate that. It may turn out everything else is just details.
Someone asked me how far I'd go in recusal. Certainly further than just a financial relationship. College sports at its core is about loyalty and emotion. These 13 members have degrees from more than 20 combined institutions.
But as long as you're asking: a) I would have had a larger committee, maybe 20 or 30 members instead of 13. A larger sample size provides more voting diversity. A larger group also would have put more folks in the room if several members had to recuse themselves.
b) I would have balanced the committee with a representative from each FBS conference. That's 10 equal voices. I know each conference was allowed to nominate folks and the current composition is supposed to reflect that balance.
All of it may be a bit of Wednesday Night Quarterbacking on my part. But, jeez, did this take a long time. Recusal is one of the first things I would have firmed up. The committee retains the option of adding extra recusals "if special circumstances arise." 
Still, it's been my view from the beginning that the committee members don't know fully what they're getting into. We live in an age when home addresses and phone numbers can be easily obtained.
I'll give these members the benefit of the doubt because I either know them or know their pristine reputations. But let's pray this sport is populated with only one Harvey Updyke.
In that sense, this is little like the basketball selection committee. CFP executive director Bill Hancock countered, if you're going to critize the football committee policy, you better criticize basketball's.
"It's as close as it can be to the basketball committee," Hancock told me.
Except that each one of those nine members represents a conference or school. We know exactly who has to leave the room and why. Their duties are to select, bracket and seed 68 teams. Any controversy over who is left out dies in about 24 hours.
Their deliberations are secret. We've been promised as much transparency as possible in football's selection committee dealings. We'll see. Fewer teams, higher stakes will ramp up the anticipation. 
We are about to play the first major-college football playoff in history. It will be seeded and selected by an august group who after Wednesday are closer to summarizing their roles in a complicated process with just two words.
Trust us.
CBS Sports HQ Daily Newsletter
Get the best highlights and stories - yeah, just the good stuff handpicked by our team to start your day.
Please check the opt-in box to acknowledge that you would like to subscribe.
Thanks for signing up!
Keep an eye on your inbox for the latest sports news.
Sorry!
There was an error processing your subscription.
The independent investigation is expected to be presented to the board of regents later this...

Using a simple mathematical formula to rank teams based on their resumes

Taking a close, detailed and opinionated look at the top of college football at the halfway...
A win over a top-10 team is probably worth that chunk of change

Averett has been banned from all team activities, according to the school

Tate suffered an ankle injury during the first quarter of a Week 7 loss to Utah