Florida changes spring game to open practice
Having only six offensive linemen means Will Muschamp couldn't afford to stick with scrimmage format for the Florida Gators' annual spring 'game.'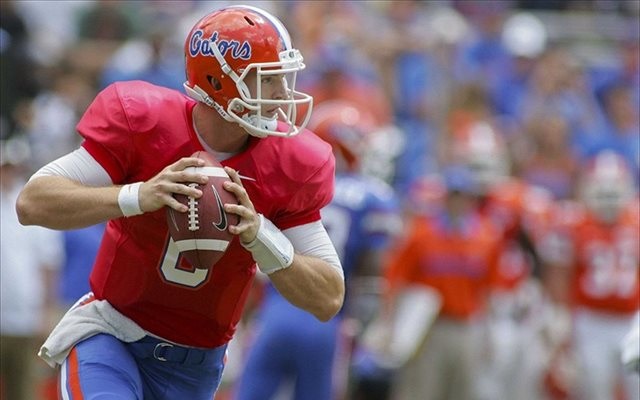 For nearly the entirety of spring practice, Florida has labored under the constraints of a critical shortage of healthy, available offensive linemen. And now that shortage has officially short-circuited the team's plans for its spring game.
The Gators announced Tuesday that Saturday's planned "Orange and Blue Debut" scrimmage will be replaced by an open practice "similar to the previous 14 practices the Gators have conducted this spring, with some special additions to enhance the experience for fans." With only six offensive linemen available to see the field, Will Muschamp said the usual full scrimmage was no longer an option.
"It's not fair to go in a spring game situation and ask those guys to go 60 snaps in a row," Muschamp said.
If there's any good news for fans who made plans for the spring game under the assumption it would be an actual game, it's that the school and the game's sponsors have agreed to make admission free for anyone not in a luxury seating area. Tickets already purchased will be refunded at full price.
As part of the open practice, Muschamp will also "address the crowd to give them an inside look and an explanation of some of the drills and scrimmage situations the team will be running."
Per Gatorzone.com, the Gators expect to have a full complement of 16 offensive lineman come fall camp. But five of those are incoming freshmen who will enroll over the summer, four of them are 2013 holdovers who are limited or out completely due to injury, and one is suspended redshirt freshman Jessemen Dunker. That leaves just the six healthy contributors (Tyler Moore, Max Garcia, Jon Harrison, Kyle Koehne, D.J. Humphries and Quinteze Williams) that have manned all five positions for every 11-on-11 snap this spring.
So things haven't yet reached a crisis point where the Gators' drive for a 2013 SEC East title is concerned. But the shortage of live bodies has no doubt thrown a crimp in Muschamp's plans for the line's development this spring, as well as the plans of fans hoping to see their Gators in the usual Orange and Blue game action.
Guice was ruled out for Saturday but convinced Ed Orgeron to let him play in a limited rol...

Greg Huegel suffered a knee injury during Wednesday's practice

The Wildcats and Utes open conference play on Friday night
Eichorst's firing on Thursday sets Riley's seat ablaze, even if a decision won't be made i...

Eichorst had been at Nebraska since 2012

Three straight titles makes it seem like 'Alabama and everybody else' in the SEC