Florida DB Elam, DT Floyd declare for draft after Sugar Bowl debacle
After two turbulent, mediocre seasons in their first two years on campus, Elam and Floyd leave as the most decorated members of a defense that lifted Florida back into the national conversation.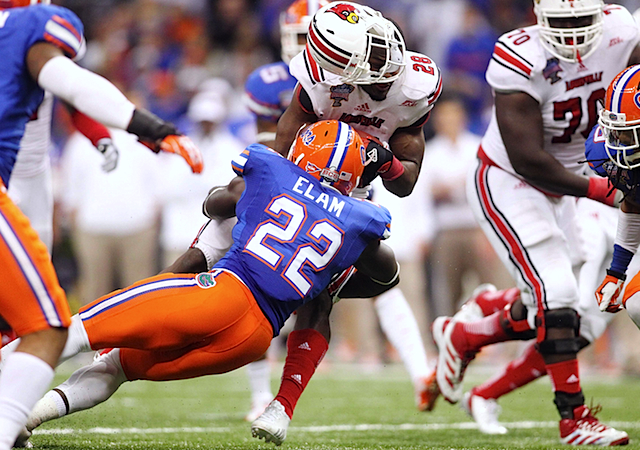 Elam lived up to his billing in the Sugar Bowl as one of the hardest-hitting safeties in the country. (US Presswire)
Florida's top-ranked defense looked like it had checked out early Wednesday in a stunning, 33-23 loss to Louisville in the Sugar Bowl, and two of its best players confirmed after the game that they're checking out of their college careers. As expected, safety Matt Elam and defensive tackle Shariff Floyd both told reporters following the loss that they plan to forego their final year of eligibility in Gainesville to enter the NFL Draft this spring.
Elam and Floyd both arrived in 2010 as two of the most hyped members of the most hyped recruiting class in the nation that year, on the heels of a four-year run at Florida that yielded a 48-7 record, three top-10 finishes, two SEC titles and two BCS titles from 2006-09. After two turbulent, mediocre seasons in their first two years on campus, they leave as the most decorated members of a defense that lifted Florida back into the national conversation. Against one of the toughest schedules in the country, the 2012 Gators held the eventual Heisman Trophy winner to his worst game of the season, held LSU without a touchdown, forced South Carolina into four turnovers and held Florida State to a season low in total offense, all defensively driven wins over teams that ranked in the top 12 of the final BCS standings. In their only loss before Wednesday night, against Georgia, they forced the most efficient passer in the nation into the least efficient game of his career in a 17-9 slugfest.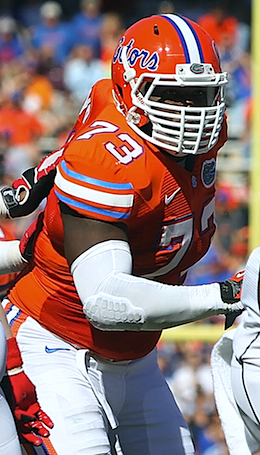 Floyd is the first of three 5-star defensive linemen in Florida's 2010 recruiting class to go pro. (US Presswire)
For the season, Elam led the team in interceptions (4) and solo tackles (58) while also finishing second in both passes broken up (5) and tackles for loss (11) for a secondary that led the nation in pass efficiency defense entering the bowl game. He was voted first-team All-SEC by league coaches, first-team All-America by multiple media outlets (including CBSSports.com) and is projected as a likely late first or early second-round pick in April. He has a very good chance of being the first safety off the board.
"I'm entering the draft, yeah," Elam told reporters after the game. "I had three great years. I did all I can for the team, you know what I'm saying? I played my heart out. I feel like it's time to take care of the family."
Floyd was also a first-team all-conference pick after racking up 46 total tackles and a team-high 13 stops in opposing backfields, best in the SEC for an interior lineman. Incredibly, in a crowded class that figures to see at least five defensive tackles selected in the first round, Floyd qualifies as slightly "undersized" at 6-foot-3, 300 pounds, but he is still considered a possible first-day pick depending on his performance in workouts, interviews and the combine over the coming months.
"I sat down and talked to my coaches and I'm gonna go in the draft this year," Floyd said. "I wanted their opinion and they felt as though it was best for me to go."
Two other juniors, defensive tackle Dominique Easley and H-back Trey Burton, said after the game that they were still mulling their options, with the latter telling reporters he's "50-50" on whether to go or stay. Easley is considered a likely second or third-round pick if he makes the leap, though Burton's projection is less optimistic at this stage because of uncertainty over what position he will play at the next level.
Rosen, a junior, will be eligible for the upcoming NFL draft

Find out which of your favorite team's players are among the nation's best entering the 2017...

Texas A&M has to be better defensively to stand a chance in the SEC West
A letter indicated that there is a growing awareness of the persistent problem in college...

The series will follow the Navy football program throughout the 2017 season

Should college football players still be tested and punished for using marijuana?