Florida destroys South Carolina, takes control of SEC East
For Will Muschamp, it's never too early to go for the kill shot. Not just stick the knife in, twist it. That's what the Florida coach does in the Gators' 44-11 victory over South Carolina.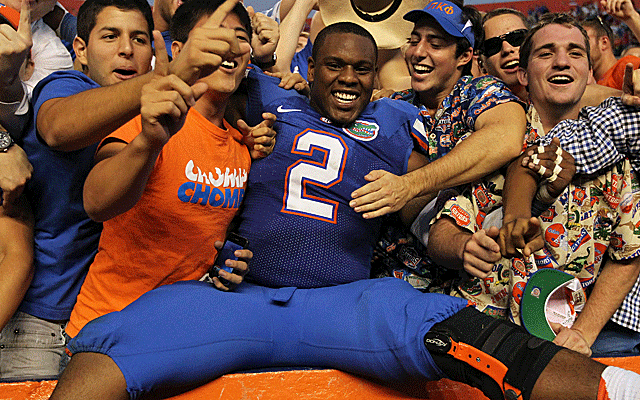 It's a party in the Swamp.
(Getty Images)
GAINESVILLE, Fla. -- For Will Muschamp, it's never too early to go for the kill shot. Not just stick the knife in, twist it.
The only negative trait, then, that can be attached to Florida's second-year coach Saturday is perhaps impatience. Wait, you mean everyone doesn't blitz the left cornerback leaving 82 yards of open field in front of him on the first play from scrimmage?
The simple answer is no. The Muschamp answer is: Hell, yes. Lost in Florida's 44-11 demolition of No.  8 South Carolina will be the result of that first snap. Cornerback Louchiez Purifoy launched himself with perfect timing from his spot about 15 yards from South Carolina's Connor Shaw. Purifoy arrived so quickly that the Gamecocks' quarterback didn't have time to properly pull the ball down to protect it.
Strip, Purifoy. Recovery, Florida. Three plays, two yards and 59 seconds into the game, the Gators had their first touchdown in an easy win that put them in control of the SEC East.
The question now is whether Florida can win this way. Win, big. Win the SEC. That's a good place to start because the Gators now must be anointed No. 1 Alabama's chief competition in the SEC. And they are far from a complete team. A 21-6 halftime lead was nice, but not totally digestible.
The Gators had all of 29 yards on 26 first-half snaps. Their Muschamp-fueled aggression was so intense that the Gamecocks fumbled a couple of kickoffs as well as a punt. Some of that can be blamed on inattention to detail on South Carolina. Some of that can be laid on the cumulative effect of playing three consecutive top 10 SEC teams.
That would be stripping not only that ball but South Carolina's dignity. It says right on the schedule that the Gamecocks beat Georgia by 28 two weeks ago and became the toast of college football. Fourteen days seems like 14 years at the moment of the Head Bawl Coach.
He knew it was coming. Steve Spurrier has been talking about it since the SEC spring meetings back in May. The schedule is unfair. Not only did his team have to play LSU from the West Division (Georgia didn't), it had to endure this epic three-game blog.
Result: South Carolina went from national darling to East Division also-ran. Florida could clinch the division with a win over Georgia next week in the Cocktail Party.
It will head to Jacksonville No. 2 in the BCS (going into Sunday) and still trying to figure itself out. Jeff Driskel's three first-half touchdown passes -- he had four in the game -- came from 3, 13 and 1. He had to play a total of eight snaps for those three scores. The drives were set up by Purifoy's strip, a fumbled punt by South Carolina's Victor Hampton and fumbled kickoff by Damiere Byrd.
Can Florida win like this? Win, big. Win with defense setting up short fields against a team like -- oh, Alabama? Win the SEC?
We'll find out.  
The movie will zero in on former Penn State coach Joe Paterno during the Jerry Sandusky sc...

Bidding for Salaam's trophy, which the auction house says was obtained legally, ends Satur...

Locksley has been the offensive coordinator at Illinois and Maryland during his coaching c...
Many NFL-eligible juniors ignore advice provided by the league and risk going undrafted each...

Snyder died in Manhattan, Kansas, on Wednesday

Locksley joined Alabama's staff in 2016