Florida five-star freshman DT Thomas Holley out for year
Freshman defensive tackle Thomas Holley will miss the 2014 season after surgery to repair a torn labrum, Will Muschamp announced.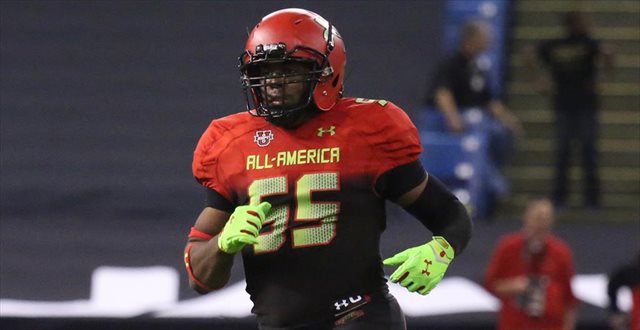 More college football: Jon Solomon | Dennis Dodd | Jeremy Fowler | Latest news
Florida five-star freshman defensive tackle Thomas Holley will miss the 2014 season and redshirt after surgery to repair a labral tear in his hip, UF coach Will Muschamp announced Tuesday.
"Disappointed for Thomas. Certainly a guy that athletically we were very excited about," Muschamp said, per 247Sports affiliate GatorBait.net. The labral tear resulted from a sports hernia suffered during Holley's high school career.
"Originally when he came in for the pre-physical he'd had the sports hernia repaired and that's where he thought his pain was coming from," Muschamp said. "And then on the pre-physical we saw this. We wanted to see how far we could take it but we knew eventually there was probably going to be a surgery involved. He just had a lot of discomfort involved, so we just decided to go ahead and do it."
Holley signed with the Gators as one of the nation's most coveted defensive tackle prospects, a five-star player according to 247Sports' rankings and the nation's No. 77 player overall in the 247Sports composite. A Brookyln native, Holley was also the No. 1 player in New York for the class of 2014.
The Tigers have a wealth of talent at their biggest position

Pineiro received the award for stopping an attack the morning of Oct. 15, 2017

The first opening weekend lines for college football in 2018 have been posted
A year-end wrap-up of college football statistics you need to know from 2017

Stanford produces apps and Super Bowl participants

The Alabama QB has a new look after the Tide claimed another national title