Florida, Florida State commits shine at Miami Nike Camp
Every year the Nike Football Training Camp tour heads to South Florida and, like clockwork, every year some of the top rising seniors, juniors and sophomores in the country turn out. While the 2012 edition didn't quite live up to expectations talent-wise, it was nevertheless an impressive collection of football players.
MIAMI SHORES, Fla. -- Every year the Nike Football Training Camp tour heads to South Florida and, like clockwork, every year some of the top rising seniors, juniors and sophomores in the country turn out. While the 2012 edition didn't quite live up to expectations talent-wise, it was nevertheless an impressive collection of football players at a new venue just north of Miami, Barry University.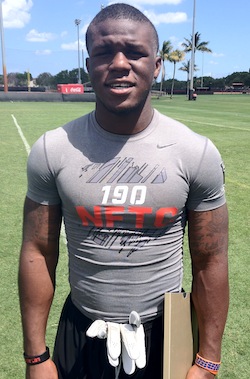 One highlights of the camp was supposed to be Belle Glade (Fla.) running back and Florida commit Kelvin Taylor and Delray Beach (Fla.) running back and Oklahoma commit Greg Bryant squaring off in the same position group. To the disappointment of many, the latter did not show to prevent a battle between five-stars but Taylor did make it out on Sunday and left quite an impression as a top performer.

"I was ready to compete," Taylor said. "I haven't been out here to compete at a Nike Camp since my 9th grad year so I had to come back out and compete and go against the best. I thought I did a great job."

The 5-foot-10, 205-pounder was one of the bigger backs in attendance and was able to dominate just about every drill he shuffled through. One of the best parts of the day was the pass protection drills matching up the running backs and linebackers and Taylor was front and center as always. He had two very good reps sandwiched around one in which he barely got beat but looked like he could contribute early on in college on third down thanks to his assortment of skills that complement his blocking.

"I'm very passionate about the game and take so much pride in blocking," Taylor said. "That's what I wanted to show everybody, that I could block too. I know you're not going to touch the field at the University of Florida or anywhere if you can't block, I don't care who you are. I try to work on it - blocking, blocking, blocking."

While Taylor was not decked out in Florida gear, the future Gator still represented his school with pride based on his play between the lines. He was in Gainesville last week to take in the program's annual spring game and came away impressed with what he saw at the Swamp.

"They looked great. The defense and offense looked good," Taylor said. "I'm very excited for this year. We're going to do a great job and then get ready for the 2013 class."

Though his commitment is set in stone now, there was a time when Taylor was seriously considering other schools - notably Alabama. The son of former Florida and NFL star Fred Taylor, the class of 2013 running back truly realized he wanted to wear the blue and orange while on one of many unofficial visits before his eventual commitment.

"I really knew when I kept going up there," he said. "The fans there are so passionate about their team, they love the Gators. When I went to meet with them about academics and the teachers, I (realized) it was a great academic school and that's another reason I picked Florida. Also, it's close to home so it will be great for me and my family."

Following in his father's footsteps is something that gets brought up a lot and that is to be expected when committing to a school that has 'Fred Taylor' in its record books. It's something that doesn't bother the nation's 14th ranked player however, having already left his mark as the state of Florida's all-time leading rusher in high school with 9,698 career yards before his senior season.

"I'm Kelvin Taylor, my dad has his own name and I'm just trying to be the best I can be," he said. "I try to be better than my dad was and keep working hard."

Recruiting is still a part of Taylor's life despite making a pledge and although the calls, texts, and Facebook chats have dropped off in quantity, if the coaches do ask if there's an opening for them he has a quick and easy response.

"I pretty much tell them, that's where I'm going and that's my school," said Taylor. "I love Florida. It's going to be my hometown for the next four or three years and that's what I tell them, I'm going to Florida."

It is a loaded year at running back in the state and although Taylor is the leader in the pack for now, it's still a long way until the final rankings are released. Sunday's camp offered the chance for him to create a little separation from the others even if it didn't quite show off what he thinks makes him the creme of the crop.

"I feel like I have great vision. You can't coach vision, it's something god blesses you with and I feel I have great vision and instincts and power," Taylor said. "I'm an every down back and that's what separates me."

"I do want to get more physical, I want to get better at catching the ball out of the backfield and… everything. I want to be an all-around great back."

Though Taylor was narrowly edged out for MVP honors he headed back to Belle Glade by taking home an invitation to 'The Opening' that made it a very productive camp.

"I'm very blessed. The best of the best is going to be there so I'm going to work hard and get ready to compete," Taylor said.

Thomas taking his time in recruiting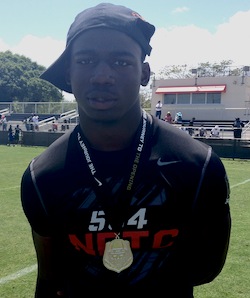 The Miami Nike Camp is always known for bringing out South Florida athletes who look like they can play just about every position on the field. Miami (Fla.) linebacker Matthew Thomas certainly impressed as an athlete with a good 6-foot-3 frame and speed to burn to grab MVP honors for Sparq testing score but it was on the field during drills where he impressed most on Sunday.

"The camp was good going against other players one-on-one and doing all the drills before that," Thomas said. "It was a good experience. These guys are from all over the place and it's good for me to compare myself to them. We were real competitive today."

Though his position group wasn't as stacked as previous years, Thomas still had no trouble standing out and competing with anybody he lined up against. With a long wingspan he was able to play well in coverage while also looking strong and quick during one-on-ones. It's easy to see why over 20 schools across the country have extended scholarship offers and why Thomas is slowly coming to grips with the fact that he can play college football just about anywhere he wants.

"It really doesn't matter where I play football at - I'll go to the moon if I could," he said. "I just want to play where I'm comfortable at.

"Recruiting is going fine. I like a couple of schools, I don't like a couple of schools. I like Alabama, Miami, Florida, Florida State."

A commitment does not appear to be in the cards until Signing Day for Thomas, who has already penciled in official visits to Alabama, Florida and Florida State during the fall. Although all three are a few hours away and doing a good job keeping in contact, it is the local school that is making the biggest impression on him just as the May Evaluation period is about to start.

"I would say Miami is recruiting me the hardest because it's close to home," Thomas said. "They've got me on Facebook so they hit me up all the time with messages and I reply back so we've got a good relationship."

Thomas missed the Hurricanes spring game last week because he took the ACT and it's clear that he is looking to put a lot of weight on academics in determining what school he commits to.

"Graduation rate is a priority," he said. "The caliber of program it is, playing time situation, all of that is a factor."

A four-star outside linebacker, Thomas is ranked 41st overall in the recently released Tom Lemming/MaxPreps top 100. While he hasn't had a chance to visit many schools thus far, the plan is to take a few visits before summer arrives so he can see what a few of the in-state options have to offer.

"Before the spring is over, I might try and take a visit to Florida State," said Thomas. "And Florida. But no camps."

Likely likes LSU visit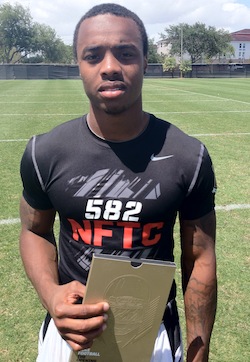 Belle Glade (Fla.) defensive back Will Likely came into the Nike Camp with plenty of offers, plenty of attention and plenty of players looking to prove themselves against him. Likely was still able to do his thing on the football field however by shutting down wide receivers despite a target on his back by using his quickness and savvy coverage skills to go home a winner.

"I was kind of used to it but then again I just have to focus and know that everybody can be beaten," Likely said. "I just try and play to my best abilities."

Already one of the top players in the country, Likely earned an invitation to 'The Opening' thanks to his stellar play on the field.

"It's a great feeling to know that out of all the top athletes in the nation, you're one of them," he said. "It's just a great feeling."

Alabama, Clemson, Oregon and USC are just a handful of the schools who have extended offers and shown quite a bit of interest in one of the state's top defensive backs. While recruiting seems like it going fast, Likely is just trying to take things slowly and digest everything as it unfolds.

"It's going great. I plan on narrowing it down soon but I haven't started yet. No top 10 yet," he said. "I talk to most of them every week. Nobody's on top and it's just kind of the same.

"I basically am looking for a gut feeling, like you (belong) there. Great atmosphere, great coaching, great players to be around and then wherever I feel comfortable."

Likely doesn't know what schools will receive a visit over the coming months but he did recently return from LSU to take in the Tigers' spring game and throughly enjoyed the trip to Baton Rouge.

"It was fun but a totally different environment. It's a great college town and fun to be around," Likely said. "All I can say is it was just great."

While Likely's tone definitely changed when talking about LSU as 'DB U,' it might be awhile before he finds a school that is the right match for him.

Shelton takes home the hardware

Florida State commit and Plantation (Fla.) defensive back Sojourn Shelton is used to big events like the Miami Nike Camp having been to several regional camps and combines over the past few years and each time it seems like he makes everybody's top performer list. This weekend was no different as the talented corner walked away with group MVP honors and a coveted invite to 'The Opening.'

"I think the level of competition was great," Shelton said. "I was really looking forward to it.

"The Opening, that was one of my goals since last summer when I first saw it," he said. "I came out here trying to be focused and get that invite, that was my plan. The prestige of it made it so great."

Though he was not the only player who was wearing school colors as a commitment, Shelton drew more than a few looks from opposing wide receivers and fellow corners while going through drills simply for being a Seminole.

"I had a lot of people come up to me and say, 'I heard you were the Florida State commit.' I said yeah and just seeing that was cool," Shelton said. "People were telling me to come to their line. I had a big target on my back and I enjoyed being under pressure and in the light. I just tried to go as many times as I could and do my best."

As one of the earliest 2013 commits for Florida State, Shelton has spent more time as a recruiter than being recruited by coaches. According to the Seminoles' best salesman, his next target is good friend and future 'The Opening' teammate that he spent much of Sunday talking to when not out on the field.

"Me and my boy Will Likely have been gelling together," Shelton said. "He's going to be one I'm going to try and get on board. I think we'd be a great duo together."

Shelton already has his pitch to Likely down too.

"I can't really say Florida State is DB Nation because of LSU but we produce a lot of great ones like Cromartie, Terrell Buckley, Deion Sanders, Samari Rolle," said Shelton. "There's definitely some history at the corner position."

The 5-foot-9, 160-pound corner also said he's in the ear of a few other top prospects and is trying to get them in the garnet and gold.

Notes

- MVPs on Sunday were Hollywood (Fla.) quarterback Sean White, Miami (Fla.) running back Joseph Yearby, Miami (Fla.) wide receiver Jesus Wilson, Hialeah (Fla.) offensive linemen Jomel Ribalta, Miami (Fla.) defensive lineman Paul James, West Palm Beach (Fla.) linebacker Evan Harvey and Plantation (Fla.) defensive back Sojourn Shelton.

- White was one of the few underclassmen to snag MVP honors and it's clear the 2014 signal-caller is expecting a big year that puts him among the top players at his position in the state. Miami, Florida, Florida State are very interested he said, with Notre Dame, Wake Forest and Boston College all looking forward to seeing him during the May evaluation period. He was recently in Tallahassee for the Seminoles Junior Day and will likely head to a couple of camps this summer as well.

"It's exciting to come out and do well with such great quarterbacks," White said. "It's a great environment to get better."

- Cape Coral (Fla.) quarterback Kurt Benkert was another player who impressed throwing the ball and he might have been the top 2013 QB at the event. He's got a strong arm and good frame and looked a little like Wake Forest signee Tyler Cameron from Jupiter in the 2012 class. Fort Lauderdale (Fla.) quarterback John O'Korn also had a solid day.

- Florida State wide receiver commit J.C. Jackson impressed all day long, running great routes that he was able to break off quickly and create separation from the defensive back. He's a fast slot guy who is extremely fluid when running around. The Immokalee (Fla.) native is very polished for his age and is a good get for FSU.

- Miramar (Fla.) defensive end Alvonte Bell stood out at his position as an athlete who can make plays but definitely needs to add some strength and some weight.

- Miami (Fla.) offensive lineman Denver Kirkland showed off great feet on Sunday but it's clear he's not in tip-top shape. If he can shed some bad body weight there's no doubt his offer list will expand beyond the 11 he has right now. The evaluation period could be big for him as coaches come in to see how he moves.


The first opening weekend lines for college football in 2018 have been posted

A year-end wrap-up of college football statistics you need to know from 2017

Stanford produces apps and Super Bowl participants
The Alabama QB has a new look after the Tide claimed another national title

Young was injured during Miami's Orange Bowl loss to Wisconsin

The movie will zero in on former Penn State coach Joe Paterno during the Jerry Sandusky sc...