Florida makes hire of Gamecocks DL coach Brad Lawing official
Will Muschamp looks to one of his division rivals for his new defensive line coach.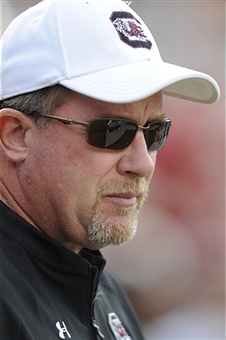 Brad Lawing is changing his SEC East address. (Getty Images)
If Jadeveon Clowney wants to make good on his unprecedented wave of Heisman hype for a defensive lineman, he'll have to do it without the position coach who's tutored him for the first two seasons of his career. And if his Gamecocks want to return to Atlanta for another shot at the first SEC championship of Steve Spurrier's South Carolina tenure, they'll have to go through the new employer of that same coach.
Florida made the Gators' hire of Gamecocks defensive line coach Brad Lawing official Tuesday, bringing the 33-year coaching veteran aboard Will Muschamp's staff in the same position, along with an "assistant head coach" title.
"We are excited to have Brad Lawing join our coaching staff," Muschamp said in a statement. "His track record speaks for itself -- his nearly three decades of experience coaching defensive linemen, his familiarity with the SEC and our shared philosophical beliefs make him a perfect fit for our program." 
The Gators were left with a vacancy after 2011-12 defensive coordinator and line coach Dan Quinn left for the same position with the Seattle Seahawks. Muschamp promoted linebackers coach D.J. Durkin to the coordinator's chair, then pulled off something of a coup in luring Lawing away from Columbia to Gainesville.
It wasn't just that Lawing had already spent 17 years with the Gamecocks across two separate stints, or that he was known as one of the best recruiters on Spurrier's staff (ask Clowney); it's that he coaxed stunning levels of production out of recruits who weren't five-star beasts like Clowney. Under Lawing, Melvin Ingram became an All-American and fellow linemen Devin Taylor, Travian Robertson, Cliff Matthews, Ladi Ajiboye and more became stars in their own right. The last three seasons, Lawing's Gamecocks have finished first, third, and first in the SEC in sacks.
So it's no surprise why Muschamp wanted him. The surprise is that Lawing listened. And the end result is that with mere days remaining before national signing day, Spurrier has a key staff position -- and quite the proverbial pair of shoes -- to fill.
Cristobal's first game at Oregon ended the same way Chip Kelly's did

Conner Manning and the Panthers dominated the Hilltoppers in the Cure Bowl

You can only go to the well so often before it dries up
The Trojans beat LSU earlier in the year and now have their first 11-win season as a FBS t...

Saban has never been a fan of the early signing period and made it clear that hasn't chang...

Paul Tyson is a three-star quarterback prospect for the 2019 recruiting class