Florida not ruling out neutral-site meeting with Miami
Miami athletic director Blake James said recently that the Gators would consider meeting his Hurricanes in a neutral venue.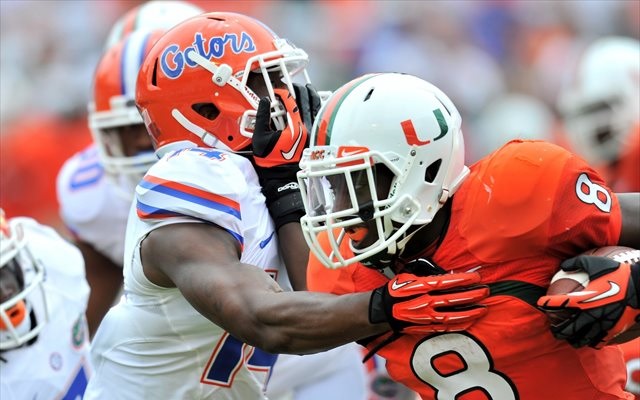 More college football: Jon Solomon | Dennis Dodd | Jeremy Fowler | Latest news
The on-again-off-again rivalry between the Miami Hurricanes and Florida Gators seemed to be closer to permanently off than ever on again last year, as both Miami athletic director Blake James and Florida AD Jeremy Foley suggested the teams' 2013 meeting could be their last.
"You never say never, but it's really, really difficult," Foley said. "Obviously, a great rivalry, great history, great tradition, but it's just a difficult game to play on any kind of consistent basis."
The series may never be a "consistent" one again, but a Sunday report from the Miami Herald suggested that fans shouldn't rule out the possibility of it being renewed at some point in the relatively near future. James told the Herald that he had spoken to Foley about renewing the series, and that -- in the Herald's description -- the Gator AD had been "receptive" to playing a neutral-site game, possibly in Orlando.
"I would have to think about Orlando," James said. "That's not real neutral but it's an easy distance to our campus."
Foley indicated in 2013 that a neutral-site game might be the only way to preserve the series. Orlando's Citrus Bowl might be a natural candidate, with the Citrus Bowl undergoing a major renovation.
Both the ACC and SEC plan to move forward with an "eight-plus-one" scheduling model in which teams play eight conference games and one required nonconference game against a "Power Five" opponent. The Gators won't need to schedule Miami to fulfill the requirement, thanks to their annual rivalry with Florida State, and Florida spokesman Steve McClain told CBSSports.com's Jeremy Fowler that there have not been any "discussions" with Miami over such a game.
But he also pointedly did not rule those talks taking place sometime soon. 
"We just received some clarity regarding future schedules from the league office and there have been no discussions with Miami at this time," McClain said. "An in-state, neutral site match-up is certainly something we could consider in the future."
 And thanks to the fertile South Florida recruiting ground, it's hard to imagine Miami would have too much difficulty finding quality opponents if necessary.
But few opponents would matter the way a game against the Gators would matter, and if Florida is bold enough to add another major in-state nonconference tilt to their state -- a decision that didn't do much to hurt them in 2008, when the Gators played both the 'Canes and 'Noles on their way to the national championship -- fans of both sides would likely welcome the chance to buy tickets.
That concern was echoed by Will Muschamp Tuesday, who had this to say (via the Orlando Sentinel) about the prospects of playing Miami:
Muschamp said even though a UM game, 8 SEC games and FSU on sked would be tough sledding, "I'm open to it because it's a good game."

— Edgar Thompson (@osgators) May 20, 2014
Dear rest of college football: please be more open to things just because they will be a good game.
Here are the early lines for big Week 5 games from Vegas

Georgia jumped four spots to No. 8, while Florida State dropped 14 spots to No. 25

Louisville and TCU get big-time bumps after conference rivals fell on Saturday
The Bulldogs jumped up to No. 7 after an emphatic win over Mississippi State

The Penn State running back made a case that he's a legit Heisman Trophy contender

The Nittany Lions came up huge when they needed to against Iowa