Florida St. WR Jesus Wilson to return from summer arrest suspension
Jimbo Fisher announced Monday that suspended wide receiver Jesus Wilson will be eligible for the Seminoles' game Saturday vs. the Citadel.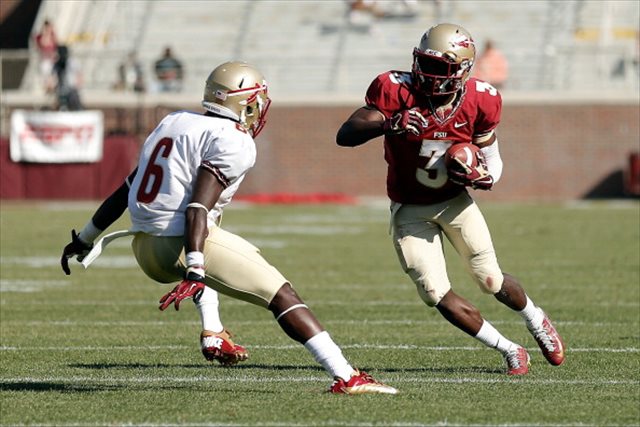 Florida State really, really, reallydidn't need any more help against the Citadel this Saturday. It's getting it anyway.
Jimbo Fisher announced Monday that sophomore wide receiver Jesus "Bobo" Wilson will be removed from his indefinite suspension and eligible to play against the FCS Bulldogs, the Orlando Sentinel reported.
Wilson was suspended after being arrested on a felony grand theft charge this summer after admitting to taking a motor scooter, but had the charges reduced to misdemeanors (petty theft, criminal mischief) in July. Wilson was allowed to practice and traveled with the team to Arlington, Texas for its win over Oklahoma State last Saturday, but Fisher said the team had no intention of playing him.
"We'll get Bobo back in the mix this week," Fisher said, per the Sentinel. "I'm hopeful, we'll see, he had a great camp ... He's been very mature in how he's handled things."
A former three-star recruit from Miami, Wilson caught 3 passes for 23 yards as a true freshman in 2013.
LSU at Florida has been picked as the SEC on CBS Game of the Week

The Michigan coach had quite a few things to say on Monday after their visit to West Lafay...

Injuries are ravaging an LSU team that is searching for an identity
Jones started answering an injury question and then went off about 'fake news'

The full ranking of all 130 college football teams includes TCU up and a major drop for Florida...

The charges all stem from an investigation into improper debit card charges