Florida starting OT D.J. Humphries to miss 2-4 weeks
The hits keep coming for the Gators ahead of the World's Largest Outdoor Cocktail Party as starting tackle D.J. Humphries is out with a sprained MCL.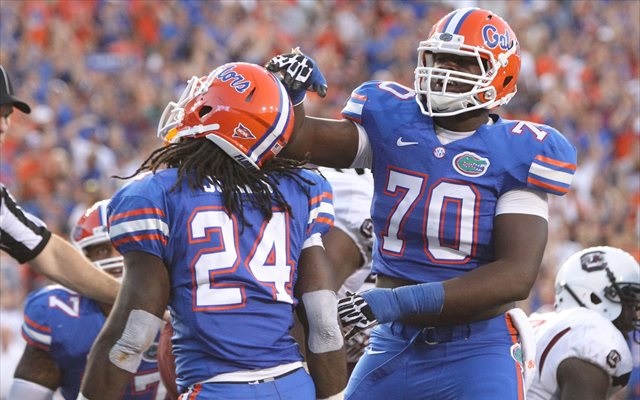 When special teamer Jeremi Powell was ruled out for the season last week with a torn ACL -- the eighth Florida Gator to suffer a season-ending injury since the start of fall camp -- we wrote that even if the deluge of injury misfortune in Gainesville has to end some time, you couldn't blame Florida fans if they felt like Powell's injury was only prelude to yet another blow to come.
And sure enough, that next blow arrived right on cue Wednesday when Will Muschamp confirmed that starting left tackle D.J. Humphries has suffered a medial collateral ligament sprain and will miss the next two-to-four-weeks. Humphries will miss at least this Saturday's game against archrival Georgia (3:30 p.m. ET, CBS) and could sit out the Gators' Nov. 9 game against Vanderbilt and the Nov. 16 trip to South Carolina.
That shapes up as a major problem for the Gators. Though just a true sophomore and part of a line that has struggled at times, the former five-star recruit and No. 1 OT in the class of 2012 has been of the Florida offense's steadiest performers, starting all seven games as the Gators' most reliable tackle.
Per the Gainesville Sun, Muschamp said Humphries would be replaced by current right tackle Tyler Moore, with JUCO transfer Trenton Brown now stepping in to fill the spot vacated by Moore. It will be Brown's first career start.
And again, that first career start will come in no less a setting than the World's Largest Outdoor Cocktail Party. If there's any good news for the Gators, it's that Muschamp also said linebacker Ronald Powell, the former No. 1 overall recruit, would be back in action after missing the Missouri game with a sprained ankle. The Bulldogs also haven't exactly been immune to the injury bug this season, to say the least.
But when it comes to Florida and its 2013 injury reports, there's no silver lining that's going to distract from the ever-swelling black cloud, is there?
Florida's roster got a boost on Tuesday with the return of several key members of the prog...

Tom Hutton joins the ranks of former Aussie rules footballers joining the college football...

The freshman is already on Heisman lists after throwing the walk-off score in the national...
These seven teams should make the most noise down the homestretch towards signing day

Air Force was forced to cancel 11 athletic events because of the 69-hour government shutdo...

Olson has a lot of the tools offensive coordinators want in a quarterback