Florida State CB helps police nab suspects in burglary case
Nick Waisome stopped a burglary in process and helped police find a suspect now facing multiple felony charges.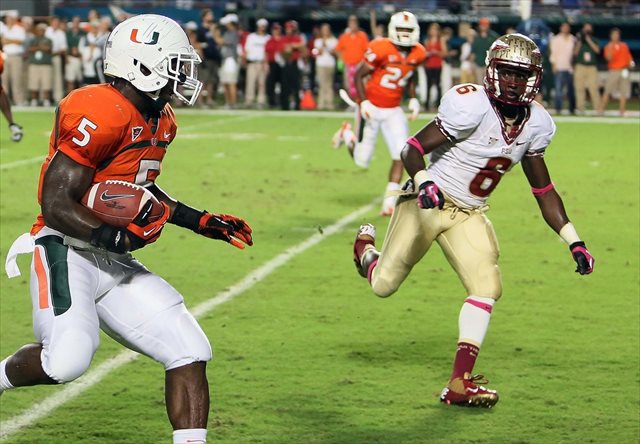 Burglary is never a good idea. And it appears that burglarizing the apartment of Florida State starting cornerback Nick Waisome is an even worse idea than usual.
Fox Sports Florida and WCTV reported this week on Waisome's encounter with a pair of burglars who he found in his apartment July 5. According to Tallahassee police, Waisome caught up with one of the men in the rear of the building and knocked him down before then pursuing the second man, calling police, and preventing the man from fleeing in a friend's car.
The second man, Tavares Rumph, was arrested. The first suspect escaped.
But three weeks later, Waisome spotted the same getaway car and the same suspect -- one who happened to be wearing a pair of shorts that had been taken from Waisome's own apartment in the burglary. Waisome contacted police again, and through his taking the car's license plate number and surveillance video, the suspect was later arrested.
Police would later search the apartment of the suspect, Mario Crawford, and find thousands of dollars' worth of computers and other items they believe were stolen in prior burglaries. Crawford -- on probation for a burglary conviction at the time of his arrest -- has been charged with multiple felonies. 
Waisome reportedly has yet to recover some of the items stolen from his apartment. But Florida State's opponents will still have to hope the junior from Groveland, Fla., isn't quite as sharp at stopping drives as he is at stopping burglaries. 
HT: DocSat
The Michigan coach had quite a few things to say on Monday after their visit to West Lafay...

The full ranking of all 130 college football teams includes TCU up and a major drop for Florida...

The charges all stem from an investigation into improper debit card charges
LSU at Florida has been picked as the SEC on CBS Game of the Week

It's an interesting move from Florida coach Jim MacElwain to say the least

Florida State's 0-2 start to the season can't be blamed on one specific thing