Florida State fulfills BCS destiny in win over Auburn
Florida State had the Heisman winner under center, and, just as important in this era of high-octane offense, the Noles had the ball last. Which is exactly how it had to play out.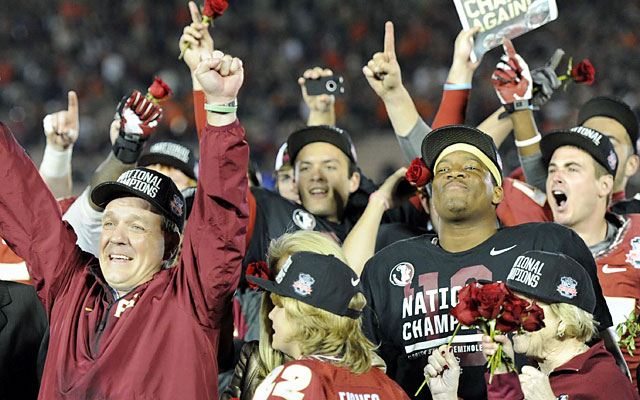 PASADENA, Calif. -- By the way, it was supposed to happen this way.
The final BCS title game had to come down to the game-winning touchdown pass with 13 seconds left. It had to be in the same end zone where Vince Young had previously scored the biggest touchdown in BCS history.
It had to include 65 combined points in the game and three lead changes in the final 4½ minutes.
It had to be the proper finale for the Heisman winner (Jameis Winston) and a trip back to the dry erase board for the game's resident offensive savant (Gus Malzahn). It had to be a reflection of what the college game is today.
"We had the ball last," said Florida State coach Jimbo Fisher.
Drop every other belief you might have about Florida State's 34-31 decision over Auburn. The best team with the best player won the biggest game because it had to outscore the opposition.
Sound familiar? It's what the game is today. All-time records are destined to be set this season in 11 of the 14 offensive categories tracked by the NCAA. Including, of course, scoring.
So when 6-foot-5 Kelvin Benjamin clutched Jameis Winston's 2-yard game-winning pass with 13 clicks left it had to be. This is the way we live, consume and play football these days.
The Indianapolis Colts just came back from a four-touchdown deficit in the NFL playoffs. Auburn got here almost defying the laws of physics. So for the Seminoles to come back from an 18-point deficit with 21 fourth-quarter points makes total sense.
They made it the biggest comeback in BCS title game history, surpassing that VY-led Texas comeback over USC (12 points) in 2006.
It was supposed to happen this way because six of the last seven title games had been decided by at least 10 points. It was supposed to happen this way because SEC fatigue was setting in.
The conference's streak of seven titles in a row is over – sort of. Florida State is about as close as you can get to an SEC program. Fisher employs three of Nick Saban's former assistants. Jimbo copies the same plays, philosophies, even the same nutrition plan as Nick.
The crystal football is moving out of the state of Alabama for the first time in five years but only across the state line. It's only 300 miles from Tuscaloosa to Tallahassee. A potentially SEC-laden playoff awaits beginning next season.
But the current national champions who had won every game but two by at least four touchdowns, had some proving to do to itself before beating Auburn.
 "You didn't know for sure but I believed and had faith," FSU quarterbacks coach Randy Sanders said. "You live on faith. If you don't believe it's going to happen, it ain't going to happen."
For 22 years, Sanders had been a player or coach at Tennessee before being run out as offensive coordinator in 2005. Less than a year ago, he had been fired at Kentucky after the Wildcats went 2-10. Sixteen years ago, he was on the Tennessee staff that won the first BCS title game -- over Florida State.
"Football kind of goes in cycles," Sanders said. "Basically the wishbone is back in a different way."
Auburn runs it in a weird, confusing (for the defense), kind of way. But a funny thing happened for destiny's darlings. Gus Malzahn went conservative. Too conservative. It cost him the game.
This apparently is what Malzahn looks like on his meds, dialed down from 78 rpm to 33 1/3. The Gus Bus in the slow lane.
For some reason Malzahn was determined not to dazzle in this championship game. Instead, he relied on body blows, line plunges, dives. Field position. Ewww.
The man ran out the clock at the end of the first half, played rope-a-dope. Beyond running Mason 34 times, there wasn't much to suggest Malzahn knew more than anymore in the building.
Megacast? How about mini-Gus?
The strategy eventually cost him. His defense -- the worst statistically in these 16 championship games -- was going to be the star until Winston woke up in the fourth quarter.
The Noles looked a bit fraudulent falling behind 21-3 in the first half. Then Fisher, desperate for a spark, called for a fake punt. Karlos Williams' 7-yard end around kept a drive alive and kept FSU in the game 21-10 at halftime.
Trailing 21-13 heading into the fourth quarter, Winston began to look a lot like Young. In the final 15 minutes, he completed 9 of 12 for 117 yards and both his touchdowns.
"It's the best football game he played all year," Fisher said of Winston. "And I'll tell you why, for three quarters he was up and down and he fought ... Very few can do when it's not their night."
The team of destiny label switched sides about 14 times in the final minutes. FSU freshman Kermit Whitfield put the Noles ahead for the first time with a 100-yard-plus kick return with 4:31 left. Auburn's Tre Mason capped a 195-yard rushing night with that go-ahead touchdown with 1:19 left.
Then Winston, on his 20th birthday, took his team 80 yards in 58 seconds, creating a new narrative. Florida State could win the close one. Meanwhile, fate switched sides when Auburn's Chris Davis -- Mr. Kick Six -- was victimized at least three times on the final drive.
Davis failed to make a tackle allowing a big gain early in the drive, he was flagged for pass interference in the end zone and was beaten by Benjamin for the game-winning touchdown.
"Everybody remembered him from that incredible return he had against Alabama," Benjamin said. "When he came over to guard me he was a rock in the road that was trying to stop me."
In the end, the FSU team had barely been tested this season got all surly about not getting the credit for coming behind.
"We played in some tough games, man," FSU defensive tackle Timmy Jernigan said. "I don't understand why people sit up there and say that. We're fighters, we're Seminoles.
"If you're going to beat us, you're going to have to beat us every second of the game."
FSU has had its share of clunkers to get to this point. As recent as 2012, it blew a 16-0 halftime lead at NC State.
"People been saying that [we weren't tested] all season," linebacker Christian Jones said. "But we've been through the fire. We know what that feeling is like.
"We don't believe in the destiny thing, we earn everything we get."
After 16 years of this madness, Sanders was one of the last persons off the field in the Rose Bowl. He had bookended the BCS era with national championships. His current employer, FSU, was back. A playoff is ahead. Behind?
"I wanted to stay out on the field until almost nobody was left," Sanders said. "I wanted to savor this as long as I could."
CBS Sports HQ Daily Newsletter
Get the best highlights and stories - yeah, just the good stuff handpicked by our team to start your day.
Please check the opt-in box to acknowledge that you would like to subscribe.
Thanks for signing up!
Keep an eye on your inbox for the latest sports news.
Sorry!
There was an error processing your subscription.
Anybody can rank the 25 best teams, only the Bottom 25 ranks the worst every single week

Turpin was previously arrested twice for causing bodily injury to a family member

Turpin is a standout playmaker on the Horned Frogs
SportsLine's advanced computer model simulated every Week 9 college

Mack is out indefinitely after undergoing surgery on the injury

Best bets for Week 9 include Purdue-Michigan State, Iowa-Penn State and more