Florida State's Jimbo Fisher: Keep winning, titles should follow
Florida State's Jimbo Fisher figures if his team keeps winning 11 or 12 games a year, a BCS national title (or two, or three) will follow.
• 3 min read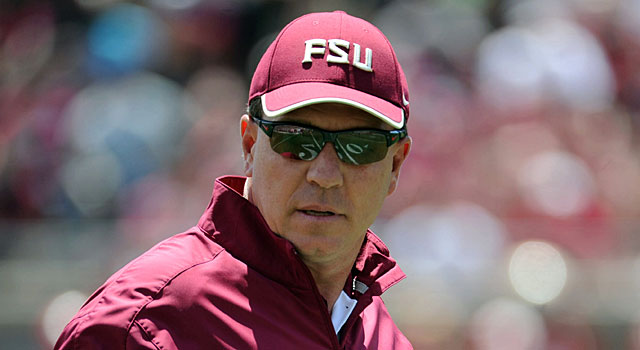 GREENSBORO, N.C. -- Florida State's Jimbo Fisher sort of went LeBron on the ACC Football Kickoff on Monday.
Not one, not two, not three ... 
Well, he didn't exactly guarantee national titles, but his point is this: Keep winning like last season, titles should follow.
"You keep winning 12 or 13 games a year, we're going to win one, or two or three or wherever it may go," said Fisher, whose Seminoles won 12 games and the school's first ACC title since 2005 a year ago.
He might be right, as long as Fisher can clear up one thing -- dropping at least one curious game a year.
Do that, and the Seminoles are as well-positioned for title contention on the field as Bobby Bowden is on the golf course every day.
FSU is oozing with talent. Eleven guys were drafted in April, and there's no reason to believe the Seminoles, going on their third top-five recruiting class in four years, won't have an impressive roster ready for Sept. 2 against Pitt.
The ACC school that most consistently competes with the SEC in recruiting is FSU and it's probably not close (Clemson might disagree).
When talking about SEC schools, Fisher said his 11 drafted players is "more than any of ya'll."
"Knowing Jimbo, it's not slowing down," said Brandon Jenkins, an FSU defensive tackle from 2009-12. "It's just getting better."
But 31 victories in three years, there always seems to be one thing -- or one game -- holding Fisher's teams back. Replay last year's N.C. State game, blowing a 16-3 lead heading into the fourth quarter, and you'll see why the program has at least one more step to make. That game eliminated the Seminoles from the national title chase.
When discussing FSU's season, an ACC assistant coach pointed to the "up and down" Seminoles — dominance tainted by curious lapses.
Fisher has wins over Miami, Florida, Notre Dame, Clemson and South Carolina. He also has losses to five unranked teams.
Make no mistake, Fisher has been solid in Tallahassee. As Jenkins says, "we won the ACC championship, we went to a BCS bowl, you can't ask for too much more."
But FSU fans can ask for a little more, because they've seen what more looks like and have lived it.
Fisher gets it.
"If you want people to think differently of you, you have to do something you haven't done," Fisher said.
Replacing 11 starters and six new assistant coaches – including defensive coordinator Mark Stoops (now Kentucky's head coach) and offensive coordinator James Coley (now Miami's OC)  -- will be a challenge.
But the Seminoles will compete for an ACC crown in part because of their depth. Several established players such as defensive tackle Timmy Jernigan, running back James Wilder Jr. and defensive back Tyler Hunter aren't technically starters but have played significant snaps for FSU, Fisher points out.
Quarterback Jameis Winston, a two-sport star with the Seminoles, might be Fisher's best yet. Fisher says Winston isn't running from the expectations of an FSU quarterback job that's produced two first-rounders in the last three years, Christian Ponder and E.J. Manuel.
In year four, Fisher says he's worried less about legacy and more about locker-room perspective.
"You can't worry that way," Fisher said. "You can't think that way. Just know what your team is."
The former Rebels coach was suing the school for harming his reputation

Florida and Georgia's rivalry game is the SEC on CBS Game of the Week

Everything you need to know from the week in college football to stave off your case of the...
Our full set of 130-team FBS college football rankings start with Alabama back at No. 1

The Hurricanes have showed out in a major way over the first half of the 2017 season

An early look at the gambling odds for Week 8 of the college football season