Florida State's Winston continues to electrify, polarize college football fans
Florida State QB Jameis Winston made headlines for myriad reasons last fall. Back with the Seminoles, the sophomore remains college football's most polarizing player.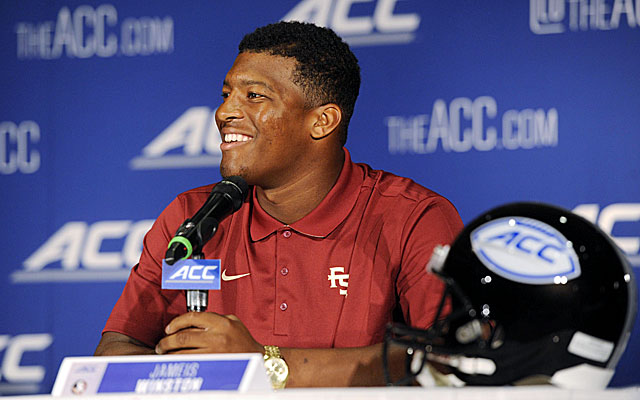 More college football: Dennis Dodd | Jeremy Fowler | Jon Solomon | Latest news
GREENSBORO, N.C. — Florida State quarterback Jameis Winston enters 2014 as the most polarizing player in college football.
In just one season as a college starter, Winston threw the winning touchdown to win the national championship, captured the Heisman Trophy, entertained the public with his personality, faced rape allegations resulting in no charges and was cited for shoplifting crab legs from a grocery store. He moves the public needle like no other college player, whether it's praise for his talent and personality or scrutiny over his behavior and how he talks at times.
"I have a certain standard that I've got to hold myself up to," Winston said Sunday at the ACC Football Kickoff, "and if I go even an inch below that standard, it's going to be chaos."
Without going into details about specific incidents, Winston used phrases such as he "fixed it" regarding the shoplifting citation and that he has "matured and understands what it really takes to be a leader." He previously chalked up the shoplifting incident as "youthful ignorance."
And if people are hesitant to believe what he says, "I definitely understand that," Winston said. "... But I know the type of person that I am, and I know that I have support from my teammates and I know that I was raised by a great family. So that's the least of my worries what people think of me."
The scrutiny from fans will undoubtedly follow Winston to every away stadium this season, whether it's at N.C. State, Syracuse, Louisville or Miami. One grocery store in Alabama even sold "Jameis Winston King Crab Legs."
"Don't be surprised if there are fans dressed as crabs," Miami linebacker Denzel Perryman said of the Hurricanes' Nov. 15 game against Florida State.
On the field, Winston will face more scrutiny in his game as a returning Heisman Trophy winner. No one has repeated as the Heisman winner since Ohio State's Archie Griffin in 1974 and '75.
Winston is the fifth Heisman winner in eight seasons to return to school the following year. The bar is often raised incredibly high in the eyes of voters to produce a repeat winner. Two of those returning winners didn't crack the top 10 in Heisman voting -- Sam Bradford and Mark Ingram. Bradford suffered a season-ending injury in Week 1 and Ingram battled injuries. After their Heisman years, Tim Tebow finished third in 2008 and Johnny Manziel was fifth in 2013.
"I don't know where my Heisman Trophy is now because I think my dad takes it to restaurants and all that stuff," Winston said.
Winston worked this summer on not holding the ball so low on his delivery -- "It probably comes from pitching," said Winston, a baseball pitcher as well -- and using his hips more on throws.
"I make a lot of throws off balanced," he said. "I make a lot of throws just with my arm. So I'm trying to use my hips, and from the read concepts, I have to start checking it down to my backs more."
Through three quarters of the BCS Championship Game against Auburn, Winston was 11 of 24 for 120 yards, got sacked four times and lost a fumble. In the fourth quarter, he completed 9 of 11 for 117 yards, including a 2-yard touchdown to Kelvin Benjamin with 13 seconds left.
"I wasn't finding my backs in the first quarter," Winston said. "It was a big game and I was trying to make big plays. ... But as a quarterback, you have to be able to nickel and dime it down the field and just lead them, game manage, lead them to a victory, and that's what we did."
The Winston early in that game looked flustered, confused and nervous.
"I get butterflies before every game," he said. "But nervousness? That's cowardly to me. I don't like being nervous at all and I know people got different definitions of nervousness. My definition of nervousness is being scared. ... I've never been scared. I don't fear anything but God."
Winston has never been bashful to speak his mind. When his media session began Sunday, he relished in the ACC ending the SEC's seven-year national championship streak.
"Before I say anything, how does it feel to have an ACC (team) come in here with a national championship?" Winston said. "Can we get a round of applause please? Finally. We took it away from the SEC."
Winston still dreams of playing both football and baseball professionally, and mentioned several conversations he had with Bo Jackson. "Bo did it," Winston said. "Bo knows."
But Winston sounded more resigned to the possibility of having to choose one sport. Winston is eligible for the NFL Draft after this season and would only say that he can't predict the future on when he will go pro.
"If I have to make that decision to just play one sport, I know I'm going to have more time to work on my craft and build myself into being a great player," he said.
Although Winston wasn't charged from the rape allegations, the aftermath isn't necessarily over. The Florida State student who made the accusations could still file a civil suit. The student filed a complaint this spring with the U.S. Department of Education's Office for Civil Rights, which is investigating if how Florida State handled allegations violated Title IX laws.
Even at a recent Senate committee hearing, Winston's name came up. He was mentioned in a question by Sen. Claire McCaskill (D-Mo.) to NCAA president Mark Emmert regarding a study showing that more than 20 percent of universities allow their athletic departments to oversee sexual violence cases.
"I've had so much criticism the past year," Winston said. "But like I said, I use it as fuel to my fury. ... I understand what it is to be a leader and I'm bettering myself every single day to hold myself to that standard that everybody views me as. Because I'm on the pedestal. Other players don't get the privilege of being on that pedestal."
As Winston's lengthy interview session with a large contingent of reporters ended, he remarked, "My ADD is kicking in." Then Winston headed to the next round of interviews -- more interest and more questions for the most polarizing figure in college football.
The movie will zero in on former Penn State coach Joe Paterno during the Jerry Sandusky sc...

Bidding for Salaam's trophy, which the auction house says was obtained legally, ends Satur...

Locksley has been the offensive coordinator at Illinois and Maryland during his coaching c...
Many NFL-eligible juniors ignore advice provided by the league and risk going undrafted each...

Snyder died in Manhattan, Kansas, on Wednesday

Locksley joined Alabama's staff in 2016